Khabib presented '1st Russian UFC champ' cup by hometown team, kicks off match (PHOTOS/VIDEO)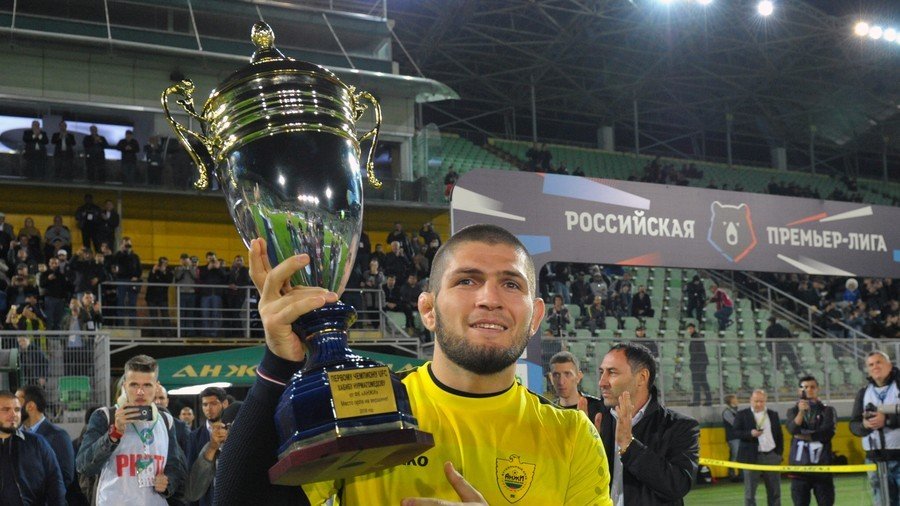 UFC lightweight champion Khabib Nurmagomedov swapped KO for kick off at Anzhi Arena in Dagestan on Friday when he performed the ceremonial start of the Russian Premier League match between Anzhi Makhachkala versus CSKA Moscow.
READ MORE: Football & Khabib - The UFC champ's fight to keep the beautiful game alive in Dagestan
The club even presented Khabib with his own cup, with an engraving dedicated to 'The First Russian UFC Champion', which must surely take pride of place in his trophy cabinet next to his UFC belt.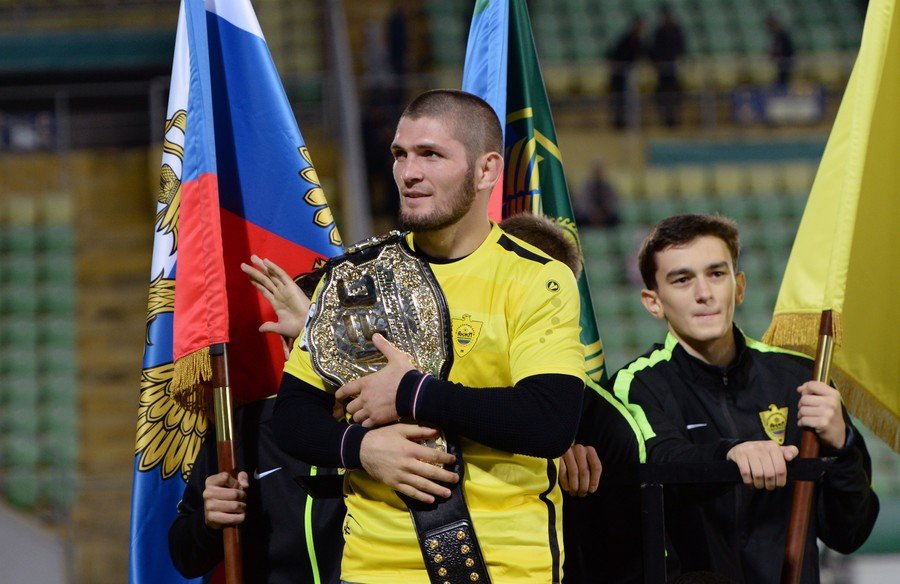 Before the game, Khabib paraded that belt during a lap of honor around Anzhi Arena before kick off, being transported by an odd golf cart-like vehicle adorned by the flags of Dagestan, the club, and Russia.
Khabib then performed the ceremonial kick of while wearing a yellow home shirt with his name and the number 27 printed on the back, a nod to his undefeated record in professional MMA.
However, Khabib's appearance was not enough to stop Anzhi going down 2-1 to CSKA by virtue of goals from Nikola Vlasic and Fedor Chalov. The club now sit 13th in the league.
Khabib thanks the club on Instragam, expressing his gratitude fro a "very warm welcome".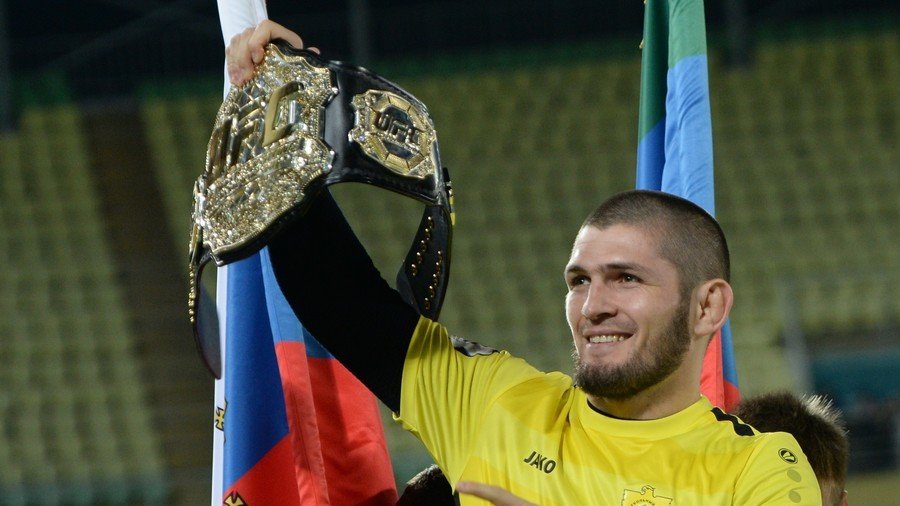 The Makhachkala-based fighter had already made waves at Anzhi Arena, when he flew there from Las Vegas where he had beaten Irish MMA star Conor McGregor to retain his title.
Thousands flocked to the ground to catch a glimpse of their hero, frantically rushing onto the field from the stands to where Khabib stood on the stage.
READ MORE: No hard feelings: Khabib's dad invites McGregor to Dagestan
Previously, the 30-year-old had spoke of his wish to keep the club alive, who are currently in dire financial straits, owing $4.5 million and struggling to raise funds to fly the team to Makhachkala to make the game.
READ MORE: Khabib v Mayweather: Russian boxing chiefs want Moscow megafight
Khabib described the club as carrying out "the most important social mission in Dagestan".
You can share this story on social media: