No hard feelings: Khabib's dad invites McGregor to Dagestan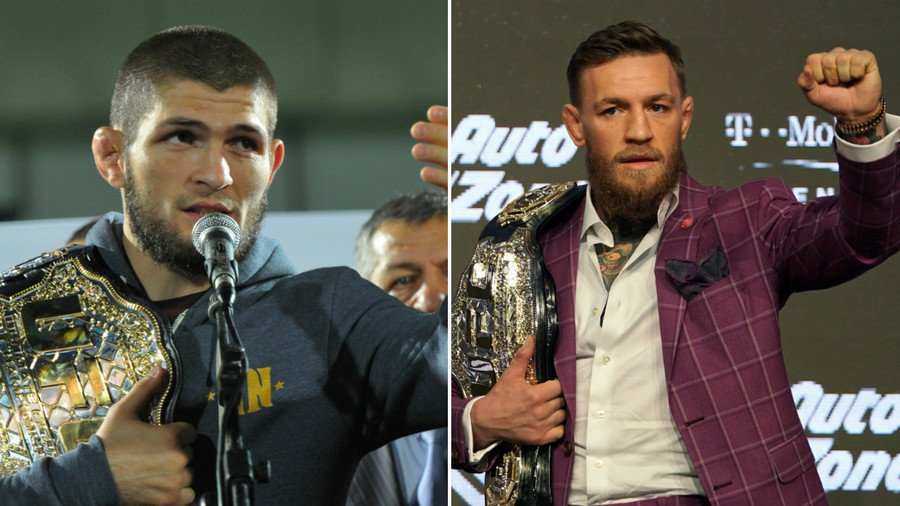 Abdulmanap Nurmagomedov, father and trainer of MMA star Khabib, has invited Conor McGregor to their Dagestan homeland, reiterating that he bears no grudges over the insults doled out by the Irishman before UFC 229.
McGregor mercilessly taunted the Russian fighter and his father in the run-up to the October 6 fight in Las Vegas, branding Nurmagomedov Sr "a sniveling coward" and mocking the pair's Muslim faith.
Lightweight champ Nurmagomedov went on to destroy the brash Irishman in the cage via fourth-round submission, before furiously clashing with members of his team in a mass post-fight melee.
READ MORE: 'Conor could've been killed, I had to step in' – Irish fan reveals role in McGregor-Khabib brawl
Abdulmanap, who was forced to miss the fight after being denied a US visa, recently said he had forgiven McGregor for the jibes. He has again signaled that by inviting the vanquished Irishman to a Sambo tournament in Dagestan in December.
"Distinguished guests, I invite again to the tournament our close friend [actor and former UFC fighter] Oleg Taktarov and McGregor," Nurmagomedov Sr is heard saying into a camera while driving.
A friend in the passenger seat is then heard extolling the hospitality of the region and natural beauty that McGregor would experience, before Nurmagomedov Sr adds: "I said that I forgive him [for all the insults], it's important to be kind-hearted!"
READ MORE: 'I forgive McGregor': Khabib's father says Conor's tirade of insults 'in the past'
Sambo is a popular Russian combat sport, with the word itself an acronym from the Russian 'samozashchita bez oruzhiya' (self-defense without weapons).
Since his loss to Nurmagomedov – which saw the Russian move his unbeaten record to 27-0 – McGregor has embarked on a tour of the US to promote his 'Proper 12' whiskey brand.
READ MORE: 'Who the fook throws a football like that?' McGregor mocked for limp NFL pass (VIDEO)
The Russian fighter, meanwhile, has returned home to a hero's welcome, including meeting President Vladimir Putin alongside his father.
Nurmagomedov is said to have dismissed the prospect of a rematch with the Irishman, while both men have been targeted by boxing legend Floyd Mayweather – who says he will accept a call-out from the Russian fighter and also wants a rematch against McGregor.
READ MORE: 'Khabib fight is happening next year, then I want McGregor again' – Mayweather (VIDEO)
You can share this story on social media: