'Who the fook throws a football like that?' McGregor mocked for limp NFL pass (VIDEO)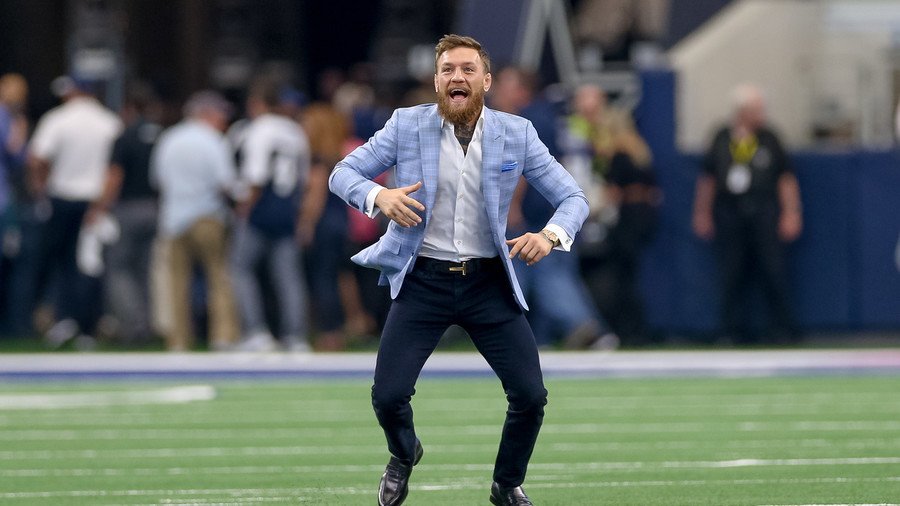 MMA megastar Conor McGregor should stick to throwing punches rather than footballs, according to social media users, who have mercilessly taunted 'The Notorious' for his attempted pass at a Dallas Cowboys game.
Fresh from his beating at the hands of Russia's Khabib Nurmagomedov at UFC 229 in Las Vegas a week ago, the Irishman is still touring the US as he promotes his various business interests, including his 'Proper 12' whiskey.
READ MORE: Nevada Athletic Commission to suspend Conor & Khabib, mulls indefinite ban
McGregor was a guest of Cowboys owner Jerry Jones at AT&T Stadium on Sunday, when the team took on the Jacksonville Jaguars.
The UFC star took to the field before the game with his typical swagger in front of 90,000 fans, attempting a touchdown pass and even giving the players a brief pep talk.
The throw didn't go down too well with social media users, who widely mocked 'Mystic Mac' for his limp effort.
Tony Fagnano, of MMA Today, said McGregor "throws as well as he defends submissions" - referring to McGregor's comprehensive fourth-round defeat to Nurmagomedov.
Others, meanwhile, compared his technique to the character Uncle Rico from cult film 'Napoleon Dynamite, while some used the Irishman's famous "who da fook is that guy" jibe to slate his efforts.
McGregor's infamous bus attack back in April - when he threw a metal dolly at a vehcie carrying UFC fighters, including Nurmagomedov - was also a reference point for some of the Twitterati, who suggested somewhat darkly that the Irishman had shown better technique in that incident.
More used to dishing out taunts than taking them, McGregor himself made light of the jibes, saying the unorthodox style was merely because he didn't want to rip his "billionaire" designer suit.
Others said his embarrassing efforts were understandable, given that he hails from a nation that doesn't generally produce NFL stars - while some claimed he was still better than much-maligned New York Giants quarterback Eli Manning and Nathan Peterman of the Buffalo Bills.
McGregor's pre-game pep talk appeared to work better than his throwing attempt, however, as the Cowboys thrased the Jaguars 40-7.
Cowboys stars Dak Prescott and Ezekiel Elliott even called on McGregor's famous strut when celebrating two of the team's touchdowns.
You can share this story on social media: