'I forgive McGregor': Khabib's father says Conor's tirade of insults 'in the past'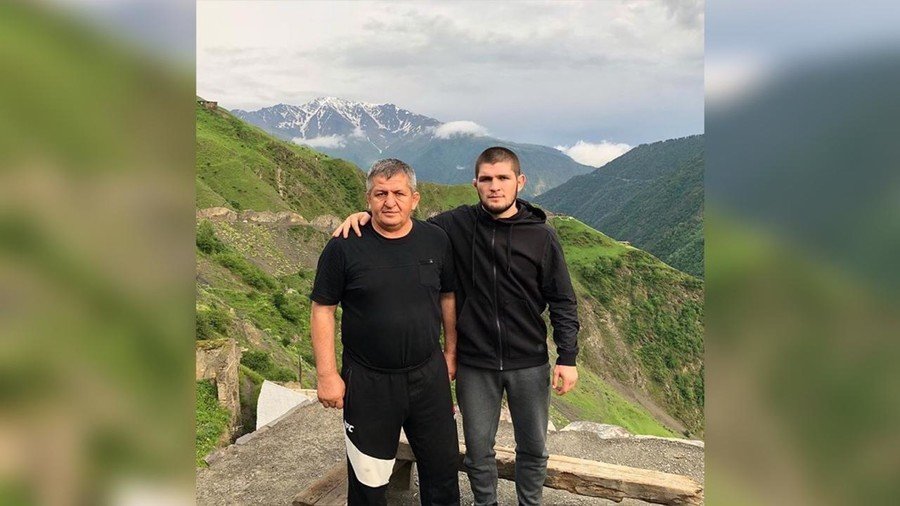 Abdulmanap Nurmagomedov, father and trainer of UFC lightweight champion Khabib, has forgiven Irish MMA superstar Conor McGregor for his scathing pre-fight trash talk, which included labelling him a "sniveling coward."
READ MORE: Khabib Nurmagomedov submits Conor McGregor at UFC 229 (PHOTOS)
McGregor unleashed a number of coarse and close-to-the-knuckle verbal volleys at Khabib during the media tours for the fight, attacking Khabib's culture, family and entourage, going as far as to call the fighter a "smelly Dagestani rat."
"I forgive Conor McGregor, it's all in the past. You must make an analysis of everything that went on and take lessons on board," Abdulmanap wrote underneath a picture of Khabib and Conor facing off at their ceremonial weigh-in.
The 55-year-old continued: "I spoke with the elders and the wise men of our community, and we decided to move to new heights. I hope that there is a benefit in this, Inshallah (God willing)."
McGregor's full-throttle putdowns included accusing Khabib of disrespecting Russian President Vladimir Putin and insisting he had inside information on the fighter.
READ MORE: 'McGregor's face painted red': Ramzan Kadyrov hails Nurmagomedov as brilliant 'artist'
"My Chechen friends...they told me that they have chicken jaws in Dagestan, and I believe them, because I know a glass jaw when I see one," he bragged.
Khabib revealed in his post-fight press conference that McGregor's jibes were a motivating factor in the fight, which he won by fourth-round submission via rear naked choke after a dominant performance from the beginning.
On Monday, Abdulmanap attended his son's homecoming at Anzhi Arena, home to local Dagestani football club Anzhi Makhachkala, where he presented the UFC lightweight championship belt to thousands of his fans.
The sight of Khabib, flanked by his father, friends and team was enough to instigate a pitch invasion as joyous fans flocked to catch a close-up glimpse of their hero.
You can share this story on social media: