'We lost the match but won the battle ' – McGregor defiant in latest message after UFC 229 defeat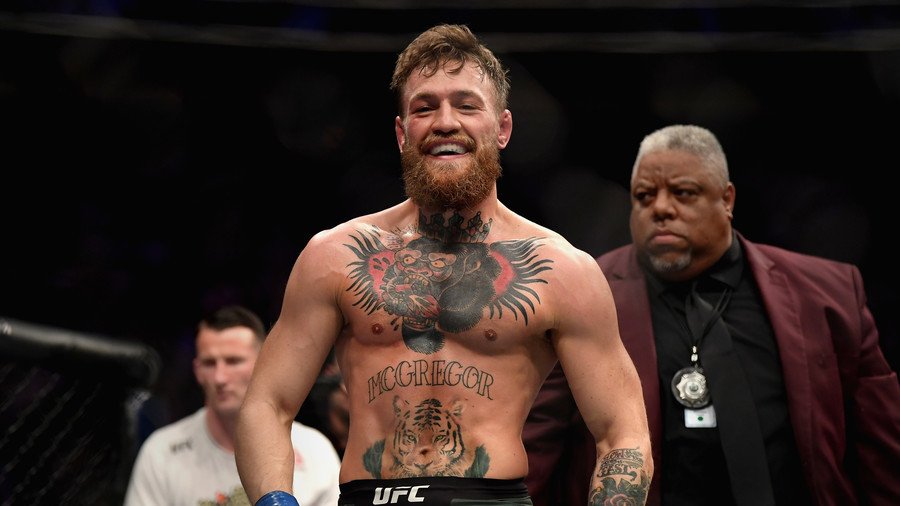 Conor McGregor has defiantly stated that "we lost the match but won the battle" in his latest social media post following his comprehensive defeat to UFC lightweight champion Khabib Nurmagomedov in Las Vegas on Saturday.
Returning to the octagon after a nearly two-year hiatus, McGregor suffered a crushing defeat at the hands of the Russian fighter, ending in a fourth-round submission via rear-naked choke.
READ MORE: Khabib Nurmagomedov submits Conor McGregor at UFC 229 (PHOTOS)
On tapping out the Irishman, Nurmagomedov scaled the cage to attack members of his team – apparently in response to taunts – while at least two of the Russian's team clashed with McGregor in the cage.
In the aftermath of the defeat McGregor posted that he was "looking forward to the rematch" – and has now backed that up with a defiant message on Monday.
"We lost the match but won the battle. The war goes on," the Irish star tweeted, accompanied by a picture of himself holding a glass of what is likely to be his own-brand Proper 12 whisky.
The future for both fighters appears uncertain, with Nurmagomedov likely to face sanctions from the Nevada state authorities for his role in the brawl, and potentially being stripped of the belt.
For McGregor, who recently signed a six-fight deal with the UFC, the nature of his defeat could mean he needs to set his sights lower before attempting to reassert his authority on the promotion.
McGregor's latest post follows a series of Instagram messages from rival Nurmagomedov, including one saying he hopes he didn't "hurt anyone's feelings" by launching his cageside assault.
'My face when they say they didn't like my jump' - Khabib posts 'apology' for UFC fracas
You can share this story on social media: