Massive post-fight brawl mars Khabib win over McGregor at UFC 229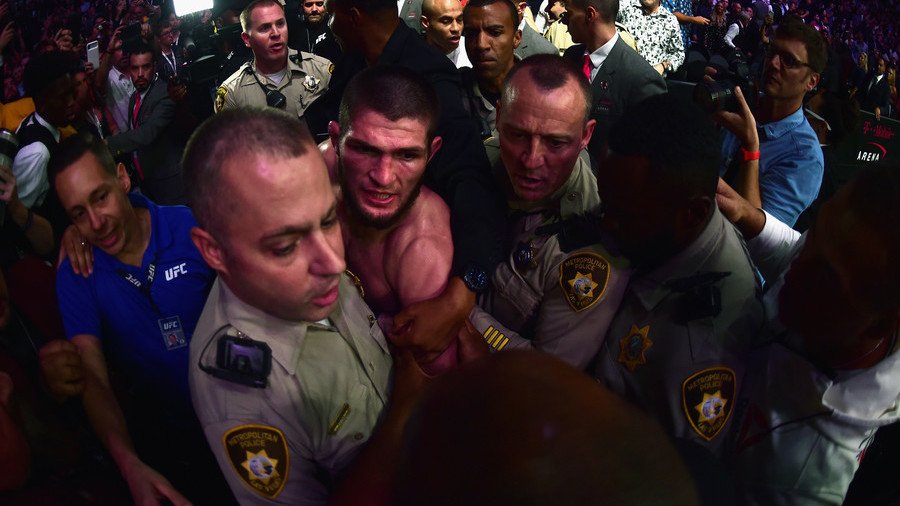 A huge post-fight brawl marred Khabib Nurmagomedov's stunning win over Conor McGregor at UFC 229 as violence spilled from the cage and into the crowd at T-Mobile Arena in Las Vegas.
Nurmagomedov retained his lightweight title with a dominant win over McGregor, submitting the Irishman in the fourth round.
READ MORE: Khabib Nurmagomedov submits Conor McGregor at UFC 229
However there were ugly scenes immediately after referee Herb Dean called off the fight, with Khabib scaling the fence around the octagon and appearing to launch an attack on Dillon Danis, a member of McGregor's team.
Members of Khabib's team also appeared to enter the octagon to confront McGregor as chaos unfolded amid a toxic atmosphere.
When tensions had quelled Khabib was forced to leave the octagon flanked by security officials without being handed his belt, as debris rained down from the crowd.
Many blamed the Russian for appearing to let his emotions get the better of him, after remaining implacably calm during the build-up to the fight in the face of frequent provocation from McGregor.
Others pointed to McGregor's infamous attack on a bus carrying Nurmagomedov back in April, seeing the Russian figther's post-fight assualt as revenge for that incident.
There were reports that members of the team involved in the rucus had been arrested, quoting UFC chief Dana White.
The chaos capped what was otherwise the perfect performance from Nurmagomedov, who moved his record to 27-0 with the win over McGregor, who slips to 21-4 on his return to the octagon.
You can share this story on social media: