UFC 229: Derrick Lewis stuns Alexander Volkov with late KO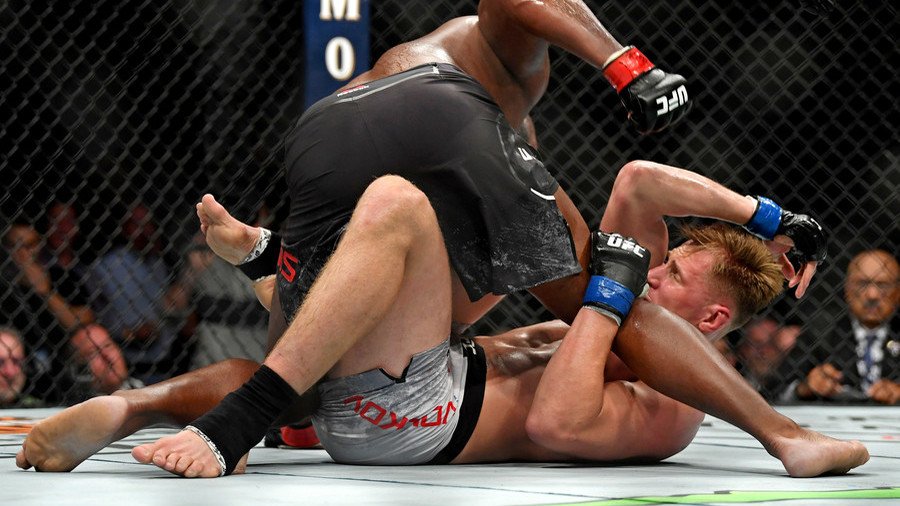 Derrick Lewis claimed a stunning knockout win over Russian fighter Alexander Volkov inside the last 15 seconds of their heavyweight fight at UFC 229 in Las Vegas.
READ MORE: UFC 229: Follow the action from Las Vegas as Khabib Numagomedov faces Conor McGregor
The giant Russian had dominated Lewis throughout the fight and looked on course for a comprehensive points win, before Lewis sparked to life in the final minute of the bout, catching Volkov with a massive haymaker in the closing stages.
With Volkov stricken, Lewis launched a fierce ground and pound that ended the fight at 4:49 of the third round.
It was a stunning denouement to a fight that had appeared set for a shock, with the giant Russian dominating from the outset at T-Mobile Arena against his higher-ranked opponent.
After sizing each other up in the opening stages, Volkov rocked Lewis with a straight left inside the second minute, following up with kicks and strikes, before Lewis called a brief halt to proceedings by appearing to signal he had been poked in the eye.
When the action resumed both traded big shots in a frantic opening round, before Volkov took the action to the ground aiming to secure a submission – although Lewis reversed the action and ended the round on top.
When the action picked up in the second, the 6ft 7in Volkov scored big punches as Lewis struggled to cope with the Russian's range.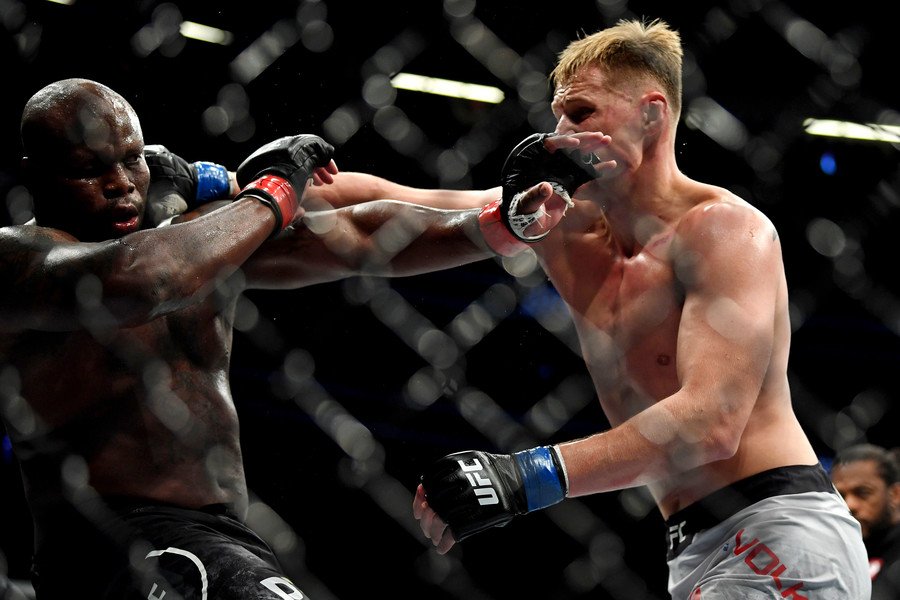 Lewis continued to take most of the punishment against the younger man in the second, but remained on his feet, occasionally launching shots of his own that were for the most part lumbering and predictable.
Volkov continued the barrage with shots in the third without putting the American away. The number-five ranked Russian paid the price in devastating fashion with just 20 seconds left in the bout, being caught by a massive right from Lewis, who stepped in to pummel Volkov on the ground, causing referee Herb Dean to call off the fight.
The win moves number two-ranked heavyweight Lewis to 21-5, while 29-year-old Volkov suffered his first defeat in the promotion, slipping to 30-7.
READ MORE: 'McGregor has never felt anything like Khabib's control' – Nurmagomedov's father on UFC 229
After the fight, 'The Black Beast' vowed to work on his cardio, having appeared tired from the first round, while for Volkov it will mean a backwards step in what had been a steady rise up the UFC ranks.
You can share this story on social media: