'Well this is awkward...': Khabib walks out as Conor late AGAIN for presser in Las Vegas (VIDEO)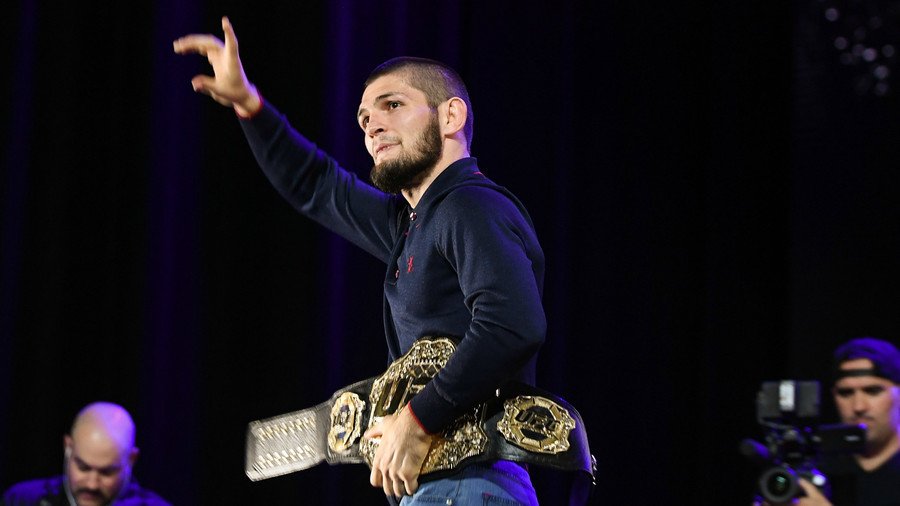 UFC boss Dana White was left red-faced when Khabib Nurmagomedov exited the Las Vegas presser for his fight with Conor McGregor after refusing to wait for the notoriously tardy Irishman, therefore missing his sharp-tongued insults.
Lightweight champion Khabib insisted on staying no more than 15 minutes at the press conference, having been forced to hang on for McGregor in New York City for the previous leg of their media tour, answering questions before lifting his belt to the crowd and leaving.
READ MORE: War of Words: The best quotes from Conor & Khabib's 'darkest' UFC 229 presser (PHOTOS/VIDEO)
"Well this is awkward," said UFC President White, who was powerless except to hold court until McGregor arrived, having now two empty seats on the platform, depriving fans of a face-off between the two fighters.
Before Khabib's departure, though, the Dagestan native insisted that the "biggest fight in UFC history" is now "personal" for him, having faced a barrage of personal insults from McGregor last time round in New York.
This time, Khabib promised McGregor would have to "kill me to stop me", and replied with a solitary "no" when asked would he shake hands with McGregor after the fight, insisting the challenger was an "alcoholic".
"For me this is more than defend my title, for me is more than fight for the title, more than main event. Honestly, for me it's personal," the undefeated fighter began, before making a prediction on the fight outcome.
"Maybe decision, maybe I'm gonna finish him, I dunno. But all the time when he tired, he give up.
Khabib's parting words to the crowd came: "Hey guys I am here. This guy didn't come, this is big disrespect. Thank you so much, and tomorrow... I'm gonna show you my weight and see you tomorrow guys," before posing momentarily for pictures and exiting.
McGregor sauntered into the arena minutes later, offering no apologies for his lack of punctuality and instead blaming traffic created by the buzz of his own presence in Sin City. The challenger wasted no further time, by getting stuck straight into his opponent.
"The traffic is a little heavy. I'm only a couple of minutes late for f**** sake, the little mad backwards c*** he should have stayed. That's a sign. He doesn't want to be around me!" the former lightweight and featherweight titleholder bellowed.
McGregor then tried to poke fun at Khabib's inevitable weight cut to make the lightweight limit of 155lbs, insisting the fighter should be put in the sauna and "cook him like the chicken jaw rat that he is!"
On tactics for the fight, McGregor kept details of his plans short and sweet, insisting he planned on "knocking that man's nose straight into the nosebleeds" in typical stylish fashion.
"F*** peace. There will never be peace here. I always say you should aim for peace but if you can't aim for peace you should aim between the eyes. And that's it," the Irishman offered a little elaboration on his earlier insights.
You can share this story on social media: