Khabib could be stripped of title over mass brawl at UFC 229 – Dana White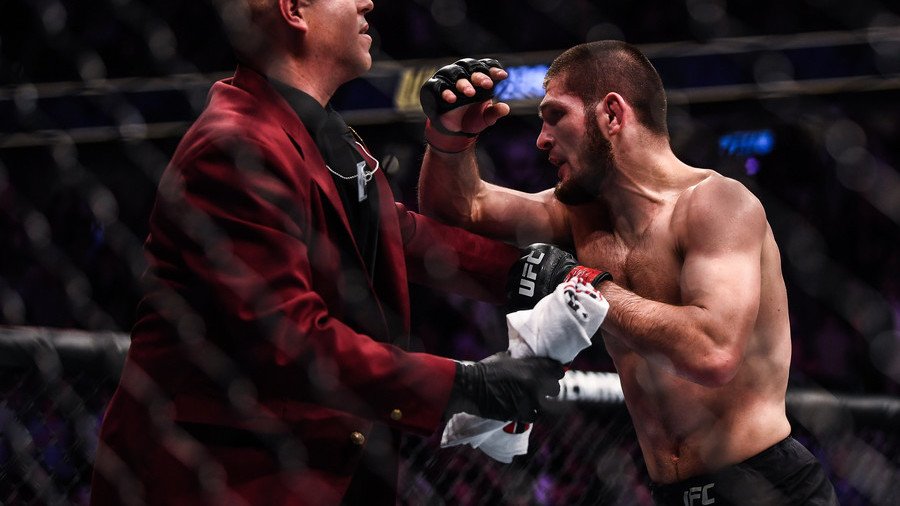 UFC chief Dana White has not ruled out Khabib Nurmagomedov being stripped of the lightweight title over his role in the mass brawl that marred the Russian fighter's win over Conor McGregor at UFC 229 in Las Vegas.
Nurmagomedov's fourth-round submission win was marred by ugly scenes after the bout when the lightweight champion scaled the fence around the octagon to attack a member of McGregor's team.
READ MORE: Massive post-fight brawl mars Khabib win over McGregor at UFC 229
Members from Nurmagomedov's team also entered the octagon and appeared to attack McGregor.
Describing the events as a "s***show," UFC chief Dana White said he could not rule out Nurmagomedov being stripped of his title over the incident, adding that the fighter had had his purse withheld.
"It's not 100 percent [certain that he won't lose the title]," White said at the post-fight press conference.
"We're regulated by state commission… The Nevada state athletic commission is going to go after [Khabib] pretty hard," White added.
"The [Nevada] governor was here, he went running out of the building, it's not good, he's [Khabib's] in trouble."
The UFC chief later reiterated that the undefeated Russian would likely be stripped of the title should he be suspended by the Nevada authorities.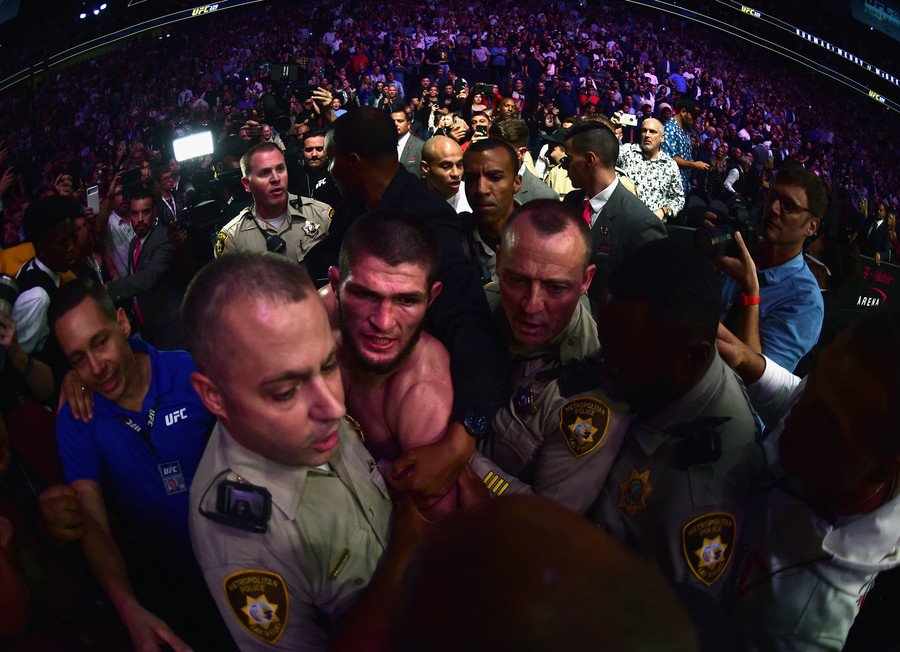 White also confirmed that three members of Nurmagomedov's team had been arrested after the fight, vowing that they would never appear in the UFC again, should they turn out to be fellow fighters.
READ MORE: Three members of Khabib team arrested after mass brawl mars UFC 229 win over McGregor – reports
He said however that McGregor had refused to press chargers against his alleged attackers, who were later released, but added that Khabib had had his fight purse withheld over the brawl.
The UFC chief paid tribute to security staff at the event, who had quelled the unrest as it threatened to spiral out of control.
He also said his overiding emotion was one of disappointment that the unsavory scenes had undermined what had been billed as the biggest night in the promotion's history.
White also said it was far too soon to discuss any notion of a rematch between the pair after the incidents in Las Vegas.
You can share this story on social media: