Three members of Khabib team arrested after mass brawl mars UFC 229 win over McGregor – reports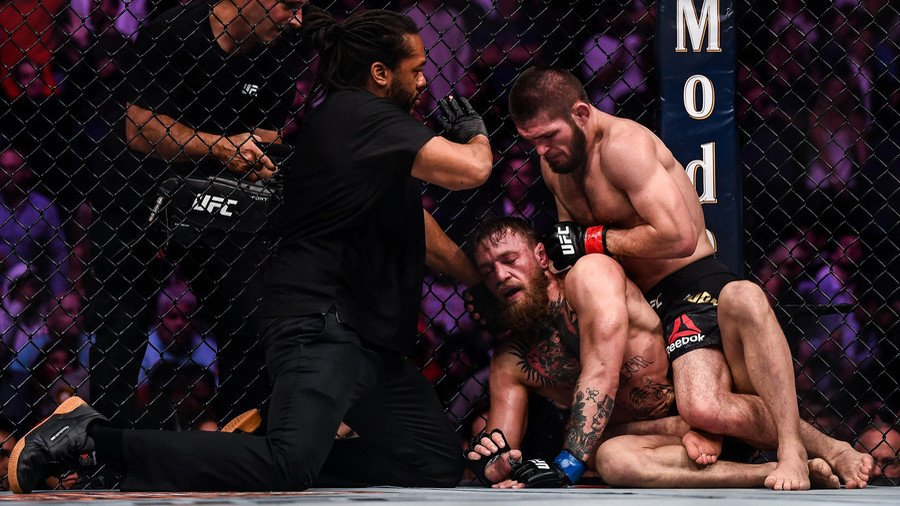 Three members of Khabib Nurmagomedov's team have been arrested for their role in a mass post-fight brawl after the Russian's win against Conor McGregor at UFC 229 in Las Vegas, according to reports.
READ MORE: Massive post-fight brawl mars Khabib win over McGregor at UFC 229
Nurmagomedov retained his lightweight title with a dominant win over McGregor, submitting the Irishman in the fourth round.
But the win was marred by chaotic scenes as the Russian scaled the fence immediately after the bout, appearing top launch an attack on a member of McGregor's team.
That sparked ugly scenes as brawls erupted in the crowd and members of Nurmagomedov's team reportedly attacked a stricken McGregor in the cage.
According UFC president Dana White, three members of the Russian fighter's team were arrested over the incident - although they have since been released.
"Three of his guys have been arrested, I believe they're being taken to jail right now," White said.
"A lot of stuff that shouldn't happen, Khabib jumped over the cage and went after one of Conor's guys who I guess was trash talking him," the UFC chief added. "I don't know what to say right now, I'm disgusted."
He also said he had spoken to McGregor and the Irishman had not been harmed in the apparent assault by a member of the Russian's team.
"I just talked with him, he's okay. He's upset about the fight not the fight after the fight," White said.
Footage posted online claimed to show one of the arrests being made, although the trio were reportedly released from custody after McGregor refused to press charges.
READ MORE: BREAKING: Khabib Nurmagomedov submits Conor McGregor at UFC 229
The scenes were condemned online, with the chaos capping what was otherwise the perfect performance from Nurmagomedov, who moved his record to 27-0 with the win over McGregor.
White had refused to present Nurmagomedov with his belt after the fight, citing the hostile atmosphere at the T-Mobile Arena.
The Russian was eventually led from the octagon flanked by security staff as debris rained down from the crowd.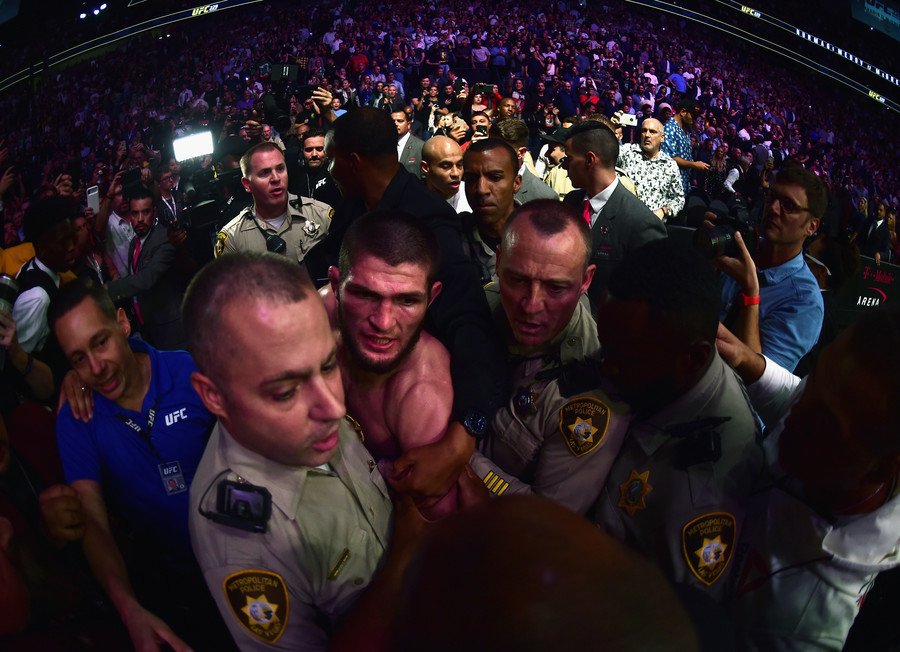 You can share this story on social media: