Conor aims kick at Khabib, flanked by Drake! UFC 229 ceremonial weigh-in highlights (PHOTOS/VIDEO)
Irish MMA superstar Conor McGregor sensationally aimed a kick at lightweight champ Khabib Nurmagomedov as the two faced off at the UFC 229 ceremonial weigh-ins on Friday in Las Vegas, flanked by rapper Drake in an Irish flag.
READ MORE: Khabib Nurmagomedov & Conor McGregor face off at UFC 229 ceremonial weigh in (VIDEO)
Khabib and McGregor had earlier both made the lightweight limit, scaling 155 lbs and 154.5 lbs respectively. McGregor appeared pumped at the ceremonial weigh-in, the final event before the two meet in the octagon, coming out first to roar and thump his chest on the scales to a seemingly partisan crowd.
The Dubliner stayed pumped as Khabib made his way to the floor in the traditional 'Papakha' headgear, lurking menacingly as the Russian jumped on the scales, pointed at himself, shook his head and the pointed to the sky.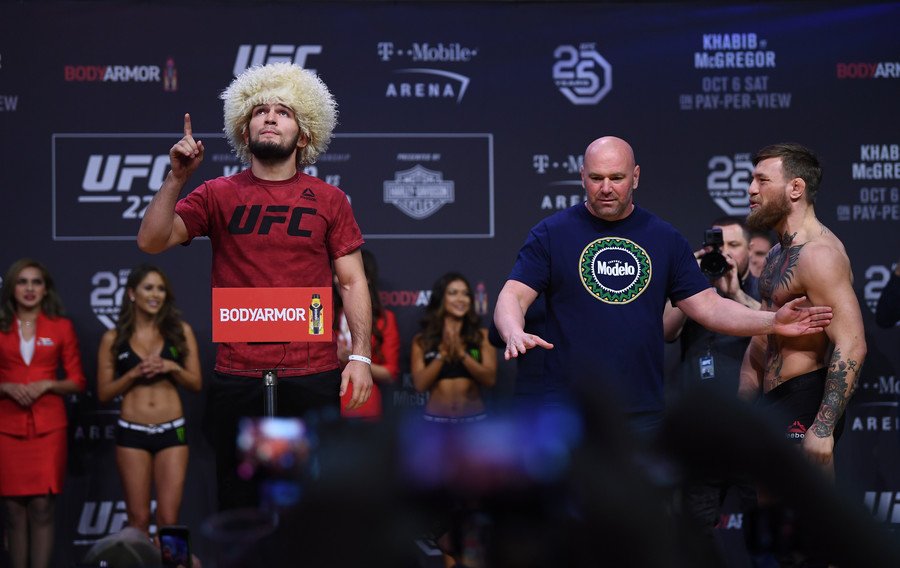 During the face-off, UFC boss Dana White tried in vain to keep order, yelling at McGregor "don't touch!", advice that was ignored when the former champion thrashed at Khabib's arm with his hands.
Verbal provocations were traded between the two before 'The Notorious' leaned back and swung a high kick towards Khabib, prompting security to step in and pull the fighter away.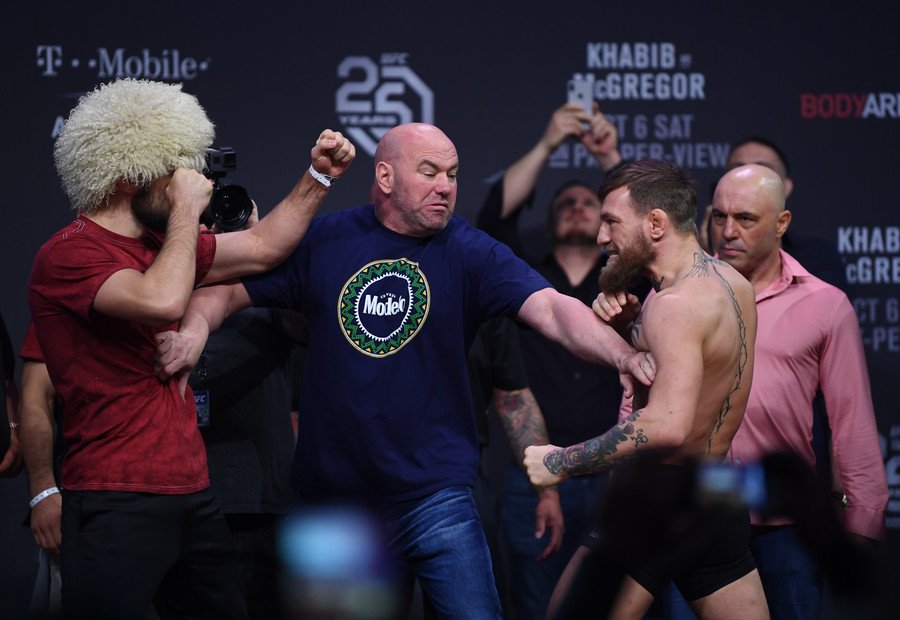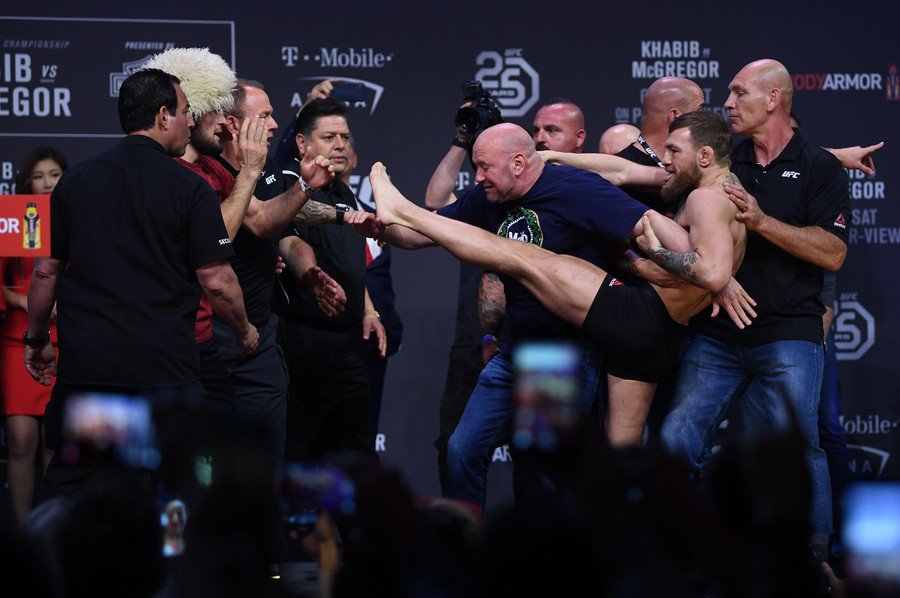 When the melee settled, McGregor was approached by UFC color commentator Joe Rogan, acting as announcer for the night, who asked the self-professed 'Champ Champ' exactly what the fight meant to him.
"Don't let that smelly rat ever put that hat on your head, Joe," an animated McGregor bellowed, referring to when Khabib placed his Papakha on Rogan's head during a post-fight interview in the octagon.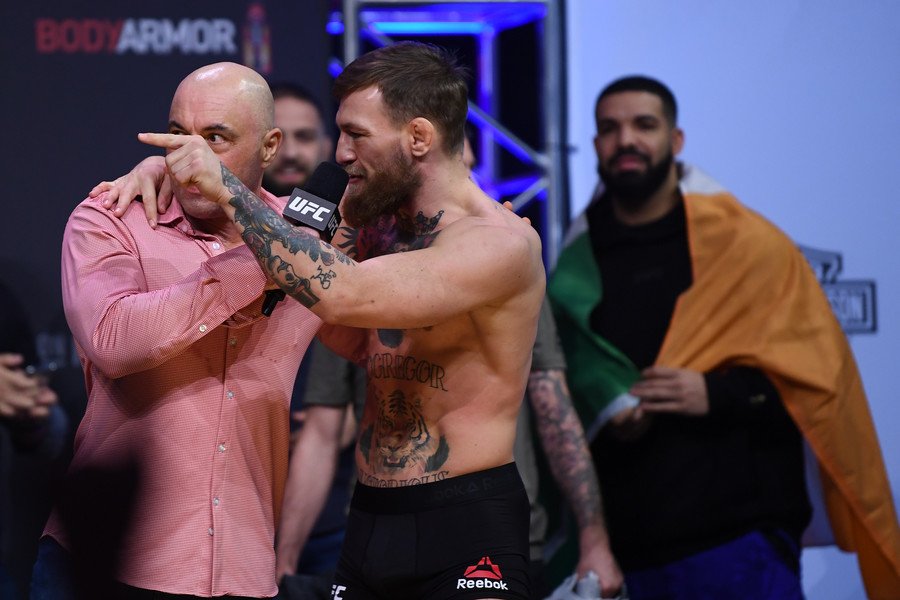 "The smell of that f***ing thing. Don't ever let him put that hat on your head. It's good to be back! UFC fans it's good to be f****ing back! The king is home."
Rogan then addressed the same question to Khabib, who had remained calm and collected as ever throughout the entire fracas.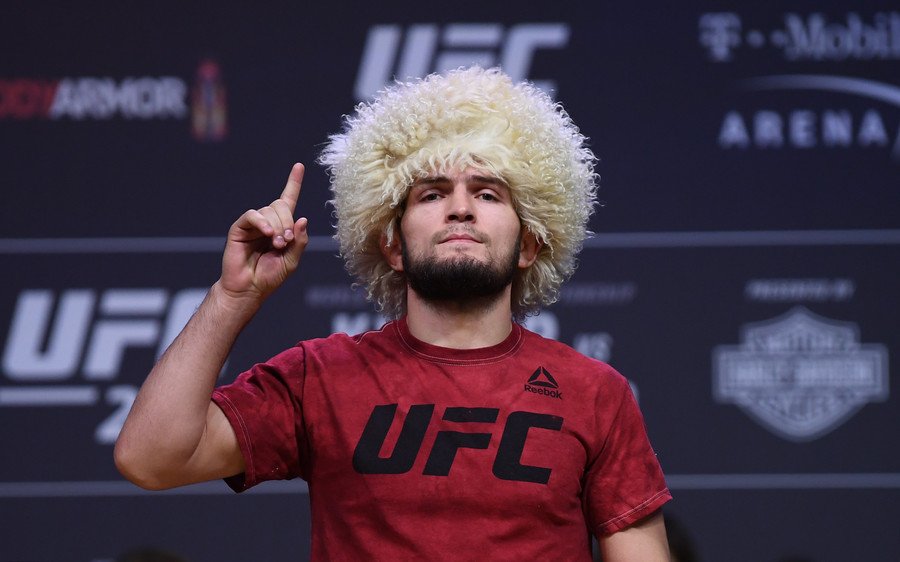 "First off I wanna say 'Alhamdulillah' ('praise be to the lord' in Arabic)," the champion began. "God give me everything. Alhamdulillah! I know you guys don't like this. Alhamdulillah! Tomorrow night I'm gonna smash your boy, guys.
"I'm gonna smash your boy. And I wanna thank you, all Irish fans, you know, all fans around the world. Because of you guys, this fight is happen. And tomorrow, inshallah (God willing) - 'and still'," he added.
READ MORE: 'Khabib or Conor?' Moscow makes UFC 229 megafight predictions (VIDEO)
McGregor was joined bizarrely by Canadian rapper Drake in a superstar cameo. 'Drizzy' entered the arena walking behind McGregor and draped in an Irish tricolor, and shook hands with the fighter after his appearance on stage.
Social media users were quick to lampoon Drake's unexplained presence at the event, but McGregor earlier admitted he was a "big fan" of the rapper and that the two have been in touch since the Irishman's first fight with Nate Diaz in 2016.
Drake loves trying to absorb the energy of anyone who's getting attention at the moment. I've been calling him Shang Tsung for years now.

— Zito (@_Zeets) October 6, 2018
Earlier at the weigh-in, there was a reversal of roles involving a kick and another traditional hat, as Russian heavyweight Alexander Volkov swiped his leg at opponent Derrick Lewis.
Perhaps the most surprising aspect of the entire ceremony was the fact that hyper-confrontational fighter Tony Ferguson seemed the calmest man in the room.
Ferguson had made an odd, rambling, foul-mouthed monologue at the media scrum earlier in the week, during which he discussed his favorite ninja turtle, and that he hoped for a "double knockout" in the UFC 229 main event.
READ MORE: 'They took zeroes off my paycheck. I want a double KO!' - Tony Ferguson on Khabib v Conor UFC 229
Labelled as perennially "angry" by UFC president White, Ferguson entered the venue in headphones and shades, dancing and shuffling his way to the scales.
'El Cucuy' remained in the same mellow mode as he went to face off with fellow lightweight Anthony Pettis, crouching at his opponent to reveal he was wearing ankle weights. The two former champs will contest in the show's chief support at T-Mobile Arena.
You can share this story on social media: