Khabib v McGregor post-fight carnage was unacceptable – but not surprising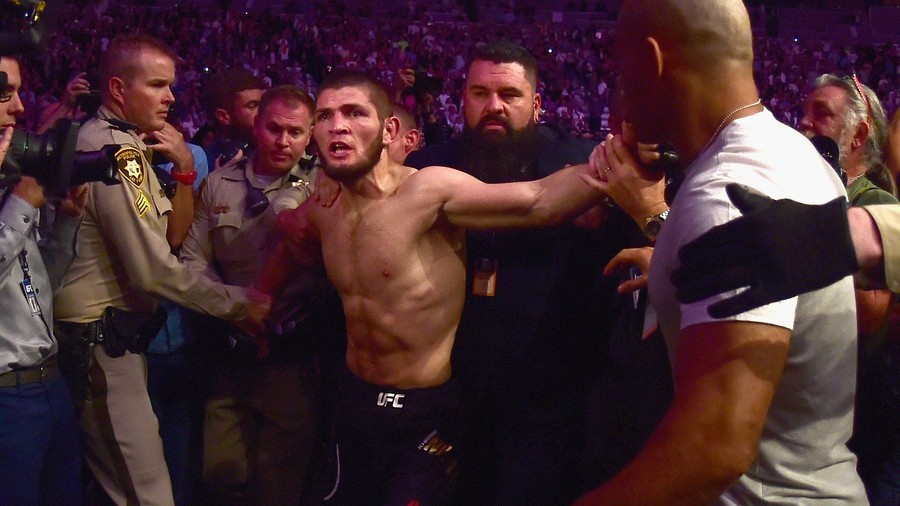 It will go down as one of sport's most infamous images. Khabib Nurmagomedov launching himself over the cage and into the crowd to attack Conor McGregor's team after choking out the Irishman in their UFC 229 grudge match.
Having remained implacably calm in the face of a steady stream of noxious insults during the build-up, the Russian fighter finally snapped, hurling himself at McGregor teammate Dillon Danis after he had already choked the bravado out of the brash Irishman.
The scenes that followed – which saw a mass brawl engulf the T-Mobile Arena, taking in both teams – have been widely condemned as "disgusting," or a "shitshow," as UFC chief Dana White put it.
There have been calls for Nurmagomedov to be stripped of his lightweight title, amid claims that the carnage he appeared to instigate has "set the sport back 20 years."
But amid the outrage and indignation – both faux and genuine – it was in reality an all-too-predictable denouement to a fight that from its inception skirted the bounds of acceptability.
Throughout the pre-fight press events McGregor mercilessly taunted Nurmagomedov, a devout Muslim, branding him "a backwards c***" while sipping whisky, insulting Khabib's father as a "sniveling coward," and calling his manager "a terrorist."
Joe Rogan says he heard Dillon Danis 'absolutely provoking & insulting Khabib' before their brawl
That came, of course, after the Irishman had attacked a bus carrying Nurmagomedov and other UFC fighters back in April, in response to a confrontation between the Russian fighter and McGregor training partner Artem Lobov.
McGregor's pre-fight antics were not new and were not unexpected. He is well-known – and revered by some – for his pre-fight psychological warfare. His razor-sharp barbs cut deeply – he is Notorious by name, and notorious by nature.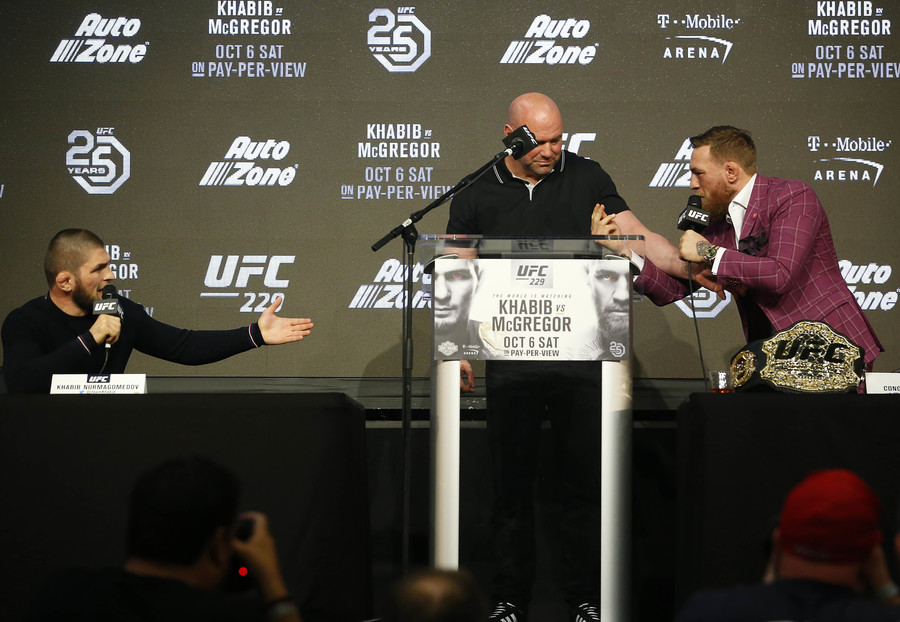 But to someone such as Nurmagomedov, who is from a part of the world where personal slights are not dished out as easily or taken so lightly, McGregor's taunts, ever more personal, would never be allowed to lie – especially not when aided and abetted by so many of his team members, Danis included.
And then there is UFC chief White, who had toasted McGregor with the Irishman's own-brand whiskey as he dished out insults at the pre-fight press conferences.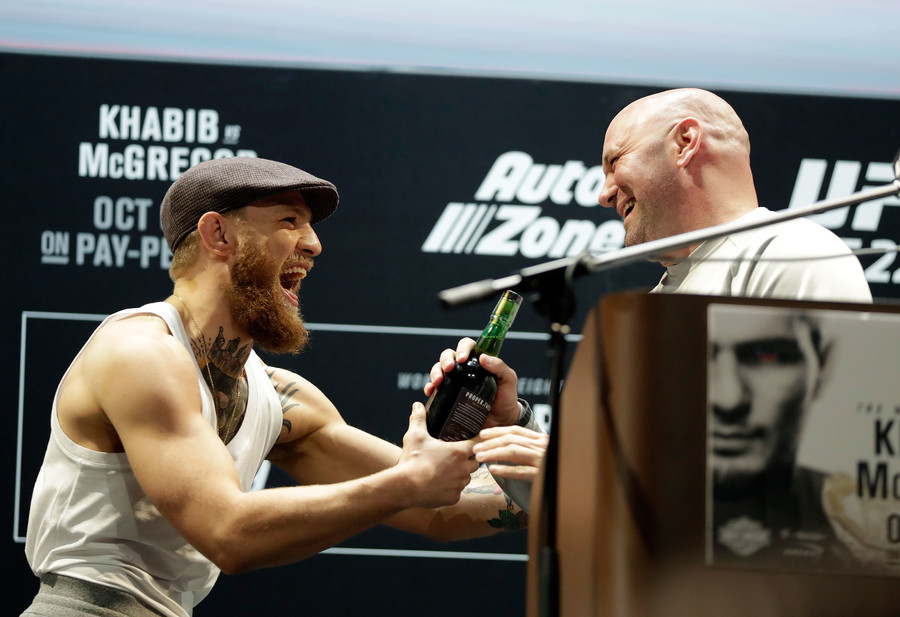 "It was dark, man. It was the darkest press conference I've ever been a part of. Conor McGregor is the master of mental warfare," White had said of the first press event in New York, almost admiringly.
"I think when it comes to the mental war game in this sport, or any other sport, Conor McGregor is the best ever."
READ MORE: McGregor went to 'dark places' with his trash talk, and paid the price – MMA analyst Robin Black
When it did explode on a tempestuous Saturday night in Sin City, White seemed genuinely shaken by what had transpired in front of the thousands of fans in attendance and millions watching at home – belatedly realizing just how much Khabib's rage had been stoked.
White condemned the scenes, but when asked about the toxic build-up – which Khabib had cited when apologizing for his actions – he dismissed it as "trash talk," all part of the game.
But the promotion cannot have it both ways, claiming shock and horror when things explode as they did on Saturday, while at best being a passive observer when talk crosses the line, and at worst standing acccused of actively fanning the flames (see the use of the bus attack footage in the promo for the fight).
Indeed, after recovering from the initial shock, White has already indicated he would not rule out a rematch between the pair.
The momentum for that will gather, not least from the relentless self-promoter McGregor, although it is far less certain that Khabib – for whom money is much less of a motivator – will want to expose himself to yet more of the Irishman's bile.
READ MORE: Khabib is now bigger legend to some, but bigger enemy to others – MMA analyst Robin Black
And then there is the nature of the UFC and mixed martial arts as a whole.
The values which many want it to aspire to – of maintaining mutual respect amid the carnal savagery of some of the fights – are admirable. Even Khabib's proud father and trainer, Abdulmanap, said he would take his son to task over his actions on Saturday, saying that they did not represent the values that he has instilled in his son. It's hard not to believe him.
READ MORE: 'I forgive McGregor': Khabib's father says Conor's tirade of insults 'in the past'
But much like its boxing relative, MMA is a sport that in so many ways thrives on bloodlust.
The co-main event on Saturday proved that when Tony Ferguson's bloody slugfest with Anthony Pettis was hailed as one of the fights of the year – the perfect appetizer to the main course of Khabib versus McGregor.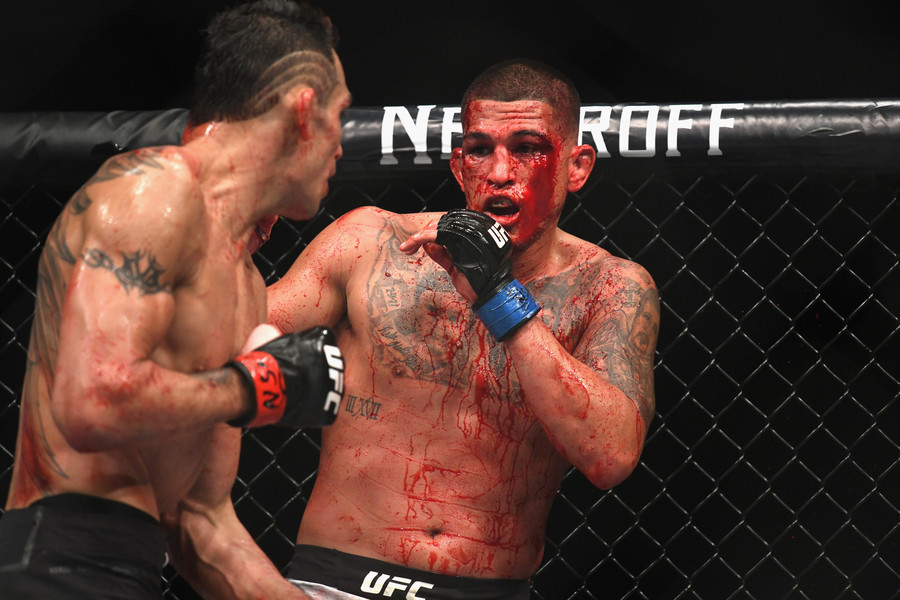 While MMA purists will appreciate the chess-like stand-offs and grappling that are characteristic of many bouts, it's the explosive action such as the Ferguson and Pettis fight that will appeal to the broader audience and rack up the kind of numbers that White and others aspire to.
It is enthralling when confined to the cage, but when mixed with deep-rooted personal animosity, it becomes much harder to control.
Judged on the merits of the fight itself, Khabib's victory over McGregor was a wonderful example of what the sport entails – grappling, explosive punching, and strategy – until it all unraveled so spectacularly afterwards.
Khabib's actions were unacceptable, and will rightly be sanctioned by the Nevada authorities – as should those of any members of his team or McGregor's who were party to the chaos.
But while it's correct to say that the carnage was wrong, given the noxious build-up to the fight, it was surely not surprising.
By Liam Tyler
You can share this story on social media: