UFC 229: Ferguson beats Pettis in brutal slugfest, launches scathing attack on McGregor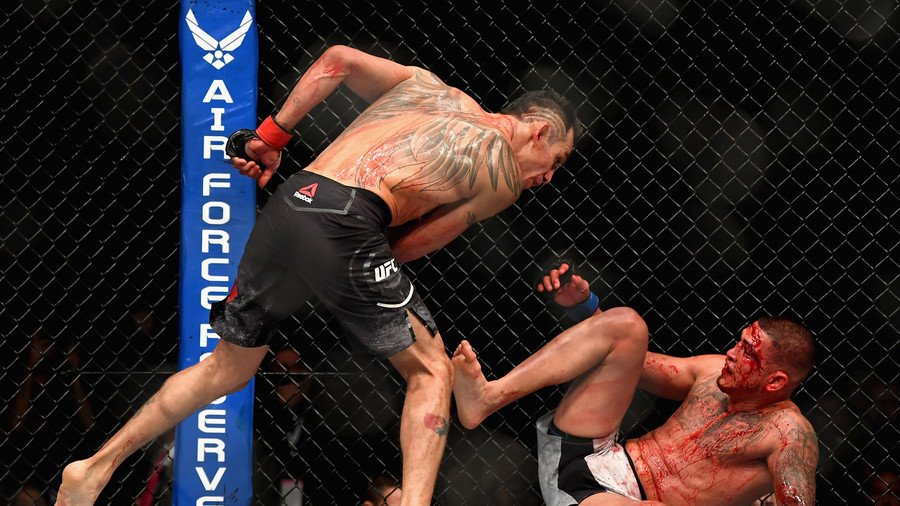 Tony Ferguson earned a second-round TKO win against Anthony Pettis in a brutal slugfest in the pair's lightweight co-main event at UFC 229, before calling out Conor McGregor.
READ MORE: UFC 229: Follow the action from Las Vegas as Khabib Nurmagomedov faces Conor McGregor
Appearing for the first time since being stripped of the interim lightweight belt and having knee surgery, Ferguson rode some massive blows from Pettis as the pair produced a stunning fight at the T-Mobile Arena.
With both fighters bleeding heavily, Pettis' corner called an end to the fight before the start of the third, with Pettis reportedly having suffered a broken hand.
It was a truncated end to what had been a thrilling fight that ebbed back and forth, with neither fighter holding back.
Ferguson, 34, edged an action-packed first round before Pettis rocked him at the start of the second with some big shot.
However, 'El Cucuy' gained valuable respite when the referee called a halt to proceedings to check a cut from Pettis – allowing Ferguson the breather he needed.
Ferguson used his chance and stepped up his authority, closing the round stronger on top as he pummeled his lower-ranked opponent with big blows.
Pettis' corner wisely stopped their man from going out in the third – handing an emotional Ferguson a win on his return to action and moving his record to 24-3 – including an 11-figth win streak.
After the bout, Ferguson called out Irishman Conor McGregor in an expletive-filled interview, saying: "I want McGregor, if Khabib doesn't finish him tonight, then I'm going to be the one who does it."
You can share this story on social media: