'Defeat for Khabib would be more devastating than for McGregor' – Jon Jones on UFC 229 (VIDEO)
Former UFC light heavyweight champion Jon Jones says a defeat for Khabib Nurmagomedov against Conor McGregor in the pair's megafight in Las Vegas would be "more devastating" for the Russian than his Irish challenger.
Undefeated lightweight champion Nurmagomedov and Irish star McGregor meet at UFC 229 on Saturday night in a highly-anticipated match-up billed as the biggest the sport has ever seen.
Dagestani native Nurmagomedov has an unblemished record of 26-0 in professional MMA, while McGregor is undoubtedly the sport's biggest draw, and is making a return to the octagon after a nearly two-year break.
In a wide-ranging interview with RT several weeks ago, Jones – himself considered one of the greatest fighters ever to grace the UFC – spoke on the upcoming bout, which has been billed as a clash of styles between Nurmagomedov's superior ground skills and McGregor's stand-up threat.
READ MORE: Khabib Nurmagomedov & Conor McGregor both make weight ahead of UFC229 (PHOTOS)
Jones said the punching power of McGregor was a very real threat for Nurmagomedov, but that both were "god-gifted fighters."
"The scary thing about that fight is that every round starts on its feet and that's scary for Khabib," said Jones.
"Floyd Mayweather says that there's great fighters and that there's god-gifted fighters and I believe that Conor and Khabib are both god-gifted fighters. They're very special men. When you're dealing with a god-gifted fighter, it's hard to bet against them," added the 31-year-old US fighter.
Nurmagomedov heads into the bout as the favorite with many pundits and bookmakers, but Jones said he could not call a winner.
"What I'm going to do is just watch as a fan, because I really cannot choose. Like, if I had to bet my house on the fight I wouldn't be able to make the bet. Who knows what's going to happen. That's what makes it such a special fight."
Jones also said that he backed the notion that the fight will pan out as either an explosive KO win for McGregor, or a more attritional victory for Nurmagomedov.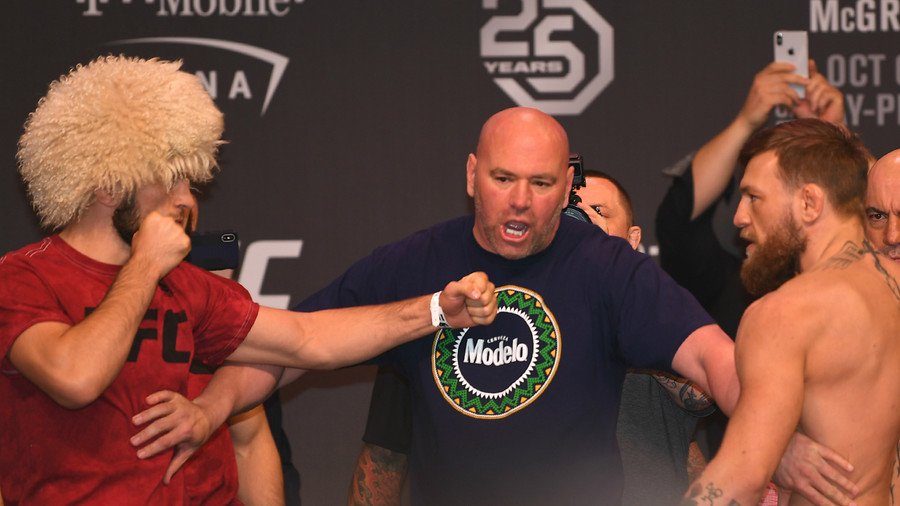 "I think it could go two very different ways, either McGregor keeping it on the feet and scoring a knockout or Khabib getting it to the ground round after round and winning the victory in a five-round decision. It will either be a knockout in the early rounds or a decision. I think they're both extremely special athletes. That's what makes this fight so hard to pick a side. I'm a fan of both of them, even though Khabib is on Daniel Cormier's team, I'm still a fan.
READ MORE: 'Khabib or Conor?' Moscow makes UFC 229 megafight predictions (VIDEO)
"I'm just excited to see high-level mixed martial arts. I'm not rooting for anybody," Jones added.
Jones himself is set for a return to the octagon after being handed a 15-month backdated ban by USADA over his failed doping test in the run-up to his fight against Daniel Cormier last year.
That means Jones is cleared to fight from the end of October, with talk that he could face Swede Alexander Gustafsson at UFC 232 in Las Vegas in December.
READ MORE: UFC wants Jones v Gustafsson rematch in December – reports
While he considers his own steps toward securing a legacy for himself, he said McGregor's own standing in the sport would be less diminished by defeat on Saturday, while for Khabib a first loss would be "devastating."
"I think for Khabib the loss would be more devastating," Jones said.
"I think there's a lot riding on this fight for him, his country, you know, the weight of his country is on his back and things like that. I think it'd really damage Khabib's brand and his kind of aura.
"I think McGregor could lose the fight and still be just as loved, and just as huge of an idol.
"He just has this effect, people want to watch him. He can be doing 'Dancing with the Stars' and I guarantee the ratings will go up.
"Like I said, McGregor can lose it and then come back in a rematch and be just as big, or do some wild 185-pound fight and be just as big.
"But Khabib, I think everything is just riding on this for him, [a defeat] would definitely affect Khabib's star power," Jones concluded.
You can share this story on social media: