'Khabib can easily knock Conor out' – Chael Sonnen on UFC 229 showdown
MMA veteran Chael Sonnen has questioned the narratives surrounding the Khabib Nurmagomedov versus Conor McGregor showdown in Las Vegas, saying that the fight could pan out very differently to how many people expect.
Heading into Saturday night's bout at UFC 229 at the T-Mobile Arena in Las Vegas, many believe it will be a straightforward contest between the stand-up strike skills of McGregor and the superior groundwork of Nurmagomedov.
However, former UFC star Sonnen, 41, told RT Sport that the fight could see either man knock the other out – and that the undefeated Russian's threat is not necessarily limited to the ground.
"For Conor to win he has to knock Khabib out, that's true," Sonnen told RT Sport via Skype.
"But Khabib doesn't have to take Conor down. Khabib can knock Conor out, quite easily.
"And definitely on the ground, I believe he will be able to control him, dominate him and do some damage," added Sonnen - who himself faces Russian legend Fedor Emelianenko in the semifinals of the Bellator Heavyweight Grand Prix on October 13.
The former UFC light heavyweight added that similar narratives have been presented before – including in the run-up to the UFC 226 heavyweight showdown between Daniel Cormier and Stipe Mioci – only to be rendered incorrect once the bell rang.
"You know the same narrative was out there before, when Stipe and Daniel Cormier fought. That Cormier had to take him down and Stipe had to knock him out.
"That's close, except that grappler can always knock the other guy out. Both guys can knock the other one out," Sonnen said.
"In this case Conor cannot take down Khabib and won't even try. And Conor cannot submit Khabib and won't even try."
Saturday night's bout between lightweight champion Nurmagomedov, who boasts an unblemished 26-0 record, and Irishman McGregor – the first man to win titles at two UFC weights – has been billed as the biggest ever in MMA history.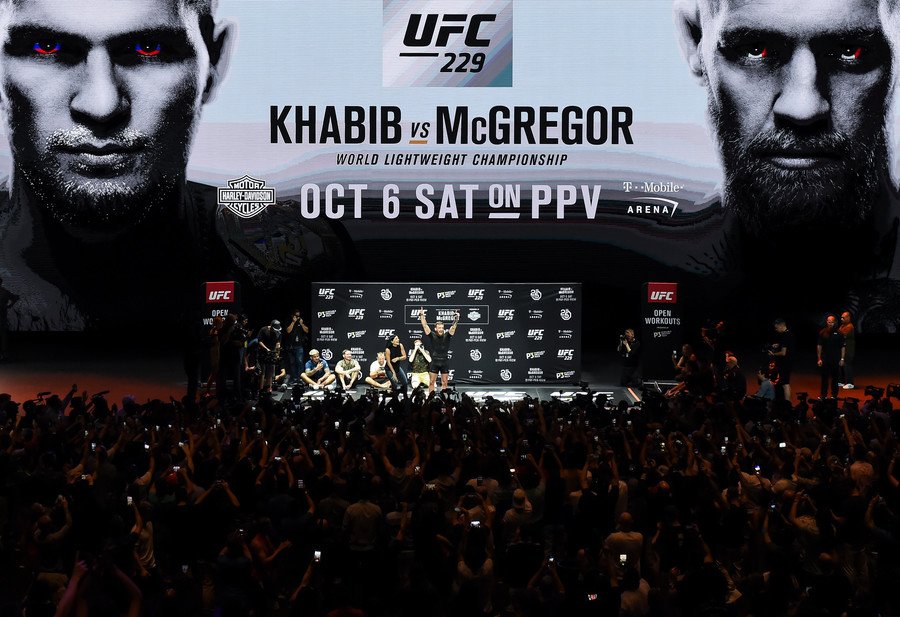 READ MORE: Khabib v McGregor set to smash pay-per-view record by 1mn – UFC chief White
Sonnen believes that the bout is inarguably between the two best fighters in the division – and that while the winner stands to gain a huge boost, a defeat would not necessarily spell doom for either man.
"I would look at it from the other perspective, it's going to be very positive for whichever one wins.
"They truly are fighting over who the best lightweight in the world is, there's nobody that disagrees.
"The guys in the locker room telling Dana White, 'this should be my spot', they stood back and said 'you are the two right guys, you figure it out'.
"So, whoever wins it's going to be a tremendous boost. I don't know for the loser if it will rescind too much of his credibility, but it will be a good night for one of them."
You can share this story on social media: