Khabib Nurmagomedov & Conor McGregor both make weight ahead of UFC229 (PHOTOS)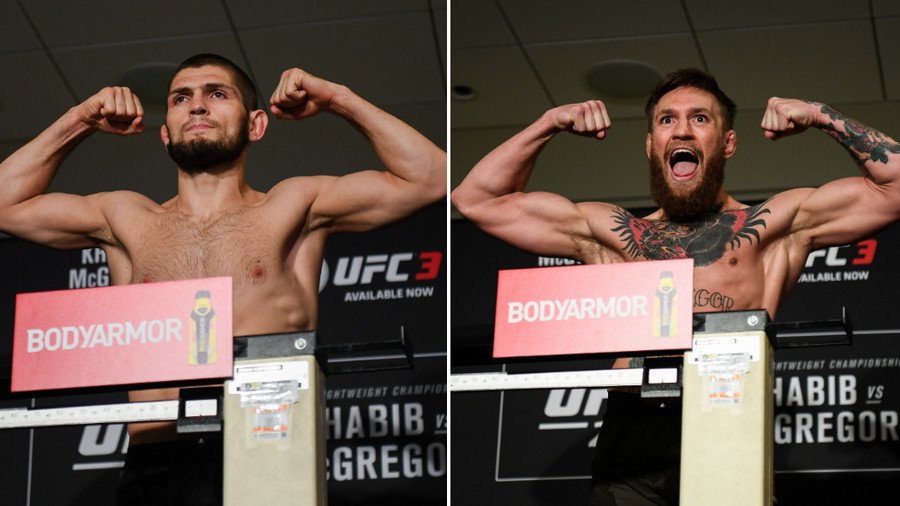 Russian UFC lightweight champion Khabib Nurmagomedov and Irish challenger Conor McGregor have both made the 155 lbs lightweight limit ahead of their fight at the T-Mobile Arena in Las Vegas on October 6.
READ MORE: 'Khabib or Conor?' Moscow makes UFC 229 megafight predictions (VIDEO)
Undefeated champ Khabib confidently stepped on the scales first and weighed bang on the 155 lbs limit in Las Vegas, with challenger McGregor going second, although significantly later, eventually scaling 154.5 lbs, half a pound under the division limit.
Predictably, Dubliner McGregor forced an expectant crowd to wait, in-keeping with his infamous suspenseful, late-arrival technique. After his weight was announced, the packed room erupted into roars and applause for the former featherweight and lightweight champion, there were even rumors the electricity dipped and wifi connections failed as journalists scrambled to report the news.
On Thursday, McGregor poked fun at Khabib's previous struggles with making weight at the press conference. The latter exited early from the media event to continue his cutting process, with McGregor absent due to his notorious tardiness.
When McGregor did arrive, he wasted no further time in insulting the Dagestan native, saying he should be put in a sauna to "cook him like the chicken jaw rat that he is!"
Khabib was dramatically rushed to hospital when trying to make weight ahead of a slated fight with Tony Ferguson in 2017, thus putting paid to that bout.
READ MORE: McGregor brands Khabib 'smelly Dagestani rat' in latest UFC 229 tirade (VIDEO)
However, there were no problems this time round for the Russian, who lays his belt and perfect record on the line against McGregor, who is making his return to the octagon after a two year absence in the biggest fight in the world of professional MMA.
Also weighing in at the event were fellow lightweight contenders Anthony Pettis and Tony Ferguson, who will contest the chief support fight on the card. Ferguson made 155 lbs while Pettis, the very last fighter on the scales, weighed in 156 lbs behind a towel.
Under UFC rules, a non-title bout has a one pound weight allowance over the specified limit.
You can share this story on social media: