McGregor brands Khabib 'smelly Dagestani rat' in latest UFC 229 tirade (VIDEO)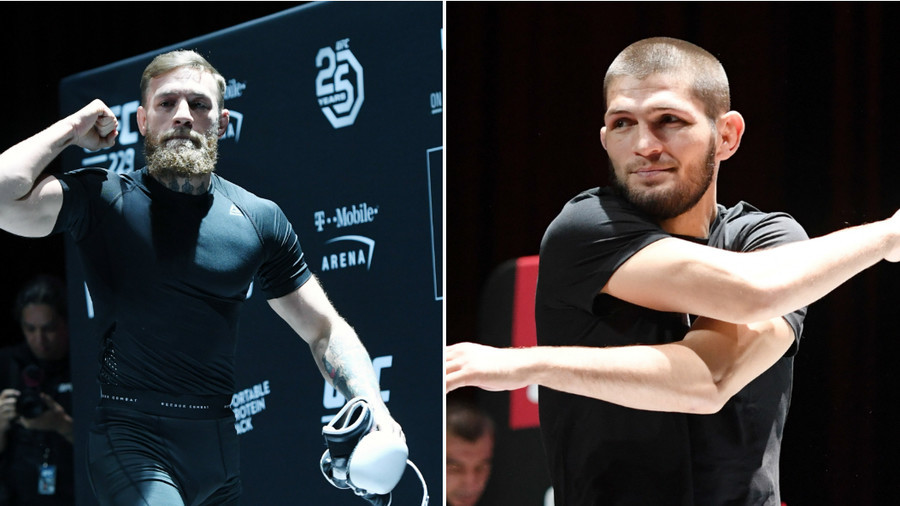 Conor McGregor and Khabib Nurmagomedov continued to ratchet up the animosity ahead of Saturday night's MMA mega-fight in Las Vegas, with the Irishman vowing a "devastating KO" and branding his rival a "smelly Dagestani rat."
The pair meet for Nurmagomedov's lightweight title at the T-Mobile Arena at UFC 229 on Saturday night, in what is expected to be the biggest MMA fight in history.
It will be the first time McGregor, 30, has fought in the Octagon in nearly two years – and the Irishman was in typically belligerent mood at an open training session in front of a boisterous crowd at Park Theater in Las Vegas on Wednesday.
"It's good to be back doing what I love to do in front of my fans," McGregor told UFC reporter Megan Olivi. "On Saturday night you're in for a show, trust me on that. I'm going to take his head off.
"[It will be a] devastating KO, he's too easily hit, too flat-footed, too predictable, I'm going to knock him clean out," vowed the Irishman.
"Let's do it. A proper fight, a proper, proper fight. I'm going to come out there fast. I don't give a f*** about anything – any wrestling, any technique – anything.
"I'm coming for that man's head from the f***ing bell. Trust me on that," the former two-weight champion vowed.
READ MORE: War of Words: The best quotes from Conor & Khabib's 'darkest' UFC 229 presser (PHOTOS/VIDEO)
He closed the tirade by proclaiming "let's take this smelly Dagestani rat," before hurling the mic across the stage.
McGregor, who had earlier taken to the stage with his son, Conor Jr, mainly focused on his striking technique when the session began – which is where many see his biggest chance of success coming on Saturday night.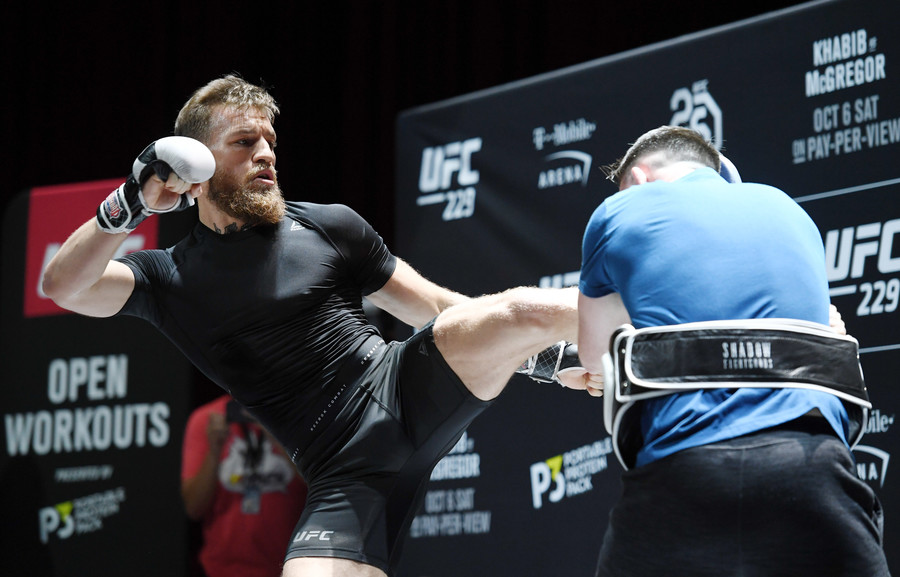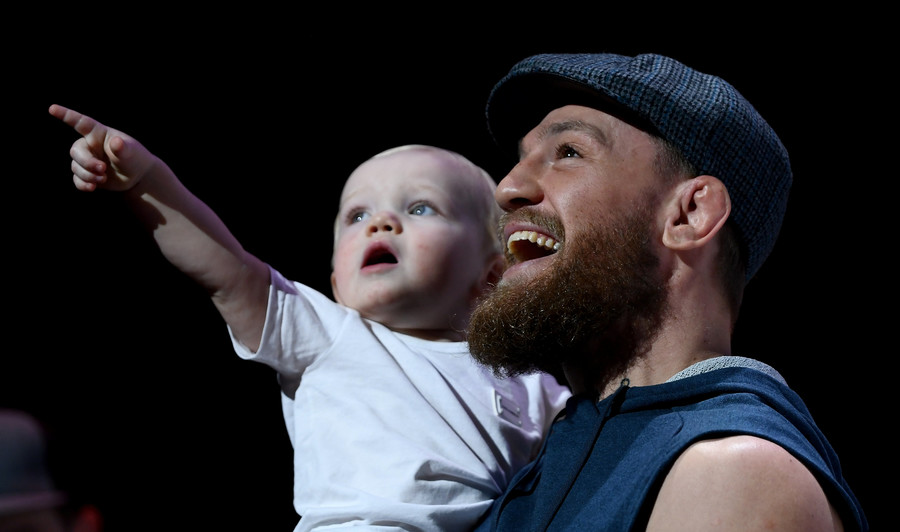 In contrast, lightweight champion Nurmagomedov went through ground work and takedown drills during his session – widely seen as his best chance of success.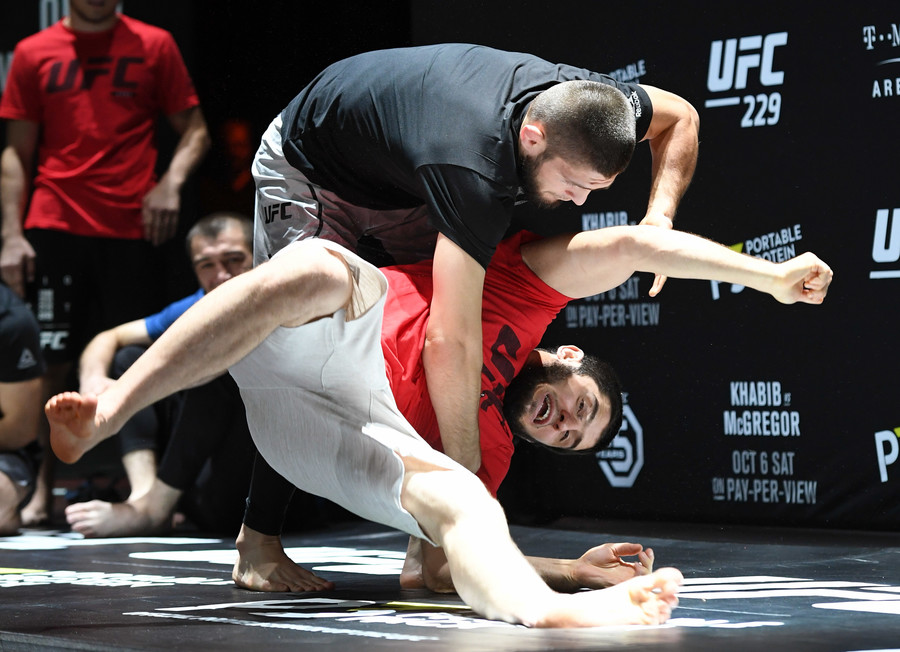 Nurmagomedov also addressed the staunchly pro-McGregor crowd, saying amid jeers: "Three days... you're going to like me."
He continued to stir tensions by repeating his claims that McGregor has betrayed his Irish roots – even referencing his grandfather's service record.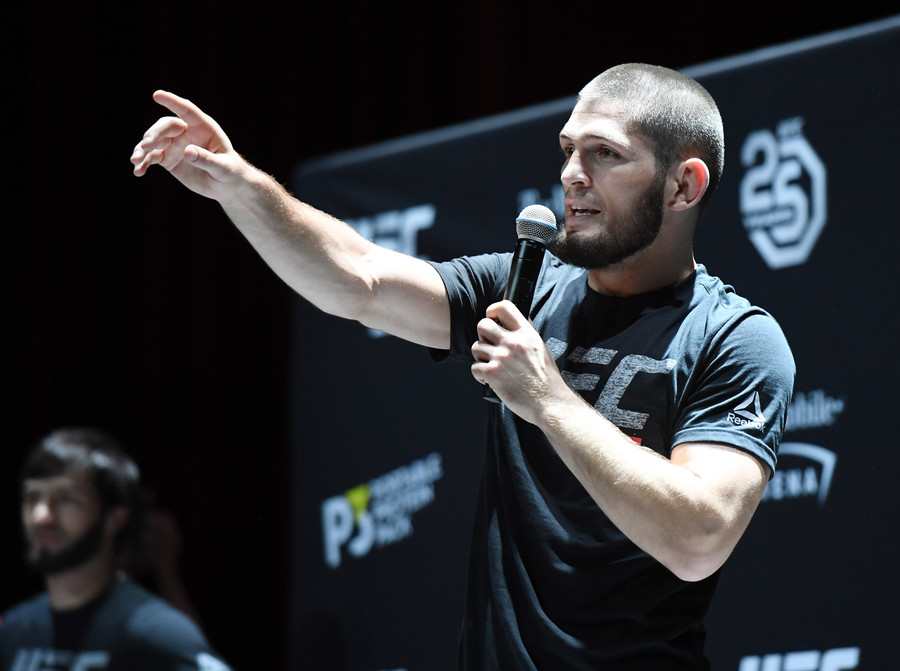 "I have a question for Ireland... what about your own language? What about Irish language, where's your language?" asked the Russian fighter, who has a perfect 26-0 professional MMA record.
"Someone can give me an answer? This guy talks about fighting the English empire but his grandfather, Christopher, worked with the English navy and he killed your people.
"Now you support him but I'm going to change that on Saturday night," Nurmagomedov vowed.