'Watch your mouth if you don't want trouble!' - Russian MMA fighter to McGregor on Kadyrov comments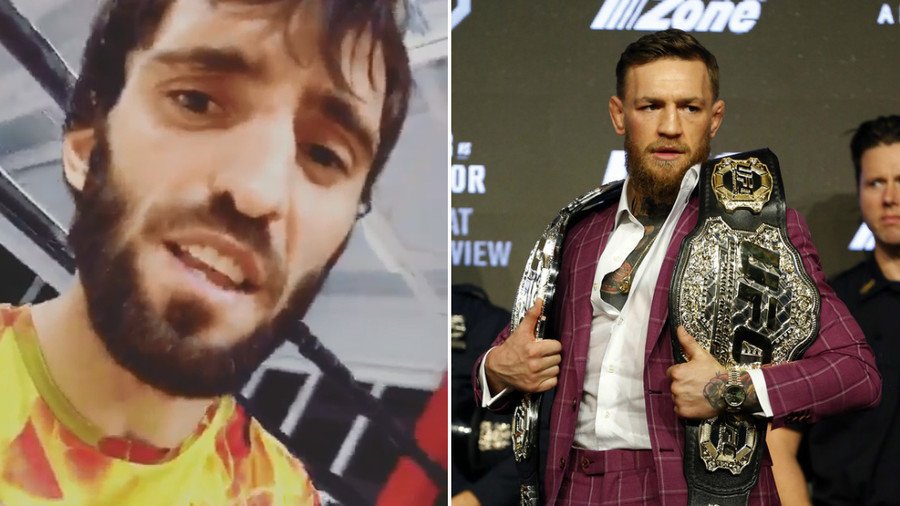 Russian fighter Khusein Khaliev has demanded MMA superstar Conor McGregor "watch his mouth" after comments made by the Irishman about Chechen leader Ramzan Kadyrov in last week's UFC 229 presser with Khabib Nurmagomedov.
READ MORE: Khabib Nurmagomedov v Conor McGregor UFC 229 press conference from NYC (VIDEO)
Khaliev, who boasts a record of 18-1 in professional mixed martial arts, published a stern personal message to 'The Notorious', after taking issue with his comments regarding Kadyrov and addressed to Khabib during Thursday's press conference in New York City ahead of the pair's showdown for the UFC lightweight title in Las Vegas on October 6.
Nicknamed 'Captain' and hailing from the Chechen capital of Grozny, Khaliev is a member of the 'Akhmat Fight Team' founded by Kadyrov, and claimed to be offended by McGregor calling Khabib's father Abdulmanap "a quivering coward" for showing "fake respect, out of fear" in a meeting with the Chechen leader.
In the video, posted to Instagram and titled 'Conor, remember, that the Caucasus is not Ireland. Talk less, if you're not looking for trouble', Khaliev warns the former featherweight and lightweight UFC champ about his words and says he has committed the unforgiveable act of "harming the honor of our family or a person" of the Caucasus.
READ MORE: War of Words: The best quotes from Conor & Khabib's 'darkest' UFC 229 presser (PHOTOS/VIDEO)
"Conor, you are a master of trash-talking. But for the latest time I've been offended by you, watching the press conference," welterweight Khaliev begins.
"I understand that your talk is acceptable in America, or in Ireland or wherever else, but when the matter regards Chechnya or the Caucasus, you will have to think, what you can and can't talk about.
"For your words, in the cage or outside the octagon, you will have to answer, because we never forgive for harming the honor of our family or a person. Therefore, I advise you to show some remorse, and apologize as soon as possible. Your life will not end with your fight against Khabib. Watch your mouth if you're not looking for trouble."
McGregor was typically sharp-tongued during the press conference, consistently proving he had done his homework on a number of issues concerning Khabib, his family and even members of his entourage.
"The Chechen people know what I am talking about when I called his father a quivering coward. Him and Kadyrov were at a mosque together and he posted a picture of Kadyrov on his Instagram site," McGregor boomed at the presser.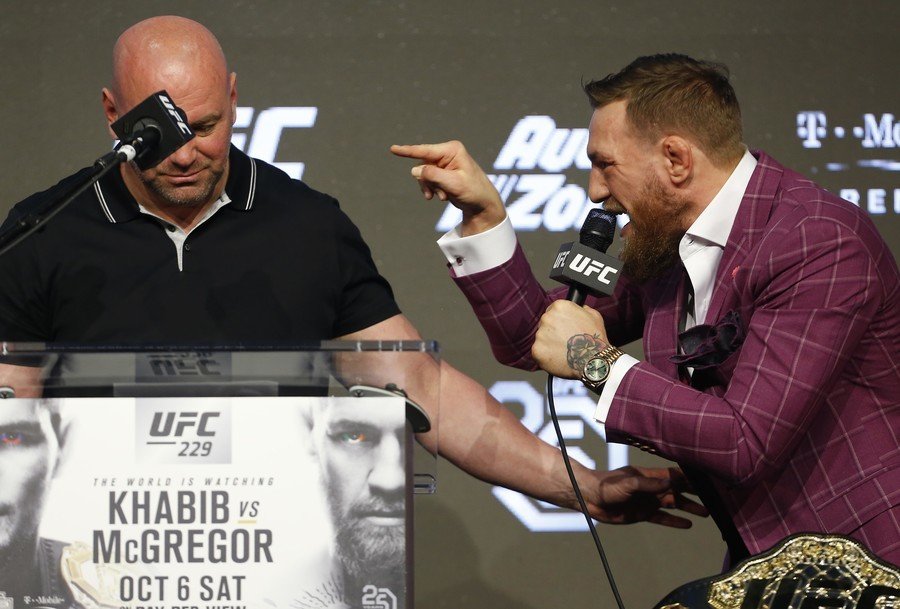 The 30-year-old also referenced Chechen fighters when accusing Kahbib of having a 'glass jaw', shouting down the microphone: "My Chechen friends...they told me that they have chicken jaws in Dagestan, and I believe them, because I know a glass jaw when I see one...I know he is afraid of a smack; and if you're afraid of a smack, off me, a smack will feel like a double barrel shotgun."
McGregor and the undefeated Nurmagomedov will turn their war of words into a full-blown battle in the octagon when they meet for the UFC lightweight title Numagomedov won in McGrgeor's two-year UFC absence at the T-Mobile Arena in Las Vegas.
You can share this story on social media: