'He thinks he can KO me, we'll see': Khabib lays into McGregor ahead of UFC 229 press conference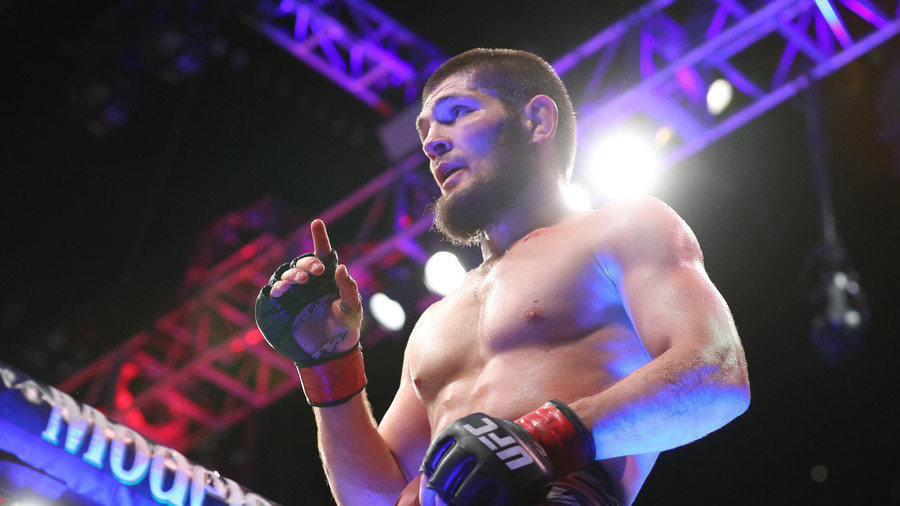 Khabib Nurmagomedov has vowed to grind Conor McGregor down when they meet at UFC 229, laying into the Irish star as the pair prepare for the event's first press conference in New York on Thursday.
Landing in the city, Nurmagomedov was asked what he was expecting from McGregor when the pair come face to face at the press event at New York's Radio City Music Hall, given the Irishman's penchant for pre-fight provocation.
"I don't expect nothing from him," the undefeated Russian said in a clip on the TMZ Sports website. "I just want to come, answer the questions… I'm focused on the fight.
"I'm gonna go crazy on the 6th October," added Nurmagomedov, referencing the date the pair will meet at the T-Mobile Arena in Las Vegas.
The current UFC lightweight champion added that he felt strong heading into the final weeks before the fight, saying: "My weight is good, my shape is good, I feel great."
READ MORE: UFC to host Times Square viewing for first McGregor v Khabib press conference
When asked about his plan for the bout, he hinted he would try to grind McGregor down in a war of attrition – which is seen by many as the best chance of success for the 29-year-old Dagestani native.
"I'm going to make him tired and make him look bad, this is my plan. He cannot fight all 25 minutes, maybe he thinks he can knock me out, we will see."
Nurmagomedov also had time to hit out at the US Anti-Doping Agency over its recent decision to hand Jon Jones a 15-month backdated suspension for a doping violation, meaning Jones can return from the end of October.
READ MORE: 'No. 1 bullsh*t people': Khabib, fellow fighters hit out at USADA after Jon Jones doping ruling
"USADA gave my friends two years," Nurmagomedov said. "They had the first time a problem… Jon Jones had the second time a problem, they give him one and a half years, I think it's very bad, they have to give him a little bit more.
"But now I understand USADA is number one bullsh*t people," he added. "Jon Jones is a great fighter, but everybody has to follow the rules."
RT Sport will be livestreaming the first UFC 229 press conference from New York, which starts at 5pm EST (9pm GMT) on Thursday.
You can share this story on social media: