UFC to host Times Square viewing for first McGregor v Khabib press conference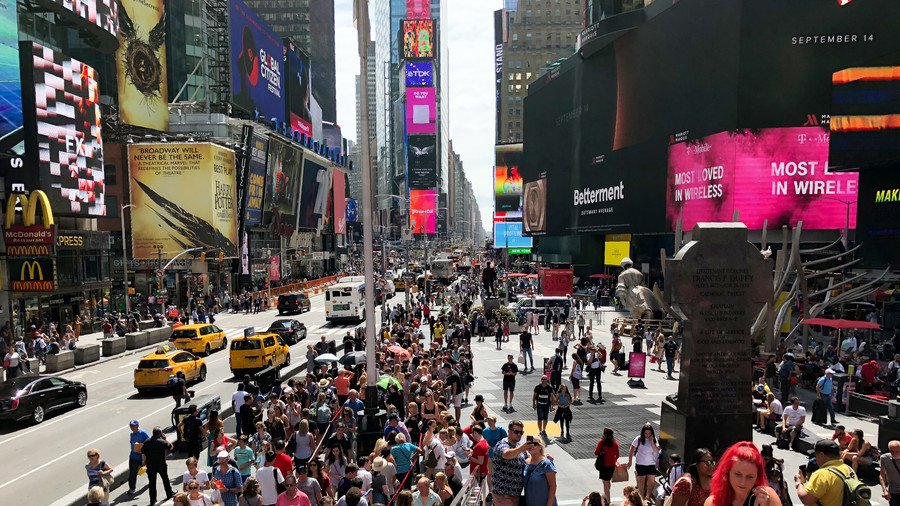 The UFC will host a viewing party in New York's iconic Times Square for fans eager to see Conor McGregor and Khabib Nurmagomedov come face to face at the first press conference ahead of their October megabout in Las Vegas.
Nurmagomedov and McGregor will meet at a closed press conference at Radio City Music Hall in New York on Thursday, but fans will be able to follow the event live on the 330ft 'Mega-Zilla' screen in the heart of the Big Apple.
READ MORE: 'Biggest fight in UFC history' – Dana White on Khabib Nurmagomedov v Conor McGregor
The bout between undefeated lightweight champion Nurmagomedov, 29, and Irish megastar McGregor, 30, has been hailed as the biggest ever in the promotion's history by UFC chief Dana White.
Fans could see sparks fly when the two come face to face on Thursday, with bad blood continuing to simmer after McGregor attacked a bus containing Nurmagomedov ahead of UFC 223 in Brooklyn in April.
That came after Nurmagomedov confronted McGregor training partner Artem Lobov over comments the latter had made about the Russian fighter.
McGregor's previous UFC press conferences have frequently proved incendiary. The Irishman famously swiped featherweight Jose Aldo's belt at a promotional event before the pair were due to meet at UFC 189 in 2015.
Before his rematch with Nate Diaz at UFC 202 in 2016, he engaged in a heated exchange with his rival before Diaz walked out. McGregor then hurled an energy drink can towards Diaz's team after having a water bottle thrown in his direction.
Nurmagomedov has typically cut a more reserved figure during his press conferences. His father and coach, Abdulmanap Nurmagomedov, has said that they will not respond to potential provocation from McGregor, but that any slurs from the Irishman "will not be forgiven."
READ MORE: We won't forgive McGregor jibes, says Khabib Nurmagomedov's father
Dagestan native Nurmagomedov heads into the fight with McGregor with a professional record of 26-0, including 10 wins in the UFC.
McGregor, who is 21-3, became the first fighter ever to hold titles at two different weight divisions in the promotion – including the lightweight title now owned by Nurmagomedov.
You can share this story on social media: