'Scum will pay for their words!': Khabib in social media skirmish with Russian rap stars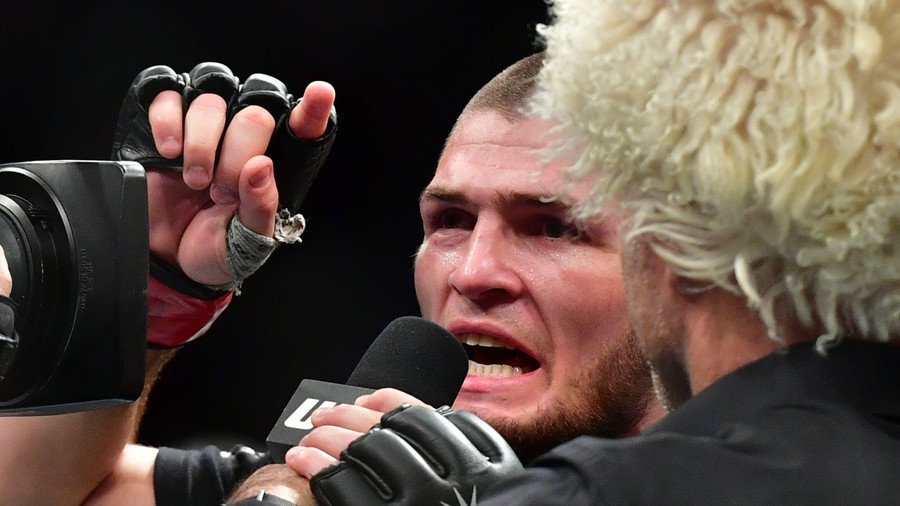 While verbal skirmishes are common in MMA, Russian UFC star Khabib Nurmagomedov, who is preparing to face Conor McGregor in October, has become involved in an explosive social media exchange with Russian rap artists.
The unlikely conflict with the rappers originates in an Instagram post by Nurmagomedov in the middle of August.
Back then, the UFC lightweight champion posted a video showing a large crowd, mostly consisting of women, at a rap concert in his native Dagestan, complete with the caption: "Modern Dagestan. Is this what was bequeathed to us by righteous predecessors?"
The post from the fighter, who is known for his religious and ultra-conservative views, sparked a massive debate among Russian internet users and beyond. The row was also mentioned amid the cancelation of a concert by Russian rap singer Igor Krid, who was set to perform in Dagestan's capital city of Makhachkala on September 9.
The show organizers were forced to call off the event, referring to "safety concerns" and a "tense atmosphere," while Krid himself said he had "never received so many threats before."
Reacting to the news, Nurmagomedov posted an Instagram story citing Krid's concert cancelation and captioning it: 'Not a big loss.'
The head of Krid's promotional company Black Star, Russian rap star Timati (real name Timur Yunusov), posted a video addressing Nurmagomedov.
"I've heard your statements regarding what (people) should be listening to in Dagestan and what not," said the 35-year-old musician.
"I thought that your opinion on the matter had been exaggerated by the media. But after I checked your Instagram where you say that this is 'not a big loss,' after Igor Krid couldn't come to Dagestan..."
"I understand that some songs that contain love lyrics might not be liked by you, but you have to respect the opinions of others. Supporting the wave that goes against artists' visits, because they aren't liked by you personally – that doesn't seem right. We are not calling for anyone to boycott your fights. That would be ridiculous," added the rapper, while also inviting Nurmagomedov to call him, citing the fact that they have mutual friends.
Nurmagomedov's answer came shortly after, and was also posted on Instagram.
"Scum will pay for their words, I'm just too busy for you, and if someone doesn't like my calls, you don't have to address (them), I am not forcing anyone, but telling me that I don't have a right to (have) my opinion is ridiculous. Some demons won't tell you what to do and what not to, I have other people for that, the ones I am listening to and consider (their advice)," said the 29-year-old UFC champion.
"You can stage your effin concerts everyday if you wish, but this is my principle and I will always say what I think. Separately I want to address the men of Dagestan: a lot has been missed and a lot (of it) can't be returned, but we are responsible for the future of our republic, it's us and only us who are responsible for it, not those cocks that say that they want something."
It's not the first time Nurmagomedov's actions outside of MMA have sparked controversy. At the beginning of August he was criticized for publishing a video showing his cousin Abubakar Nurmagomedov appearing to offer money to homeless men in the US to do push-ups, while Khabib can be heard laughing in the background.
READ MORE: UFC star Khabib Nurmagomedov under fire for clip showing homeless people doing push-ups (VIDEO)
In April, just days before his championship fight in Brooklyn, Nurmagomedov confronted one of McGregor's teammates, Artem Lobov, who previously called the Dagestani "a coward" in an interview with Russian media.
A video of the incident went viral and eventually led to a reaction from McGregor, who flew to New York and attacked a bus carrying Nurmagomedov and other fighters.
READ MORE: Conor McGregor sued by fellow UFC fighter over Brooklyn bus attack
You can share this story on social media: