'Oh nuts!' UFC fighter gets genitalia snarled in power tool with bloody outcome (GRAPHIC PHOTO)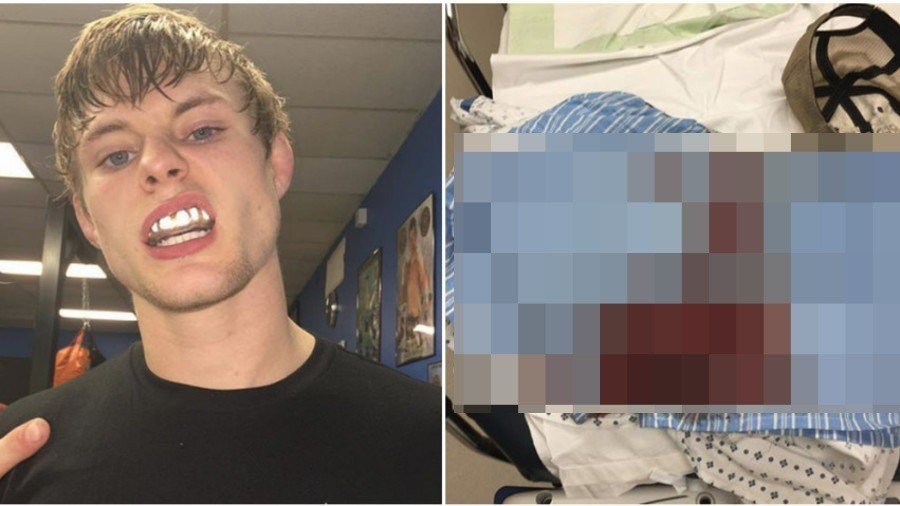 Featherweight UFC fighter Bryce Mitchell got into a bit of a tangle when the power drill he was using for a piece of home DIY accidentally started and "ripped his nutsack in half".
WARNING: THIS ARTICLE CONTAINS GRAPHIC IMAGES THAT SOME MAY FIND DISTURBING
The undefeated (10-0) American, also known as 'Thug Nasty', posted on Instagram, going into eye-watering detail as to how the unfortunate event unfolded, writing: "I dropped the board and reversed the drill and untangled my nutsack but they was ripped in half".
If the wince-inducing explanations were not enough, the fighter posted a gruesome photo of his bloodied boxers to win over any skeptical fans.
The 23-year-old from Arkansas, also posted about his "wounded nuts" and, although his boxers were soaked in blood, vowed to "bleach em and keep wearin em".
There was at least one consolation Mitchell can take away from his ordeal. After posting a picture of his bloodied garments, males underwear company MeUndies got in contact via Twitter to offer the fighter a new pair.
As always, the Twitterati were on point with their lewd responses.
Mitchell, who has gone 10-0-1 in his MMA career so far, won his last fight after a majority decision against fellow American Tyler Diamond in Las Vegas, his UFC debut.
You can share this story on social media: