UFC fans brawl in Las Vegas as tensions spill over at Khabib v McGregor (VIDEO)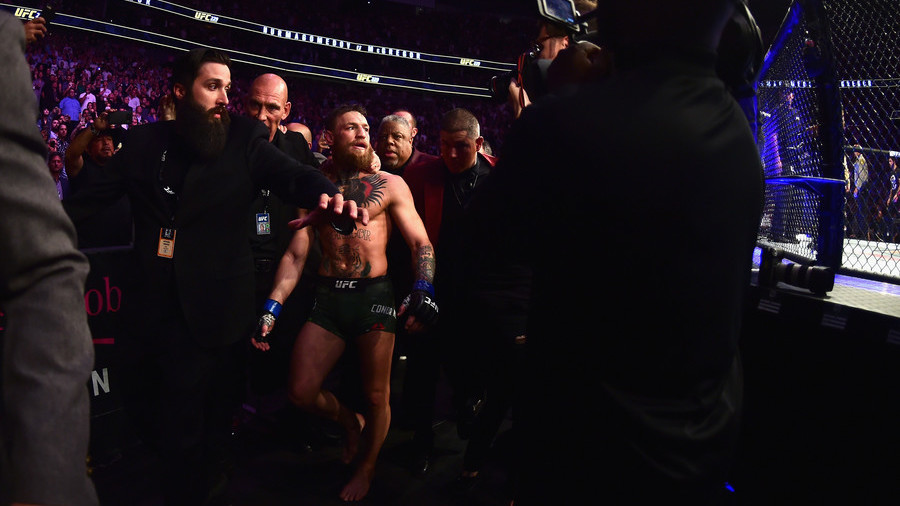 The violence spilled over from the cage and into areas around the T-Mobile Arena in Las Vegas on Saturday night as tensions flared among MMA fans following Khabib Nurmagomedov's victory over Conor McGregor at UFC 229.
Nurmagomedov and members of their team are facing sanctions over their role in a mass melee after the Russian retained his lightweight title with a fourth-round submission of McGregor.
READ MORE: Khabib Nurmagomedov submits Conor McGregor at UFC 229 (PHOTOS)
However the violence appeared to spread far beyond the side of the octagon, as rival fans were seen viciously trading blows in the areas around the arena.
Footage posted on social media showed fight-goers brawling, with one man draped in an Irish flag being knocked to the ground.
One particularly disturbing clip also appeared to show a man being knocked unconscious.
It came amid an uneasy atmosphere among the 20,000 fans at the T-Mobile Arena, as tensions spilled from the octagon following Nurmagomedov's dominant victory over Irish challenger McGregor – who was returning to MMA after a near two-year break.
READ MORE: 'McGregor talked about my religion, my father… what about that s***?' – Khabib on UFC 229 brawl
After submitting McGregor, Nurmagomedov turned his attention to the Irishman's team outside the cage, who had apparently taunted him.
The Dagestani fighter launched an assault on McGregor team member Dillon Danis, while two of the Russian's team appeared to attack McGregor in the cage.
READ MORE: Massive post-fight brawl mars Khabib win over McGregor at UFC 229
UFC chief Dana White later condemned the scenes, saying the Nevada state authorities would likely act and that Nurmagomedov could be stripped of the belt.
It was also reported that three members of the Russian's team had been arrested, but were later released after McGregor refused to press charges.