'Conor has already called me': Dana White insists UFC not at fault for brawl, open to Khabib rematch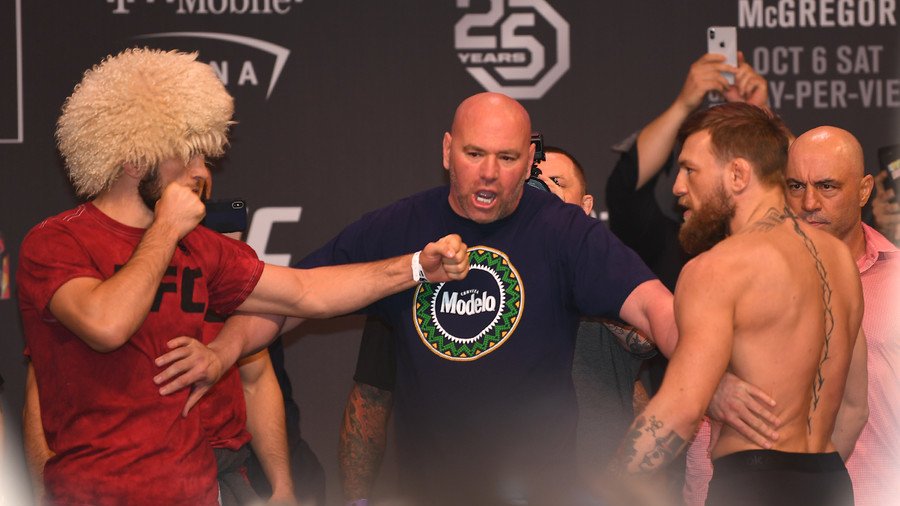 UFC president Dana White says it is "stupid" to accuse organizers of stoking the violence that broke out after the McGregor-Khabib fight, and says he is open to a rematch - providing the Russian retains his fighting license.
"[Khabib Nurmagomedov] has to go before the Nevada commission, and we have to see what's going to happen with Khabib and this whole mess," White told ESPN. "But Conor McGregor has already called me, wanting a rematch."
READ MORE: Khabib Nurmagomedov submits Conor McGregor at UFC 229 (PHOTOS)
Khabib, who defended his lightweight UFC title against McGregor in a fourth-round submission on Saturday night, had his purse withheld after setting off a brawl when he jumped outside the octagon to exact revenge on the Irishman's fight team.
From First Take, Dana White says Conor McGregor already asked about a rematch. I'm glad Dana mentioned Tony Ferguson. I am team "Khabib vs. Tony" here. Would way rather see that an immediate rematch. pic.twitter.com/CVVPiVTPNO

— Brett Okamoto (@bokamotoESPN) October 8, 2018
But White said that the UFC did not mishandle security in Las Vegas, or the promotion for the fight.
"We knew some things could happen after this fight, so we had everything in place to make sure that didn't happen," White said. "I didn't see Khabib jumping over the cage like that. He got over that thing quick and was going after one of Conor's cornermen."
White insisted that it was down to the Russian, who improved his record to 27-0, to keep his temperament in check, despite receiving a pre-fight barrage of slights about his faith and family.
"There's no doubt he's justified for being upset, but first of all, you, you just won the fight against the biggest superstar in all of sports, let alone our sport. You just beat him while the whole world was watching. The only one getting hurt in this thing now is Khabib," said White.
White also dismissed a USA Today article accusing the UFC of adding fuel to the fire with its 'Bad Blood' promotion that emphasized the personal enmity and string of hostile incidents between the two martial artists.
Dana White on First Take this morning, responding to any suggestion the UFC is partially responsible for what happened at UFC 229 because of the way they promoted the fight. pic.twitter.com/zusJ3UHmbx

— Brett Okamoto (@bokamotoESPN) October 8, 2018
"Dumbest quote I ever heard in my life, you're an idiot whoever wrote that," White said. "That's all part of the storyline. Almost 20 years we've been doing this, we've had plenty of fights where there's tons of bad blood and we don't have fights after the fights."
READ MORE: 'We lost the match but won the battle ' – McGregor defiant in latest message after UFC 229 defeat
You can share this story on social media: