Football & Khabib - The UFC champ's fight to keep the beautiful game alive in Dagestan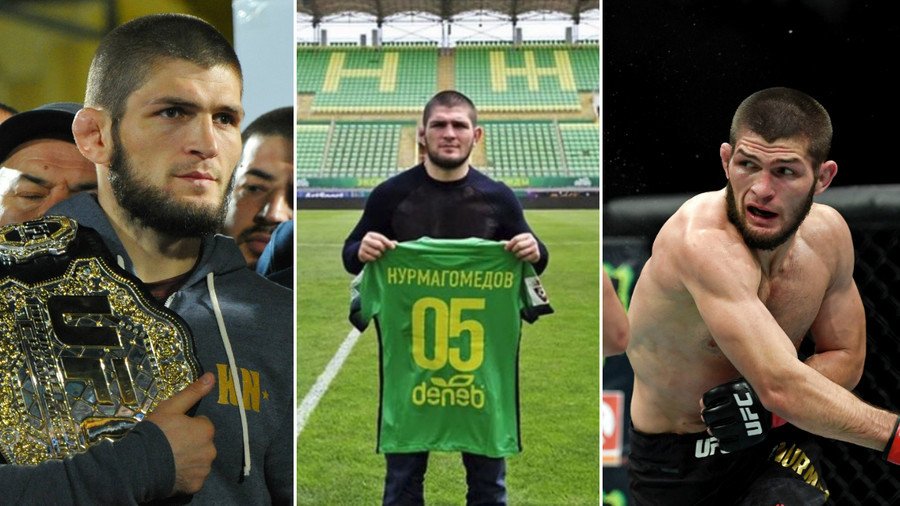 UFC lightweight king and Dagetsan native Khabib Nurmagomedov will perform the cermeonial kick off when his hometown team Anzhi Makhachkala take on CSKA Moscow on Friday, continuing the fight to keep football in his homeland.
READ MORE: The crazy life of Khabib Nurmagomedov: From brawls & bans to 50 Cent & Floyd (VIDEO)
The year is 2001, a young Makhachkala-based wrestler - no older than 13 - has already made two laps of the city's local football stadium, desperately searching for a way to watch the home team - Anzhi.
He has zero money, and only a slightly better chance of scaling the stadium fences, although he searches every nook and cranny that may lead to an opening. Kick off is approaching, and desperation is setting in.
A chance presents itself when a familiar face, an older Team Russia training partner appears. He has connections at the club, pulls a few strings, and the young grappler is soon inside.
Seating spaces are full, so the 90 minutes are observed standing, absorbing the atmosphere from the stands, just another face in the crowd cheering on the city's football heroes.
READ MORE: 'Our common victory': Khabib Nurmagomedov thanks Vladimir Putin after meeting
Fast forward almost two decades, and that same young Makhachkala-based wrestler is making his way into the same stadium. This time, no strings need be pulled. Money is no option. And instead of watching from the stands, all eyes are on him.
With the UFC lightweight championship belt strewn over his shoulder, Khabib Nurmagomedov appeared on the Anzhi Arena pitch, a tad under two days after beating Conor McGregor - perhaps the biggest global name in combat sports - into submission within four rounds at T-Mobile Arena, Las Vegas.
Just as he had done to see his heroes years before, scores of young fans flocked to Anzhi Arena, the stands heaving as though it was a matchday. Eager to catch a closer glimpse of their hero, many broke through onto the field.
Among them were fans waving a huge 'Anzhi Ultras' flag of the club's hardcore fan group, illustrating the substantial and inescapable connection between fighting and football in Dagestan.
At Anzhi Arena, as in Brooklyn's Barclays Center or the T-Mobile Arena in Las Vegas, Khabib was the headline act. The star attraction. The man the man they'd come to see. But neither of those two Stateside stadiums could have been a more fitting stage for a homecoming than Dagestan's 26,000-seater home of football, located on the shores of the Caspian Sea.
Football has always been close to Khabib's heart. Born in the rural village of Sildi, and despite a near 200km journey through the jagged Northern Caucasus landscape to the stadium, a connection with Anzhi was inevitable, the team Khabib describes as "not just a club, but a dream for thousands of young boys".
Khabib's childhood kickarounds with friends in the surrounding alpine scenery of his village have evolved into fight team bonding sessions. Recently Khabib has been lucky enough to cordially meet with superstar hero Cristiano Ronaldo, and attend the 2018 World Cup final in a shirt presented and signed by the entire Russia squad.
Despite his links to world football's elite, Khabib's ties to Anzhi are the strongest. Even his and the team's nickname are one and the same. On Friday, 'The Eagle', a lifelong fan, will kick off 'The Eagles' game versus CSKA Moscow, on the very pitch he and those thousands of others dreamed of one day playing.
In an Instagram post, Khabib reminisced about his days on the terraces, and rallied supporters to attend the match, because "our team needs our support like never before".
Those words ring especially sincere when news emerged last week that Anzhi were struggling to find the funds to fly from their Moscow-region base of Podolsk to Dagestan for the match.
The club are currently $4.5 million in debt and are situated in the industrial city on the Pakhra River in an effort to save on funds. Anzhi even resorted to asking for Friday's game to be rearranged to allow time to save for travel arrangements.
The request was denied by the Russian Premier League (RPL), but at the eleventh hour, the club found means by which to shuttle the side 2,000 miles south. In the long term, though, Anzhi are faced with the very real threat of extinction, something which would rob the region of their only club.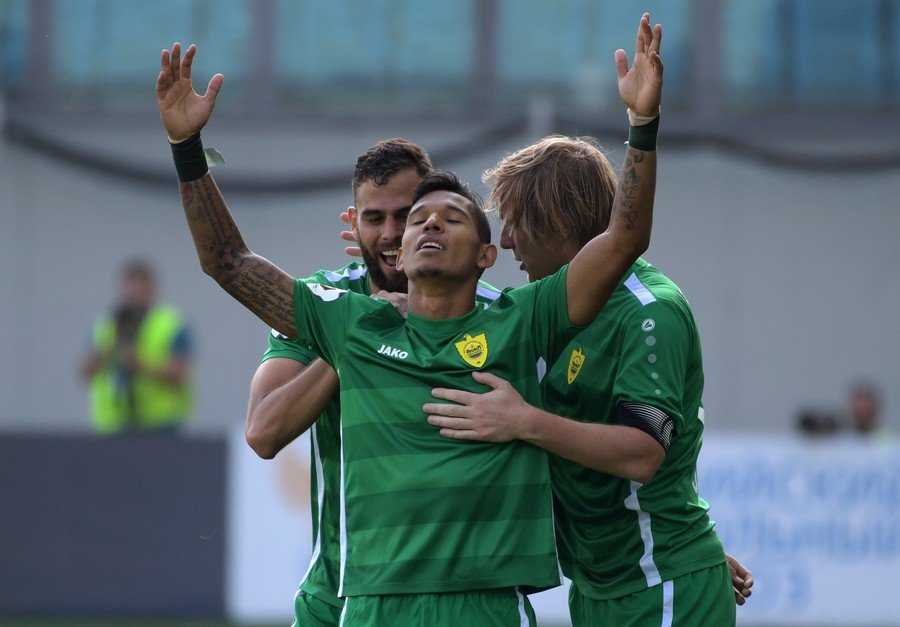 Khabib is acutely aware of the struggles facing his hometown team, and what the club represents to those thousands of fans who turned out to see him return home.
In August, the fighter posted a picture of himself with a personalized club shirt, and a heartfelt message to his fellow Dagestanis to join the 'Save Anzhi' fund, established to protect the club from financial ruin, and allow them to continue carrying out what he calls "the most important social mission in Dagestan".
"Anzhi players give people hope for a better future, the club is involved in the education of future generations, and preaches a healthy way of life," he wrote.
"The Anzhi academy gives a chance to hundreds of kids to build their career and become successful in sport. I myself know how important it is, to have a live example before your eyes. The club has worked together with charities and acted as a patron to children's hospitals, orphanages and families in need of help.
"There are a lot of memories that tie me with this team. Now, Anzhi has huge financial problems, but I really hope, that people will be found, who can help Anzhi and the club will live on.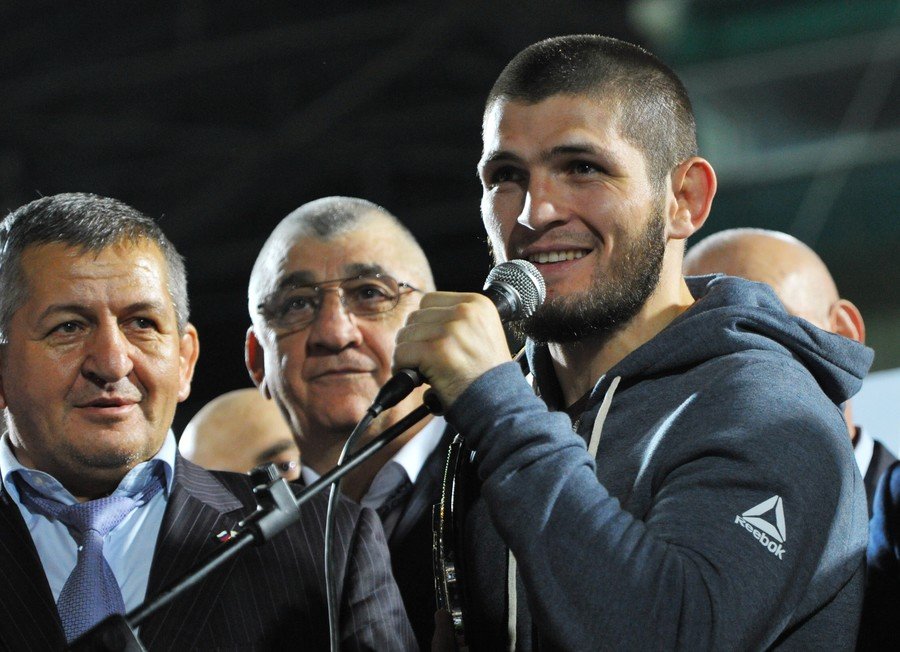 "I know how in Dagestan they love football and how important Anzhi is for people, living in Dagestan. Anzhi is not just a team, it is a dream for thousands of young boys.

"This year in Russia we had the World Cup and we all saw, how football can bring people together, and how much joy it can bring to people. Russia has lost enough teams, we cannot allow Dagestan to lose ours. Anzhi should live on! In Dagestan there should be football!"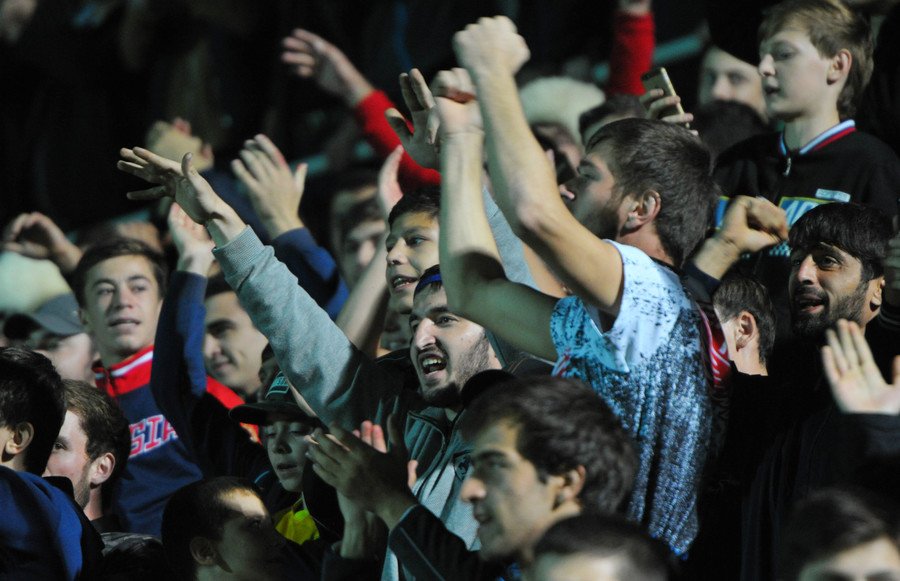 Win or lose, Khabib is a hero and inspiration to thousands of young Dagestani men and millions in Russia and further across the world, especially so after emerging victorious from his people's most glorious sporting battle perhaps in history.
His appearances at Anzhi Arena, just as in Las Vegas, holding aloft his gleaming championship strap, brings belief to the masses of young hopefuls who dream of treading the same path and in the same manner as Khabib. They are more than simple red tape celebrations. They breathe life into the region's sporting soul and provide strength to a struggling institution.
READ MORE: No hard feelings: Khabib's dad invites McGregor to Dagestan
While Khabib may wage war under the bright lights of the U.S, Dagestan's greatest current warrior is still entrenched in his toughest fight - to keep the sporting hub of the region from disintegrating, and inspire the next generation of proud athletes from his homeland to reach the same heights as that young Makhachkala-based wrestler.
The next stage of that battle kicks off where those dreams were first harbored and nurtured for Khabib Abdulmanapovich Nurmagomedov - at his local football stadium.
By Danny Armstrong for RT Sport
You can share this story on social media: