'I used to go in without money. Now, much has changed': Football fan Khabib to kick off local match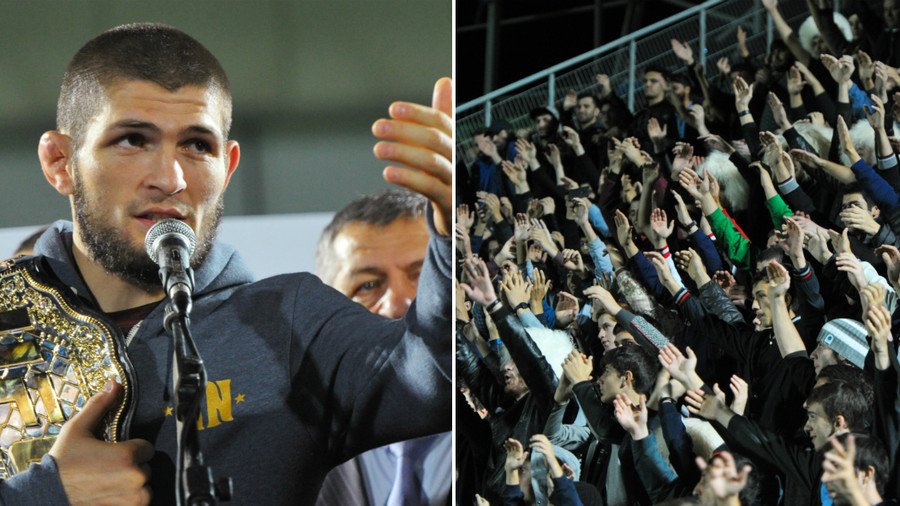 UFC lightweight champ Khabib Nurmagomedov will swap KO for kick off on Friday when he performs the ceremonial start of the Russian Premier League (RPL) match between his local team Anzhi Makhachkala and CSKA Moscow.
READ MORE: 'I begged God for one thing – to leave me in the cage with this clown' - Khabib Nurmagomedov (VIDEO)
In a nostalgia-fuelled Instagram post, Dagestan native Khabib, who is based in the Republic's capital Makhachkala, told of his younger days attempting to find a way into Anzhi Makhachkala's stadium without any money, but that things have changed dramatically in the ensuing years.
"Dear supporters. We'll see you at Anzhi Arena on October 19, 16.00, at the match of our local team Anzhi FC. Come, it will be lot of fun, our opponents are no pushovers - CSKA Moscow. Our team needs our support like never before," Khabib wrote.
"I remember in 2001 when I twice walked round the stadium, to try and somehow get inside, because I didn't have any money for a ticket, but I wanted to support Anzhi so much.
"Eventually, I ran into an acquaintance, called Gaziyev. We trained together at the same freestyle wrestling gym. He was in the older group in the camp, I was with the younger ones, and he let me in without paying!"
READ MORE: 'There's only one king in the jungle' – Khabib calls out Mayweather (VIDEO)
"There were no seats, so I stood for 90 minutes. Almost 20 years have gone by, and a lot has changed. Alhamdulillah," he wrote, singing off with the Arabic phrase 'praise be to the lord', which he had repeated before entering his fight with Conor McGregor.
Anzhi Arena was the setting for Khabib's homecoming last week, where he presented the UFC belt to thousands of adoring fans less than 48 hours after his victory over McGregor. So excited at the sight of their hero, supporters flooded the pitch to catch a closer look.
Despite pleas from Khabib himself and the fighter's father Abdulmanap, the crowd refused to return to the stands, but the bodies eventually dispersed and the event continued.
Khabib has made no secret of his love for football, often playing with stablemates before and after training, and receiving a shirt from Cristiano Ronaldo as a gift when the two met. He has also called on locals to support the team in times of financial hardship.
McGregor also recently took center stage at a football match - the American kind - when he made a ceremoncial pass during a Dallas Cowboys game.
READ MORE: 'Who the fook throws a football like that?' McGregor mocked for limp NFL pass (VIDEO)
However, the Irishman and former featherweight and lightweight UFC champion was in fact ridiculed online for his feeble throwing attempt.
Anzhi's match with CSKA begins at 16.00 GMT, with a win for Anzhi lifting them up to 9th in the table from 14th, whereas sixth-placed CSKA could go second with three points in Dagestan.
You can share this story on social media: