Khabib meets Putin: Russian president congratulates UFC champ on 'worthy' victory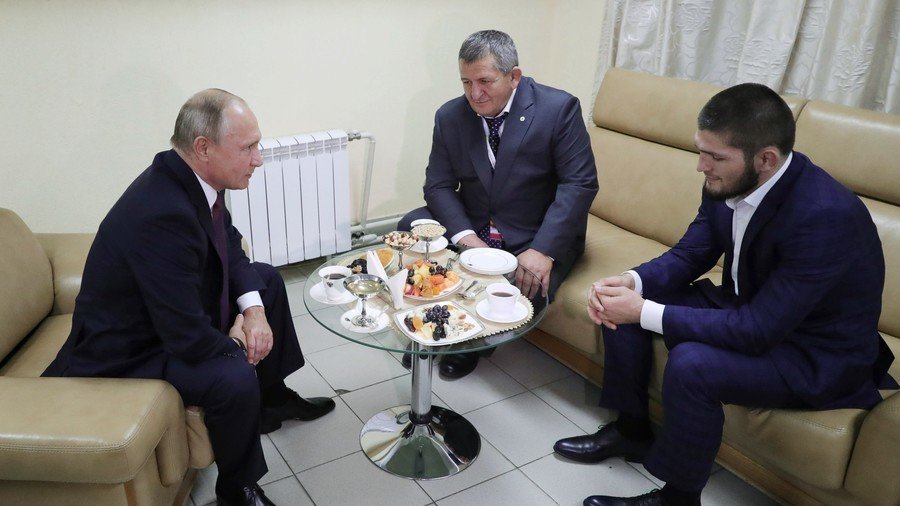 UFC lightweight champion Khabib Nurmagomedov has met Russian President Vladimir Putin, with the leader congratulating Nurmagomedov on his win over Conor McGregor – which Putin described as "worthy and convincing."
The pair reportedly met on the sidelines of the 'Russia – Country of Sports' forum in the city of Ulyanovsk on Wednesday.
READ MORE: Khabib to meet Putin as hero's welcome continues in Russia
Footage of the meeting showed Nurmagomedov and his father and trainer, Abdulmanap, chatting with Putin around a table with tea and various delicacies.
Putin congratulated the undefeated UFC lightweight champion on his win, and also asked the fighter's father not to punish his son "too strictly" for the scenes which followed after the bout, when Nurmagomedov leapt into the crowd to confront members of McGregor's team.
"I will ask you father not to punish you too strictly, because you achieved the main task, worthily and convincingly," Putin said of the Dagestani fighter's fourth-round submission of McGregor.
Nurmagomedov returned to a hero's welcome in his native Dagestan earlier this week, meeting thousands of adoring fans at Anzhi Arena in regional capital Makhachkala.
READ MORE: 'I begged God for one thing – to leave me in the cage with this clown' - Khabib Nurmagomedov (VIDEO)
During the build-up to Saturday's fight, Irishman McGregor had attempted to use his meeting with Putin at this summer's World Cup final in Moscow as a means to taunt Nurmagomedov, who had also been in the stadium.
READ MORE: 'Are you disrespecting Putin!?' - Conor goads Khabib over WC final pic with Russian President
However, the Russian figther revealed after his victory over McGregor that Putin had phoned to congratulate him, saying he was "proud."
You can share this story on social media: