Khabib 'set to meet Putin' as hero's welcome continues in Russia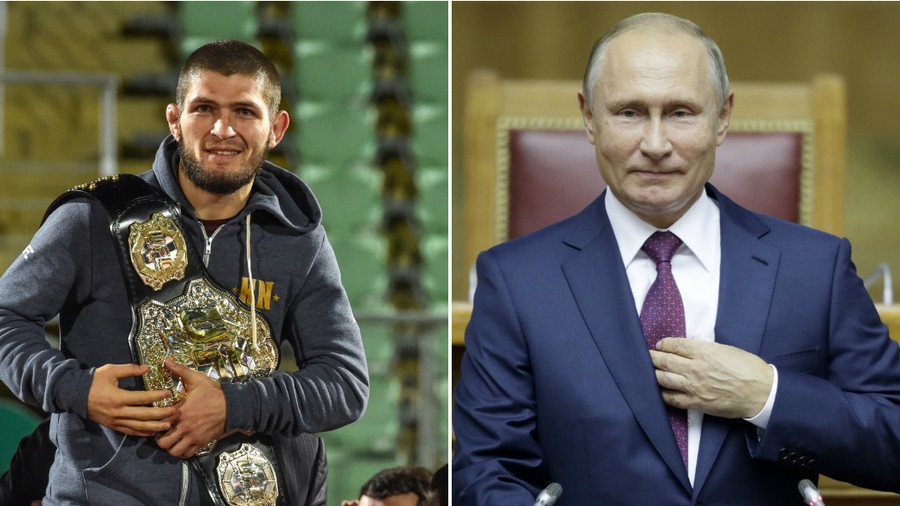 UFC lightweight champion Khabib Nurmagomedov is reportedly set to meet Russian President Vladimir Putin as the MMA star's hero's welcome continues since he returned home after his win over Conor McGregor in Las Vegas.
Nurmagomedov defeated Conor McGregor in the pair's bout at UFC 229 on Saturday night, and returned home to a massive reception in his native Dagestan earlier this week.
The undefeated lightweight king is now heading to meet President Putin at the 'Russia – Country of Sports' forum in the city of Ulyanovsk, according to reports.
Footage has appeared online of Nurmagomedov looking suited and booted on a plane heading to Ulyanovsk.
When asked if he was planning to meet Putin at the forum, Nurmagomedov replied: "Yes, that's why we are flying."
President Putin is expected to be in attendance as patron of the 'Russia – Country of Sports' international forum, which runs from October 10 to 12 in the city on the banks of the Volga.
After his dominant fourth-round submission victory over McGregor on Saturday, Nurmagomedov revealed that the Russian leader had phoned him, telling him that he was "proud" of his achievements.
READ MORE: 'Putin called to say congratulations, he's proud of me': Khabib on UFC 229 presidential call (VIDEO)
The run-up to the fight had seen claims from McGregor that Nurmagomedov had "disrespected" the Russian leader by saying he was not bothered by a photo of the Irishman with Putin at the World Cup final in Moscow in July.
McGregor had reportedly been at the event as a VIP guest of the Russian leader, while Nurmagomedov was in attendance elsewhere in the stadium.
"All media talk about like, take a photo with Putin, something like this, he just called me. And he say he very proud of me, I win, and he say congratulations," Nurmagomedov said at the post-fight press conference in Las Vegas on Saturday.
The fight saw 'The Eagle' move his undefeated record to 27-0, although there were ugly scenes when a mass brawl broke out after the Russian fighter scaled the cage to confront a member of McGregor's team after he had defeated the Irishman.
READ MORE: 'My face when they say they didn't like my jump' - Khabib posts 'apology' for UFC fracas
Nurmagomedov later apologized, but said that McGregor's insults in the lead-up to the bout had played a role in sparking the controversial scenes.
You can share this story on social media: