'Putin called to say congratulations, he's proud of me': Khabib on UFC 229 presidential call (VIDEO)
UFC lightweight champion Khabib Nurmagomedov has revealed Russian President Vladimir Putin contacted him to express his congratulations and pride in the fighter's defeat of Irish MMA superstar Conor McGregor at UFC 229.
READ MORE: Khabib Nurmagomedov submits Conor McGregor at UFC 229 (PHOTOS)
Khabib gave an emphatic performance from start to finish on his way to dominating, wearing down and ultimately submitting McGregor by rear naked choke in round four of their mega fight at the T-Mobile Arena in Las Vegas.
The result came after months of trash talk and bad blood between the pair and their camps.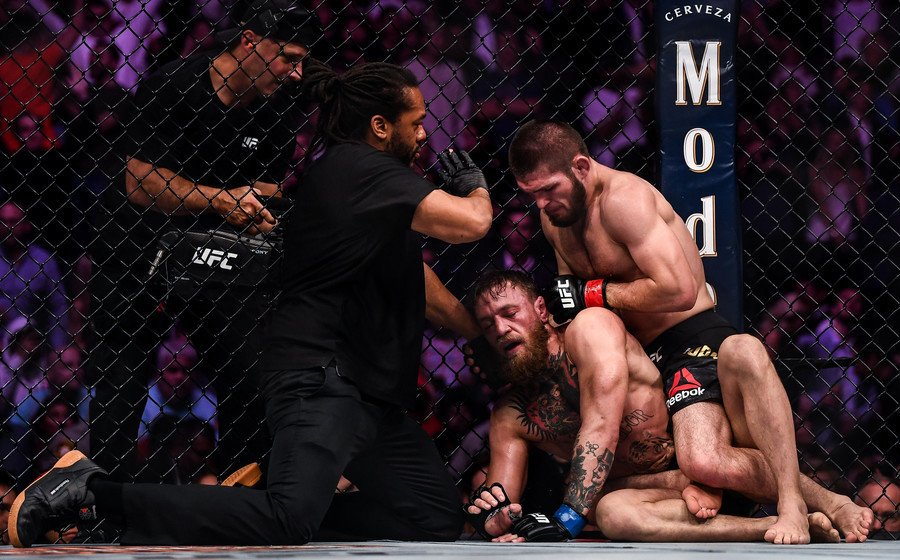 In his post-fight presser, Khabib laid previous concerns over his relationship with Putin by confirming he had received a call from the Russian president.
"All media talk about like, take a photo with Putin, something like this, he just called me. And he say he very proud of me, I win, and he say congratulation," Khabib told the assembled press.
Khabib was referring to an incident at last summer's World Cup final, which McGregor attended by invitation of the Russian leader, and the former shared photographs of the pair in Luzhniki Stadium. This led to speculation that Khabib was not on good terms with Putin, as he had neither an invitation nor a picture.
In the octagon, after McGregor tapped out, Khabib taunted his fallen foe, and then turned his attention on a member of McGregor's team, believed to be Dillon Danis, scaling the octagon to become involved in a brawl.
UFC President Dana White later confirmed that Khabib's fight purse had been suspended by the Nevada State Athletic Commission (NSAC) and there was a possibility the fighter could be stripped of his title altogether, although nothing had been confirmed.
READ MORE: Khabib could be stripped of title over mass brawl at UFC 229 – Dana White
You can share this story on social media: