Pussy Riot World Cup final pitch invaders arrested on fresh charges immediately after jail release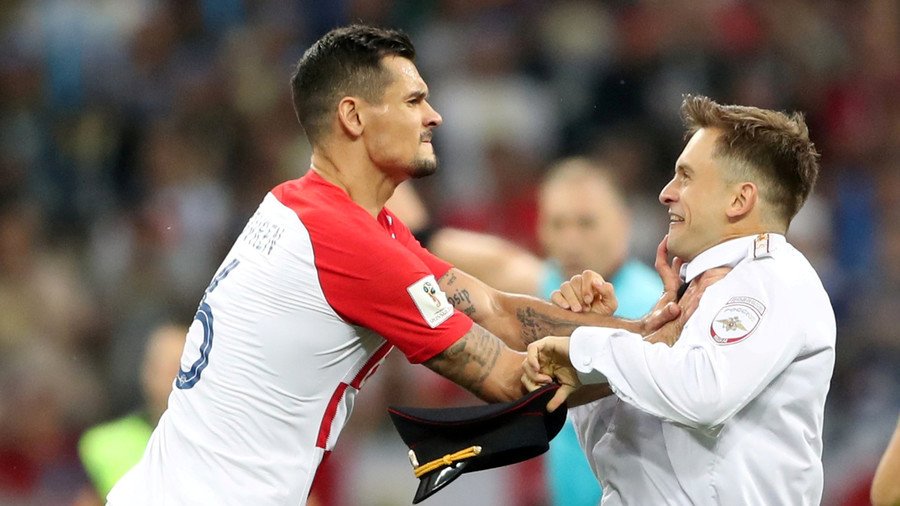 The four members of anti-Kremlin protest group Pussy Riot who were jailed for 15 days for staging a World Cup final pitch invasion have been arrested again following their release from prison on Monday.
According to Nikolai Vasilyev, lawyer of Veronika Nikulshina, Olga Kuracheva, Olga Pakhtusova and Pyotr Verzilov, the quartet are facing fresh charges of staging a public event without having prior permission, which carries a jail sentence of up to 10 days or a fine of up to 30,000 rubles ($480).
Vasilyev said on Tuesday that the four had been arrested the day before and held overnight but no date had been set for a court hearing, Reuters reported. The group confirmed the detention on their Twitter account with a picture of Pakhtusova and police.
All four were initially immediately sentenced to the 15-day prison term and banned from sporting events for three years for running onto the pitch during the World Cup's showpiece match on July 15 wearing police uniforms. They were later fined 1,500 rubles ($23.80) for unlawful use of the uniforms.
READ MORE: Pussy Riot members fined $24 after World Cup final pitch invasion
The feminist punk rock group are well known for using exhibitionism as a form of protest; their final invasion was reportedly aimed at promoting freedom of speech and condemning the policies of FIFA.
Their actions during the match brought about a mixed reaction from players. While French forward Kylian Mbappe was snapped high-fiving one of the invaders, Croatian defender Dejan Lovren reacted with anger when coming into contact with Verzilov.
READ MORE: 'I wanted to throw him from the stadium': Croatia's Lovren on flooring Pussy Riot protester
"I really was mad because we'd been playing at that moment in good shape," the 29-year-old said. "We'd been playing good football and then some interruption came. I just lost my head and I grabbed the guy and I wished I could throw him away from the stadium."
You can share this story on social media: