Pussy Riot members fined $24 after World Cup final pitch invasion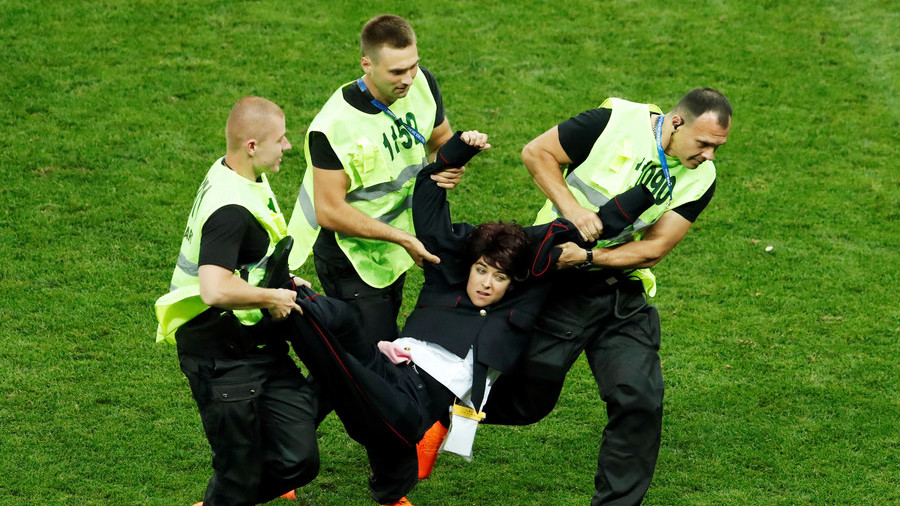 The four members of activist group Pussy Riot who stormed the Luzhniki Stadium pitch during the World Cup final in Moscow have each been fined 1,500 rubles ($23.80) for unlawful use of police uniforms.
During the World Cup's showpiece match on July 15, the members of the feminist punk rock group well known for using exhibitionist behavior as a form of protest, broke through security and ran onto the field of play wearing police clothing.
The quartet, later identified as Veronika Nikulshina, Olga Kuracheva, Olga Pakhtusova and Pyotr Verzilov, were initially detained and immediately sentenced to a mandatory 15-day custodial sentence for charges of violating laws on spectator behavior at sporting events.
The Moscow City Court dismissed the appeals by the group to have their sentences quashed and on Wednesday issued a fine to each and seized each uniform from the pitch invasion participants.
READ MORE: Pussy Riot face charges of illegal use of uniforms after World Cup pitch invasion
The activists pleaded not guilty to the crime and compared wearing the uniforms during the invasion with the role of actors. They later explained the pitch invasion was aimed at highlighting abuses by Russian police and the plight of alleged "political prisoners."
Pussy Riot's actions brought about a mixed reaction from players. While Kylian Mbappe was snapped high-fiving one of the invaders, Croatian defender Dejan Lovren reacted with anger when coming into contact with Verzilov.
READ MORE: Pussy Riot say they staged four-person pitch invasion during World Cup final
"I really was mad because we'd been playing at that moment in good shape," the 29-year-old said. "We'd been playing good football and then some interruption came. I just lost my head and I grabbed the guy and I wished I could throw him away from the stadium."
You can share this story on social media: