'The enemy's lair': Ukrainian deputy admonishes boxer Usyk for failing to call for Crimean return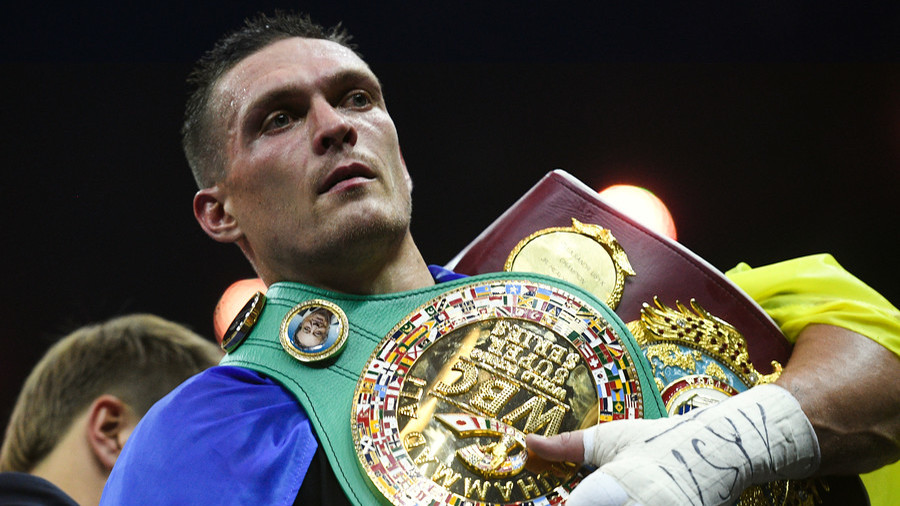 Ukrainian MP Vitaly Kupry has criticized cruiserweight champion Alexander Usyk for fighting in "aggressor" Russia, admonishing him for not calling for Crimea to be "returned" after his bout with Russia's Murat Gassiev in Moscow.
Usyk unified all four belts in the 200lbs division with a shutout points win over Gassiev on Saturday at Olimpiyskiy Sports Complex in the Russian capital, which also saw him win the first ever World Boxing Super Series (WBSS) final and become holder of the Muhammad Ali trophy.
In a lengthy statement on Tuesday, Kupry congratulated Usyk on the win, before admonishing the boxer for his decision to fight in Russia, failing to acknowledge the country as an "aggressor" to Ukraine, and that his thanks to the Ukrainian people following the fight were only issued under "public pressure."
"I congratulate you on this personal victory over a Russian boxer," Kupry wrote. "Unfortunately, I must let you know, that the patriotic Ukrainian society received this fight in a very ambiguous manner.
"Many expected from you a separate statement in the enemy's lair, which called for the aggressor to stop the war in Donbass, return Crimea to Ukraine, free the political prisoners and prisoners of war and so on.
READ MORE: Usyk v Gassiev - WBSS cruiserweight final from Moscow (AS IT HAPPENED)
"Unfortunately, you never mentioned Ukraine in your post-fight press conference, and immediately after in the ring even thanked the Russian people for their support. And your belated thanks online was obviously done under public pressure," he said.
Usyk is a native of Simferopol on the Crimean peninsula, which was made part of Russia following a referendum held on the territory and the signing of the accession treaty in 2014 in the midst of the Ukrainian revolution.
The athlete became Ukraine's first and only undisputed boxing champ when he clinched the WBA, WBO, WBC and IBF titles with his 12-round exhibition over a despondent Gassiev, doing so in record time of just 15 fights having turned professional in 2013, one year after becoming the Olympic heavyweight champion.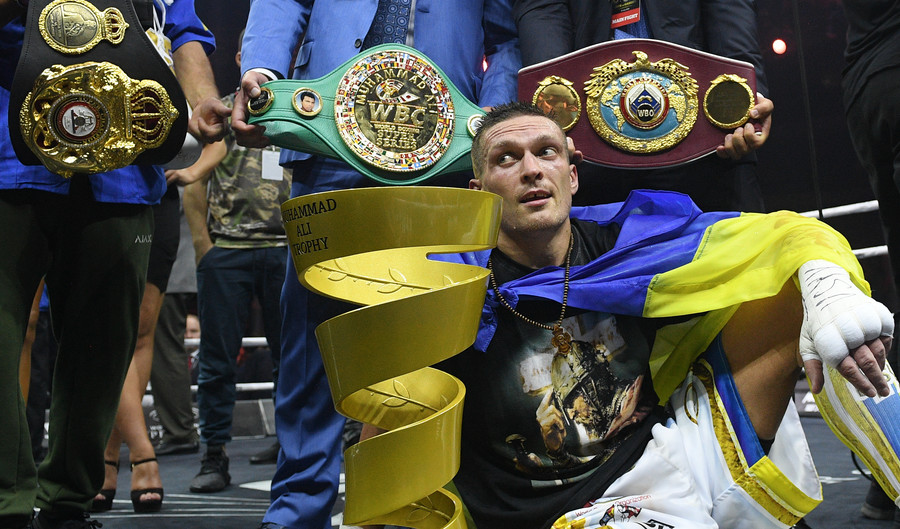 The fighter himself has previously stated that he does not "divide" the Russian and Ukrainian people, preferring to include them in the umbrella term "Slavic people". He is a member of Orthodox Christian movement 'Forty times forty', which has strong ties to Russian churches, particularly in Moscow.
"I understand that you belong to the Orthodox movement 'Forty times forty', which is running in Moscow. Due to this exactly you consider Russia not the aggressor but the brotherly Slavic nation. And your hugging a Russian boxer is the latest reminder of that fact," Kupry said.
Kupry questioned Usyk's observance of article 65 of the Ukrainian Constitution, which states that the defence of the Motherland, of the independence and territorial indivisibility of Ukraine, and respect for its state symbols, are the duties of citizens of Ukraine, before insinuating that Usyk was used as a pawn by Russian President Vladimir Putin in attempts to create a political smokescreen.
"I am thankful to you, that you did not object to the raising of the Ukrainian flag and the playing of the anthem of the enemy. However, your agreement to this fight in Russia, and not in Saudi Arabia, as it was earlier planned, has prompted huge discussion in Ukraine. Some believe that that you were sold by the more attractive fight conditions, a larger fee," he said.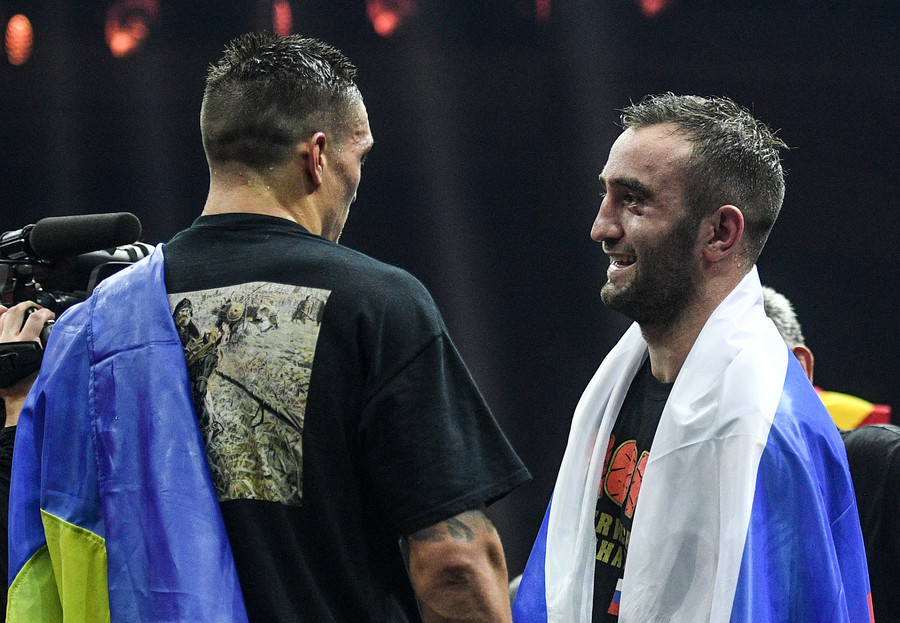 "It is extremely important for President Putin that the international community does not recognize his aggression in relation to Ukraine. Therefore he, in every way possible, encourages Ukrainian athletes, singers, other talented people to come to Russia. That was the war doesn't look like a war, but an internal conflict."
Kupry proceeded to ask Usyk a series of questions that he said had surfaced online, such as whether the boxer had given a chunk of his fight purse in taxes to the Ukrainian government and if not, was the reason because he holds citizenship of another country, and whether he would make a donation to the Ukrainian armed forces.
As far as his career inside the ring is concerned, Usyk named Britain's Tony Bellew as a possible opponent for his next fight, and said he is considering a move up to heavyweight from the 200lbs weight class to make that fight happen.
You can share this story on social media: