Man's best training partner: Messi plays football in the sunshine with his massive pet dog (VIDEO)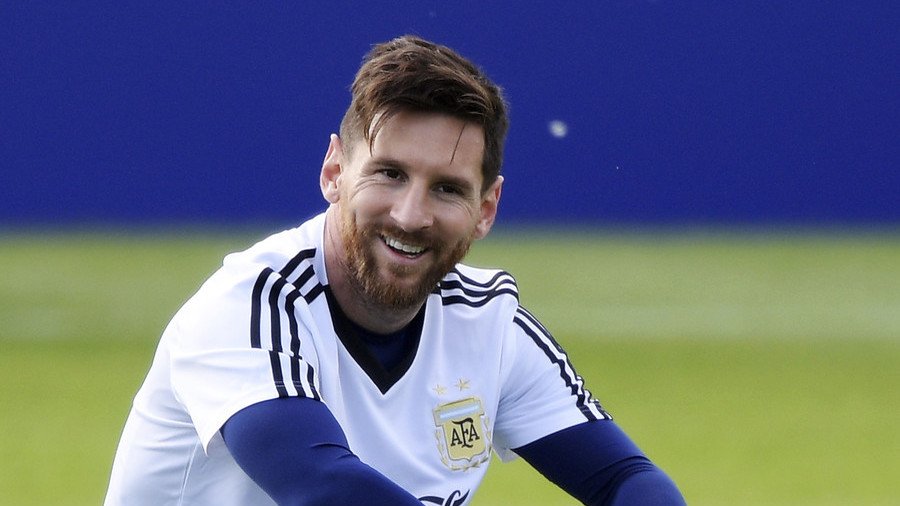 They say that dogs are a man's best friend, and for Lionel Messi that could be extended to best training partner after the Barcelona star was filmed warming up for the new season with his four-legged pal.
Messi's wife, Antonella Roccuzzo, posted the heart-warming clip of the Argentina captain training in the sunshine in his garden, playfully flicking the ball over the head of his giant dog, named Senor Hulk, as the canine tries to keep up.
READ MORE: Ronaldo & Messi make FIFA player of the year shortlist… but no room for Neymar
The iconic number 10 was typically fleet-footed as he maneuvered the ball over the lumbering Dogue de Bordeaux, although he needed his hand on one occasion to keep the pet at bay.
The famous number 10 was given Senor Hulk as a puppy in 2016. The pet has since grown to a giant size befitting his name, and has become a much-loved part of the Messi household.
Messi and his wife frequently post pictures of Senor Hulk with members of the family as well as the dog lounging around at home.
The player spoke of his love for his dog in an interview with US magazine Paper back in June, when he said: "I am a big fan of animals. I grew up with them and they have taught me many things.
READ MORE: Messi poses with goats for bizarre pre-World Cup photoshoot
"Now we have our dog Hulk who really is part of the family, we always include him. Our children learn so much from Hulk: The love shown between him and the kids and the kids and him is constant."
Messi, 31, is currently recovering from his World Cup exertions ahead of the new season with club team Barcelona. He largely had a disappointing campaign in Russia, managing just one goal as Argentina crashed out in the last 16 against eventual winners France.
READ MORE: 'Mbappe is the next global football superstar': France outdo Messi's Argentina in World Cup classic
It's hardly been a dog's life for Messi since then though, and he clearly looked relaxed as he gears up to help Barcelona defend the La Liga title they won last season.
You can share this story on social media: