Jorge Daniel 'El Burrito' Hernandez made his international debut at age 27, but the midfielder has already staked a claim to be a prominent part of Mexico's squad for the FIFA 2017 Confederations Cup.
Having appeared for Mexico's U22 and U23 squads, Hernandez made his senior bow as Mexico defeated the Republic of Ireland 3-1 in New Jersey, USA, on Friday, June 2, where he provided the assist for the opening goal by Jesus Corona.
Despite his inexperience at international level, Hernandez has emerged as a strong candidate for Mexico manager Juan Carlos Osorio's Confederations Cup squad when Mexico kicks off its campaign in St Petersburg on June 17.
Mexico take on Portugal at the Kazan Arena in their first game of the tournament where Hernandez may have to man-mark Real Madrid icon and Portugal captain Cristiano Ronaldo, who won the UEFA Champions League last Saturday with the Spanish giants.
That game kicks off their Group A campaign which also features New Zealand and host nation Russia, who Mexico meet in Kazan on June 24.
Hernandez, 27, who plays for Club Pachuca in the Mexican Primera Division and began his career with Jaguares, is a relative latecomer to international football and has also garnered intrigue among fans, due to his nickname: 'El Burrito'.
While many might associate the word 'burrito' with the famous Mexican dish, Rich 'El Coronel' Guel from the Mexico fan group, 'Pancho Villa's Army,' explained that his nickname may have a different meaning when translated from Spanish.
Read more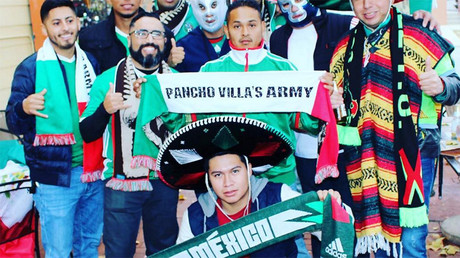 "He is a solid midfielder who plays a little more defensive/sweeper and gives his teammates an opportunity to play more offensively because he can recover and start attacks from the backfield," said El Coronel.
"As far as his nickname "Burrito," I'm not sure where it started but burrito means 'little donkey' in Spanish. A donkey in Mexico is used for working in fields and is 'a worker' which is probably why this nickname," he explained.
"Although in Mexican culture nicknames are given to people due to physical attributes, such as 'venado' which means deer and is given to someone who is a swift runner.
"The team Chivas from Guadalajara got their name when the team started over 110 years ago. They didn't know how to properly play football because they look like a bunch of goats running lost on the field, hence the name Chivas, which means 'the Goats' in Spanish."
Hernandez was selected to represent the national side after some stellar performances for Club Pachuca helped the team win the 2017 CONCACAF Champions League and has been called up for Mexico's FIFA 2018 World Cup qualifier against Honduras on Friday.
'El Burrito,' though, will have to get past and outshine some of the biggest stars of world football and the tournament hosts if he is to add more silverware to his collection this summer.