Indian Hindu kills man & posts murder online as part of fundraiser against Muslims - police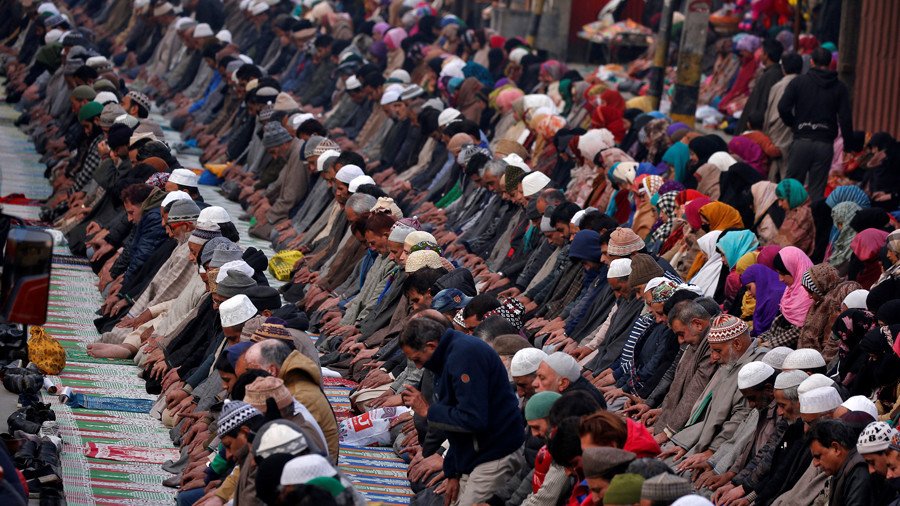 A Hindu man in India killed a Muslim and posted a video of the murder online in an effort to raise money for a campaign against those who practice Islam, according to police.
The suspect, Shambu Lal Regar, posted a video of the killing on the internet, along with his bank details for donations to finance his anti-Muslim campaign, police officer Anand Shrivastava said on Thursday, as cited by Reuters.
More than 700 people from across India donated a combined 300,000 rupees ($4,665) into the bank account after the video went viral on social media. "The accused wanted to become a Hindu hero after killing a Muslim man, his main aim was to collect money after committing the hate crime," Shrivastava said.
The video also showed Regar claiming to be a proud Hindu who was trying to stop a "love jihad" from taking place - a term used by Hindu hardliners who accuse Muslim men of entrapping Hindu women and girls on the pretext of love, in order to convert them to Islam.
Regar has since been arrested on suspicion of chopping and burning the victim. The authorities have frozen his bank account and are working to track down donors.
The suspect's neighbors said they had no idea that Shambu Lal Regar was capable of committing such crime.
"We had no idea he could do such a thing. We have known him for a long time and he didn't seem to be the kind of man who could murder someone," one local told Hindustan Times.
The murder, which occurred last week in the western state of Rajasthan, is the latest act of violence against minority Muslims in the country. Muslims have faced attacks by mobs known as "cow vigilantes" who accuse them of murdering cows, which Hindus consider sacred.
In June, the leader of an Indian nationalist Hindu organization stated that those who eat beef should be hanged in public. In May, a mob brutally attacked two men who were suspected of attempting to steal cows for slaughter. They died from their injuries.
In April, Human Rights Watch (HRW) urged Indian authorities to prosecute those who violently prevent cattle from being slaughtered, noting that Muslims are often targets of attacks. "The government should condemn this violence and take prompt action against those responsible for these attacks or face allegations of complicity," HRW's South Asia Director Meenakshi Ganguly said at the time.
Prime Minister Narendra Modi's government has come under fire for failing to do enough to stop attacks against Muslims - a claim which Delhi rejects. Modi has condemned violence from cow vigilantes, and his Bharatiya Janata Party (BJP) denies any bias against Muslims.
Muslims account for 14 percent of India's 1.32 billion residents, according to 2011 census data. Hindus make up almost 80 percent.
You can share this story on social media: