Indian man beaten to death by mob for failing to give up Hindu-Muslim couple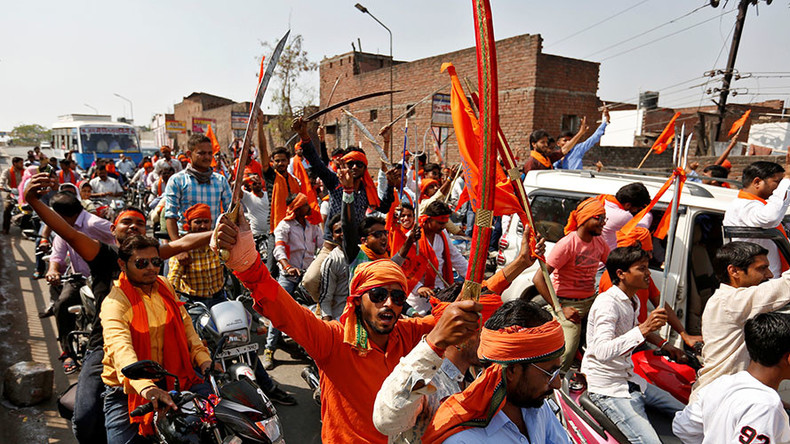 Suspected members of militant group Hindu Yuva Vahini beat a man to death after he failed to give the whereabouts of a Hindu girl who eloped with a Muslim teeanger in Uttar Pradesh.
Gulam Mohammad, 55, was beaten by the mob in Bulandshahr on Tuesday and died while en route to hospital.
A 19-year-old Muslim teen eloped with a Hindu girl from Fazalpur on April 27. The girl's family filed a kidnapping case at Pahasu police station and local Hindu families were pressuring the Muslim families in the the area to find the couple.
The mob of about six men arrived in the village to question Muslim families, including Mohammad, allegedly threatening people, according to police, as reported by the Hindustan Times.
"Three accused have been arrested and the hunt is on for the main accused," Bulandshahr Police Superintendent Jagdish Sharma told the outlet.
'Hindu Yuva Vahini' is a Hindu youth group founded by Uttar Pradesh Chief Minister Yogi Adityanath. It has denied involvement and accused the police of attempting to malign the group.
"If anyone was found involved, they would be expelled from the Vahini," Hindu Yuva Vahini's Divisional President Nagendra Tomar said. "Our leaders and activists are disciplined soldiers and they cannot be involved in this kind of violence."
READ MORE: India to push former colonial master Britain out of world's top five economies – IMF
"In the complaint we have written that the members are of the Hindu Yuva Vahini. Right now we are verifying," senior police officer Muni Raj told NDTV, adding that they will seek "legal advice" if anybody is found to have been involved.
The group was also accused of beating a Muslim man in Meerut after he was allegedly found in a compromising position with a Hindu woman.