'Cow vigilantes' kill two men over suspected animal theft in India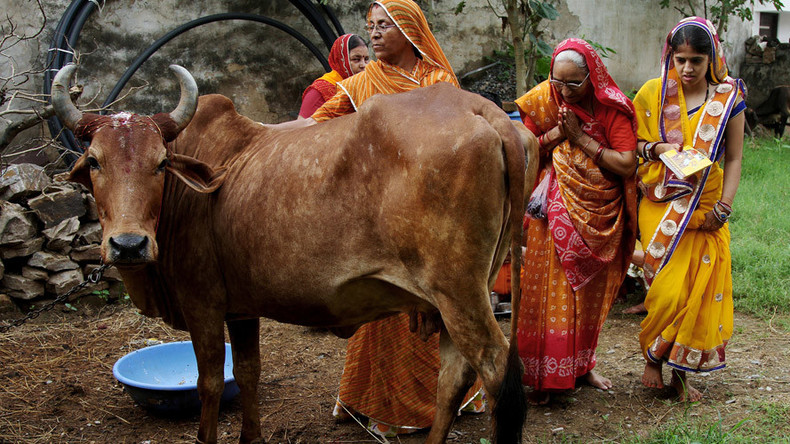 Two men have died of their injuries after being brutally beaten by a mob in India's northeastern state of Assam on Sunday. The men were suspected of attempting to steal cows for slaughter.
Abu Hanifa and Riyazuddin Ali were "beaten severely" with sticks, after villagers of Kasomari in the Nagaon district said they saw them chasing two cows away from a local grazing area.
"Villagers came out in large numbers, chased the two and assaulted them," district police chief Debaraj Upadhyaya told the Indian Express. "While the police managed to rescue the two, they had serious injuries and they later died at the Jajari primary health center."
The two men, understood to be in their 20s, were from Naromari Jamtola, about two kilometers from Kasomari. "We have handed over the bodies to the families after conducting the post-mortem examination and other formalities," Upadhyaya said, adding, "incidents of cattle theft has been on the rise in different parts of the district."
Police opened a murder case investigation and two suspects were detained for questioning Monday.
Footage aired on local news channels including India Today, TV9 Kannada and NDTV appears to show the victims before they were taken to the hospital. One has a bloody nose and the other is lying on the ground, apparently unconscious. In the IndiaToday footage, the mob is gathered around one of the victims and a man is seen hitting the victim with a stick.
Cows are sacred in India in accordance with Hindu beliefs. Cow slaughter in the Hindu-majority country is largely banned. A number of states ruled by the Hindu nationalist Bharatiya Janata Party (BJP) have introduced punishable offenses for culprits.
READ MORE: 1 dead, 4 injured after 'cow vigilantes' attack cattle transporters in India (VIDEO)
In Assam, cow slaughter is banned except in cases of a 'fit for slaughter' certificate in designated areas. The Assam Cattle Preservation Act states that cows of any age may be slaughtered during the Muslim festival of sacrifice, Eid al-Adha.
Cow protection vigilantes have mushroomed over the last few months. They are said to be allied with the governing BJP, the party of Prime Minister Narendra Modi.
According to Human Rights Watch, attacks on rumored cow thieves and slaughterers have increased since Modi came to power in 2014, with ten Muslims reportedly killed in mob violence since 2015.
Modi addressed the issue of cow vigilantes last August, saying it made him angry, but has been criticized for failing to do more to bring an end to the practice.