1 dead, 4 injured after 'cow vigilantes' attack cattle transporters in India (VIDEO)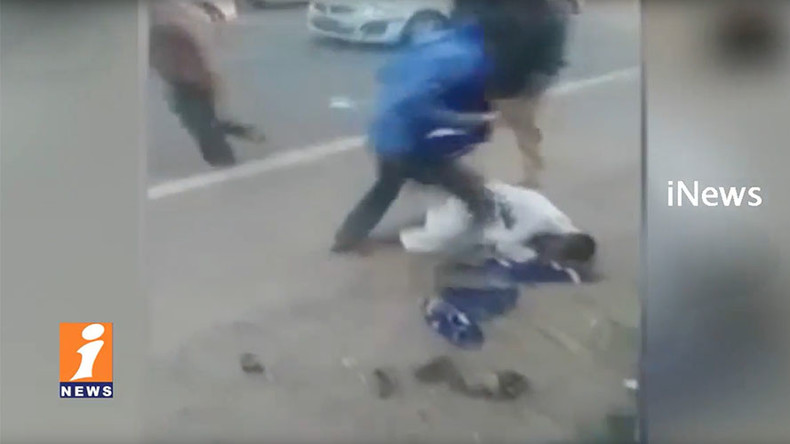 So-called Hindu 'cow vigilantes' set on preventing cattle from being slaughtered attacked a transport convey in India, hospitalizing five Muslim workers, of whom one later died.
Pehlu Khan, 55, and his companions were reportedly targeted after they fell under suspicion of smuggling cows through Rajasthan, a northern Indian state where cow trafficking is illegal.
The attackers were affiliated with Vishwa Hindu Parishad, a right-wing nationalist organization, and its youth wing, Bajrang Dal, according to Ramesh Chand Sinsinwar, a Behror police official.
The men "stopped four vehicles... on Saturday evening, alleging that they were illegally transporting bovines..." Sinsinwar told the Indian Express.
Khan, a Muslim, and his companions were then beaten, despite attempting to present documents proving they were transporting the cattle legally.
"I told them I had all the documents, but they pulled us out of the vehicle and beat us up. They took away Rs 35,000 (US$538) from me. I later lost consciousness and woke up in a hospital at around 1am on Sunday," said a man named Azmat, who was with Khan in one of the vehicles.
Footage posted online by Indian Express shows the men being attacked in the middle of the street, and one of their trucks being damaged.
Khan, Azmat, and three others in their party were hospitalized, according to Sinsinwar. The attackers allowed one of the drivers to leave the scene.
Read more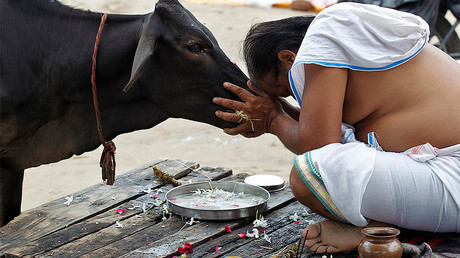 On Monday night, Khan succumbed to his injuries in the hospital.
According to Azmat, the cattle had been purchased as milk cows and were not going to be slaughtered.
Rajasthan's home minister, Gulab Chand Kataria, has blamed both sides for the incident.
"The problem is from both the sides. People know cow-trafficking is illegal but they do it. Gau Bhakts [sic] try to stop those who indulge in such crimes," said Gulab Chand, as quoted by NDTV.
"However, taking law in one's hand is wrong. Police will act against both sides," he added.
Authorities have not made any arrests so far.
Cows are considered sacred by India's Hindu population, and killing them is illegal in several states. Many states began actively enforcing bans on cow slaughter after the Hindu nationalist Bharatiya Janata Party formed India's federal government in 2014.
Last month, the state of Gujarat in the western part of India passed a law making the slaughter of cows punishable by life imprisonment.
The legislation also metes out a seven- to 10-year prison sentence for possession of beef, as well as fines, while people found transporting it can be jailed for 10 years, and vehicles used for transporting cows to slaughter can be seized.
Almost 80 percent of India's population identify as Hindu, while 14 percent are followers of Islam.