Indian minister slammed for taboo comments on cows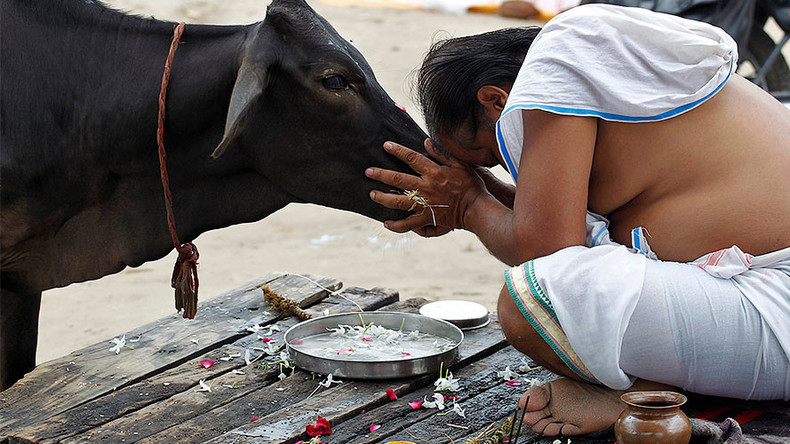 Indian minister Vasudev Devnani has provoked the ire of the Twittersphere, after he claimed that cows are the only animal to both inhale and exhale oxygen.
Cows are seen as a sacred animal in traditional Hindu culture and have historically been viewed as a taboo subject in India.
Last year, vigilantes attacked and murdered people suspected of killing the animal or consuming its meat, leading to a wave of protests in which a police officer was killed and several others were injured.
Devnani, Rajasthan's education minister, said: "The cow is the only animal that takes in oxygen and also releases oxygen," and that: "there is a need to understand the scientific significance of the cow and ensure that the message reaches all people," according to the Indian Express.
The minister further asserted that illnesses such as cold and coughs are healed if one goes near a cow and emphasized the role young people should play in promoting cow conservation.
Devnani made the fantastical statements while speaking at an event organised by the Akshaya Patra Foundation, which, according to its website, "strives to fight issues like hunger and malnutrition in India."
READ MORE: Bright idea: Cows get glow-in-the-dark horns to prevent late night crashes (PHOTOS)
Social media users were understandably quick to criticize the minister.
The minister's contentious claims run counter to a 2006 United Nations report which stated that livestock, including the cow, are responsible for 18 percent of the greenhouse gases, such as CO2 and methane – known to be a leading cause of global warming. To put that in context, it's more than cars, planes and all forms of transport combined.
You can share this story on social media: