India should prosecute 'cow vigilantes' for brutal attacks on Muslims & 'untouchables' – HRW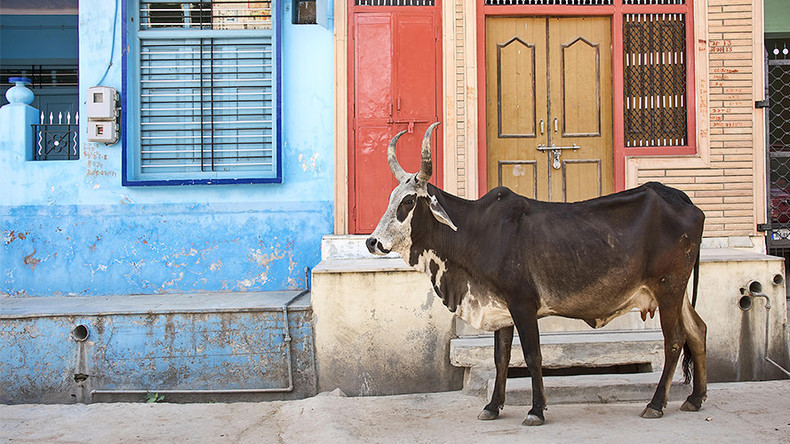 Indian authorities should prosecute so-called "cow vigilantes" who violently prevent cattle from being slaughtered, according to Human Rights Watch (HRW). It notes that Muslims are often targets of attacks, along with members of India's lowest caste.
The organization expressed concern at the phenomenon on Thursday, stating that authorities often place blame on the victims, rather than on the "cow protectors" who attack and sometimes even kill their targets.
"The police, too often, have filed complaints against the assault victims, their relatives, and associates under laws banning cow slaughter," HRW said in a statement.
HRW stressed that such "brutal attacks" are generally aimed at Muslims – whose religion places no restrictions on eating beef – and Dalits, members of India's lowest caste who are also referred to as "untouchables."
It noted that at least 10 Muslims, including a 12-year-old boy, have been killed by cow vigilantes in seven separate incidents of mob violence since May 2015.
"Self-appointed 'cow protectors' driven by irresponsible populism are killing people and terrorizing minority communities," said HRW's South Asia director, Meenakshi Ganguly.
"The government should condemn this violence and take prompt action against those responsible for these attacks or face allegations of complicity," he continued.
The organization stated that attackers often rob their victims of cash and cell phones, and damage their property.
HRW's statement cites specific cases of violence, including one last week which saw a mob brutally attack five members of a cattle-herding family, including a nine-year-old girl, on suspicion that they were taking their cows to slaughter. A video posted online showed the attackers breaking down the family's shelter, beating an elderly man, and setting the shelter on fire.
Another cited case involved four Dalit men being stripped, beaten, and tied to a car over suspicions of cow slaughter in July 2016.
It went on to note that many of the vigilantes are linked to extremist Hindu groups affiliated with the ruling Bharatiya Janata Party (BJP), stating that the attackers in last week's assault appeared to be associated with the party, as they were chanting slogans commonly used by supporters.
READ MORE: Indian minister slammed for taboo comments on cows
The statement says that "extremist Hindu groups" have led vigilante mob attacks across India to enforce "nationalism" since the BJP came into power in May 2014. Many states across the country also started actively enforcing bans on cow slaughter after the party came to power.
HRW also noted that Prime Minister Narendra Modi repeatedly called for the protection of cows during the 2014 national election campaign, and when he was previously chief minister of Gujarat state.
Cows are considered sacred by Hindus, who make up almost 80 percent of India's population. Muslims account for 14 percent of the population, according to 2011 census data.