Beef-eaters should be 'hanged in public' for consuming sacred cows, says Hindu leader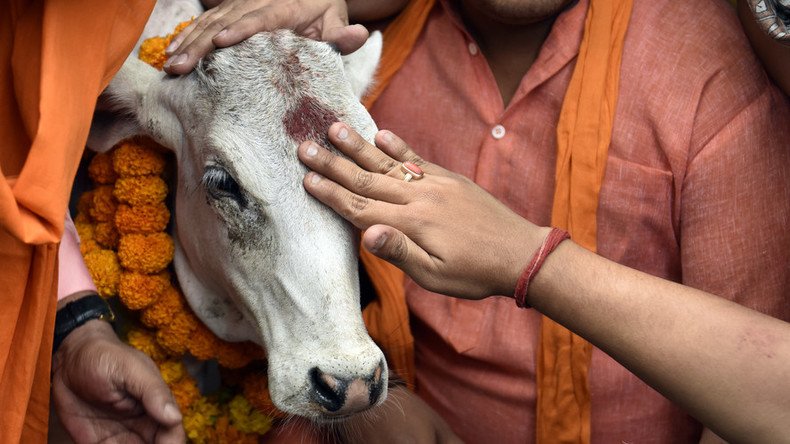 The leader of an Indian nationalist Hindu organization has stirred up controversy by saying that beef-eaters should be hanged in public. The inflammatory statement has prompted some MPs to demand her arrest.
Sadhvi Saraswati, the leader of the nationalist Vishwa Hindu Parishad (VHP) organization, made the comment while speaking at the All India Hindu Convention in Panaji, Goa, on Thursday.
"I would recommend to the government of India that those who consider it a status symbol to eat the meat of one's own mother should be hanged in public," Saraswati said, as quoted by the Press Trust of India.
"Then only people will realize that it is our duty to protect the 'gau mata,'" she said, using a Hindi term which translates to "mother cow."
Cows are considered sacred by Hindus, who make up almost 80 percent of India's population, according to 2011 census data.
The 22-year-old went on to state that India's Hindu population is "living under threat," and that she sees nothing wrong with "picking up arms" to protect the religion.
She also criticized those with Hindu backgrounds who are "in the garb of seculars."
"These seculars are the first who will be attacked," she said, as translated by The Indian Express.
Saraswati's statements have prompted some to call for her arrest, including Goa Congress MP Shantaram Naik.
"This is no freedom of speech. Under appropriate sections of IPC (Indian Penal Code), she would not even get bail and remain behind bars for months. She should be arrested, at the earliest," he said, as quoted by India Today.
Congress is asking the ruling Bharatiya Janata Party in the state and Chief Minister Manohar Parrikar to condemn Saraswati's statements, or else "Goa residents will assume the state and union government are encouraging such fringe outfits."
Naik has also met with the minister for home affairs, Rajnath Singh, requesting that he take action against Saraswati as well.
The statements come amid a surge in so-called "cow vigilantes" in India, who use violent means to prevent people from slaughtering cattle and sometimes kill those who attempt to do so.
In late April, two men suspected of attempting to steal cows for slaughter in India's northeastern state of Assam were brutally beaten by a mob and later died of their injuries.
READ MORE: Indian minister slammed for taboo comments on cows
Earlier in April, cow vigilantes attacked and killed a person transporting cattle that had reportedly been purchased as milk cows and were not even going to be slaughtered.
Human Rights Watch (HRW) has called on India to prosecute cow vigilantes for carrying out such attacks, noting that Muslims and members of India's lowest caste, known as 'untouchables,' are often the victims.
You can share this story on social media: