Retraining reservists and rearming! Baltic countries got bellicose over 'Russian threat'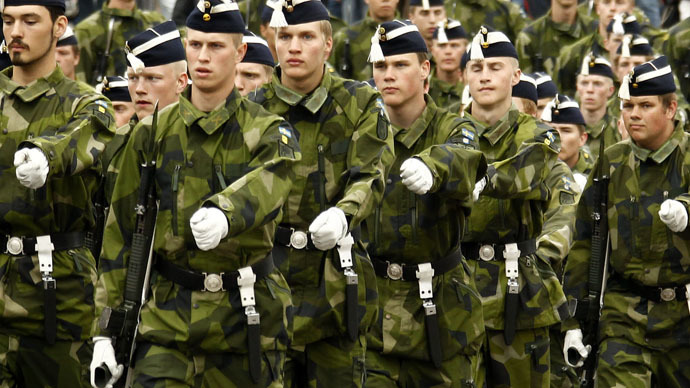 European countries bordering the Baltic Sea are competing to express their concerns over Russian military activities of in the region. Their actions vary from inviting Americans troops for a permanent stay to retraining reservists and rearming.
Sweden is planning to retrain about 7,500 reservists who have served in the Swedish army since 2004.
"We see more exercises, we see more intelligence activities and what has happened now has confirmed that we are in another situation, if we compare this to the situation five or ten years ago," Swedish Defense Minister Peter Hultqvist said.
"The armed forces will be able to carry out fully-manned war preparations which will result in increased operational capacity," Hultqvist explained, justifying the plans to retrain.
Hultqvist admitted last month in the interview with the Local that there is "no immediate threat against Sweden," but, probably, a submarine that allegedly intruded with impunity into Swedish territorial waters in October.
The Russian Defense Ministry said at the time that Sweden's search in the Baltic of possible "foreign underwater activity" can only lead to undermining stability and escalate tension in the region.
While Sweden, which is not a NATO member, is enhancing its military preparedness, another Baltic country and NATO member, Poland, is buying from the US 40 air-to-surface cruise missiles. These AGM-158 JASSM-type stealth missiles are unquestionably a first strike weapon.
Explaining to the public the $250 million cost, Polish Defense Minister Tomasz Siemoniak said that such modern weaponry "is especially needed" now, at the time of the Ukrainian conflict in which, in his opinion, Russia is implicated.
Neither Ukraine, nor any NATO member has presented solid proof that the Russian military is in any way participating in the Ukrainian conflict. The alliance members' military are using this as a pretext to squeeze more money from national budgets.
The Ministries of Defense in Poland and the three Baltic States have agreed on mutual cooperation to curb what they see as Russian aggression, according to the Latvian Ministry of Defense's website.
"A meeting between the Baltic States Ministries of Defenses has led to a landmark agreement to coordinate operational programs within the region. This joint agreement amongst the Baltic States will prepare a blueprint for the nations in the possible event of military aggression," the Gazeta.ru website reports.
Countries that do not have large amounts of money available for arms purchases, such as Estonia, Latvia and Lithuania, are simply allowing their territory to be used for international military exercises or are allowing foreign troops to be constantly deployed there. All three countries joined NATO a decade ago, in 2004.
The North Atlantic bloc has asked the Pentagon to send more troops to Eastern Europe to counter the perceived threat of Russia.

READ MORE: Surge in US armored vehicles next to Russian borders
The Baltic States often complain about the growing activities of the Russian Air Force and Navy in the region, yet Russia has always insisted that it increased its air patrols after NATO beefed up its European presence in the wake of the Ukraine crisis.
"We know that the Russians say that their activity is a reaction to NATO," Siemoniak said on Polish TV. "For us, this raises an alarm."
The build-up of NATO forces in Eastern Europe is hostile and destabilizes the Baltic, once the safest region in Europe, the Russian Foreign Minister insisted in early December.
In November Moscow pointed out that NATO exercises next to Russian borders have "a clearly anti-Russian nature," and will scarcely contribute to European safety.
You can share this story on social media: