No confirmation: Sweden denies 'Russian sub hunt' report as military search ongoing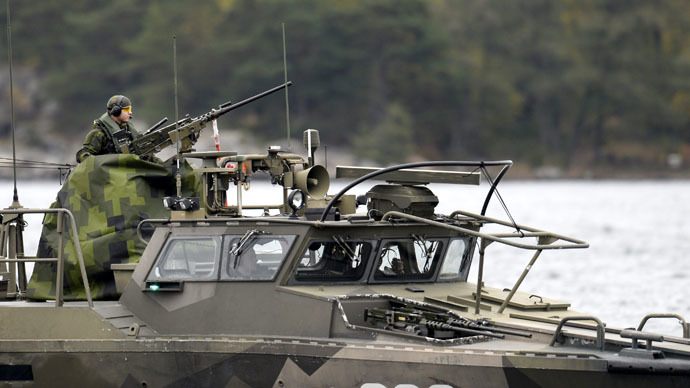 The Swedish military did not confirm allegations that "a damaged Russian submarine" is being hunted for in waters east of Stockholm, while adding that a search for a "foreign vessel" is ongoing. Moscow said none of its military vessels have been damaged.
Sweden deploys troops near Stockholm due to alleged underwater threat
The official statement by the Swedish military said the search around the Stockholm archipelago was due to "alien underwater activity."
However, Swedish newspaper Svenska Dagbladet cited "several persons with knowledge about the ongoing search operation" to say that the operation was launched after a radio communication in Russian was detected in the area. The communication was reportedly transmitted on a special frequency, used by Russia in emergency situations.
Swedish Rear Adm. Anders Grenstad dismissed the newspaper's report on Sunday, stating that the country's military had "no information" about emergency messages that would suggest it was a Russian submarine in distress.
He did confirm that it was "a foreign vessel," and that there had been three sightings since Friday.
Grenstad showed a photograph to reporters on Sunday morning, which he said was taken by a "source."
"He saw something that was on the surface and after he took the picture it disappeared again," Grenstad said. Due to the poor quality of the image, it was impossible to see the nationality of the vessel.
He further denied media reports that the Swedish military was involved in a "submarine hunt."
"It's about collecting intelligence to establish that there is foreign underwater activity," said Grenstad, adding that the area being watched is of particular "interest to a foreign power."
An official in the Russian Defense Ministry, however, denied on Sunday any failures in Russian military vessels.
"Russian military submarines as well as surface-craft are on planned missions in and around the world," the source told RT. "No extraordinary, let alone emergency situations have happened to Russian military vessels."
Over 200 troops, helicopters, stealth ships and minesweepers have been searching the waters of the Baltic Sea since Friday, in what has been described as Sweden's largest military mobilization since the end of the Cold War.
The operation invoked memories of the 1981 incident when a Soviet U-boat ran aground near Sweden's largest naval base, causing an international row.
You can share this story on social media: