World first: Swedish woman gives birth after womb transplant
A Swedish woman with a womb transplant has become the first in the world to give birth. Considered a breakthrough in infertility treatment, it gives hope of having a baby to thousands of women without a uterus.
A 36-old Swede delivered a healthy boy by Caesarian section in September, said the Lancet, a weekly general medical journal. Both mother and son, who weighed 1.775kg, are doing well.
The details of the operation are due to be released online in the Lancet on or before Sunday.
The boy was born at 31 weeks after his mother had a pre-eclampsia, a pregnancy complication characterized by high blood pressure, large amounts of protein in the urine and the possibility of organ damage.
"When the baby came out it screamed immediately which is a good sign that the baby is fine," Professor Matts Brannstrom, chair of the obstetrics and gynecology department at the University of Gothenburg who led the operation, told AP.
The first baby to be born from a transplanted womb - first picture: http://t.co/P6np9Vg1HQpic.twitter.com/VcRivyJYKj

— Telegraph News (@TelegraphNews) October 4, 2014
"It was fantastic happiness – of mommy and the whole team," he added.
The woman had Mayer-Rokitansky-Küster-Hauser syndrome (MRKH) - a condition, resulting in a missing uterus. However, her ovaries were intact, so she could ovulate. The syndrome affects one in 4,500 newborn girls.
"Absolute uterine factor infertility is the only major type of female infertility that is still viewed as untreatable," said the surgeons in a paper published by the Lancet.
Swedish doctors transplant 9 wombs; women prepare to get pregnant
The uterus was transplanted in 2013 during a 10-hour operation.
The woman had in-vitro fertilization. A year after the transplantation procedure, the doctors inserted the embryo into the transplant womb. Three weeks later a pregnancy test turned positive.
"Our success is based on more than 10 years of intensive animal research and surgical training by our team and opens up the possibility of treating many young females worldwide that suffer from uterine infertility," Brannstrom told the Lancet.
The transplant came from a 61-year-old woman, who went through menopause seven years earlier. She is a close friend of the family.
"We have demonstrated the feasibility of live-donor uterus transplantation, even from a post-menopausal donor," added Brannstrom.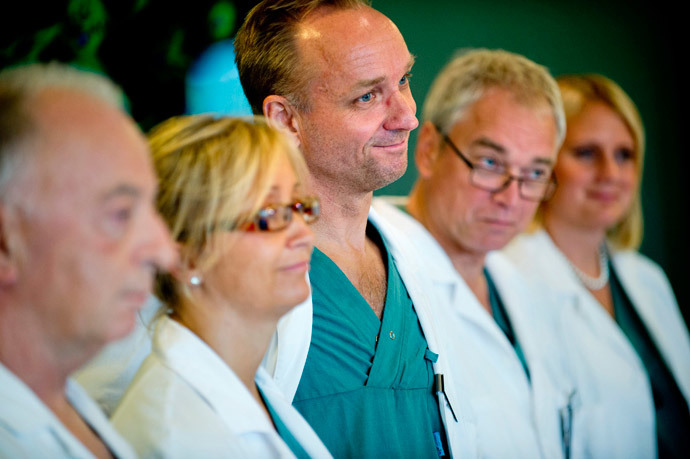 In 2013, doctors in Sweden managed to transplant wombs to nine women.
Most of the patients were in their 30s and all of them were either born without a uterus, or had it removed because of cervical cancer. The unnamed Swedish woman was one of those nine to receive a transplant.
Soon after the operation two women had to undergo a hysterectomy as their new wombs either became infected or blood flow was clotted.
The other seven women, including the one who bore a child, had periods after the operation, proving that their wombs are healthy and functioning.
Liza Johannesson, Gynecology Surgeon, told AP that it "has a huge impact because it gives hope to those women (and men also, of course,) who thought they would never have a child."
The idea of womb transplantation arose in 1998 when Brannstrom was working in Australia. The transplants are the result of more than ten years of Swedish and international research collaboration.
Though Swedish woman was the first to give birth to a child with a transplanted womb, she wasn't the first to get pregnant.
Derya Sert, 22, from Turkey, born without a womb, had her transplant in August 2011. She announced her pregnancy in April 2012, but in May doctors announced that Sert had had her pregnancy terminated after the embryo showed no heartbeat. Sert was the first to have a successful womb transplant from a deceased donor.
The procedure of using live donors is a controversial one. It was first performed by the doctors in Saudi Arabia back in 2000. However, it had complications: the uterus, transplanted from a live donor, had to be removed after three months because of a blood clot.
However, the procedure has its negative effect as after a maximum of two pregnancies, the transplant wombs will be removed so the women can stop taking the anti-rejection drugs, the side effects of which can include high blood pressure and diabetes, and may also raise the risk of some types of cancer.
You can share this story on social media: