Swedish doctors transplant 9 wombs, women prepare to get pregnant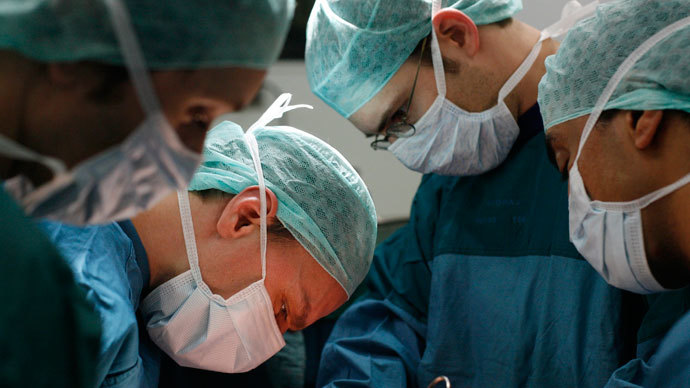 Swedish doctors have completed a pioneer project successfully transplanting wombs to nine women. While doctors say pregnancy is not certain after transplant, it can still give a chance to thousands of women without a uterus to have biological children.
Doctors plan to transfer embryos – created through in-vitro fertilization and frozen before surgeries - possibly within months, Dr. Mats Brannstrom, chair of the obstetrics and gynecology department at the University of Gothenburg, said in an interview with AP.
The names of the patients and their donors have not been disclosed, but it is known that organs to all nine womb recipients were donated by mothers or female relatives. Most of the patients are in their 30's and all of them were either born without a uterus, or had it removed because of cervical cancer.
The pioneer project that doctors from Sweden's University of Gothenburg started in September 2012 initially involved 10 transplantees, but one woman could not proceed due to medical reasons.
So far, all nine patients are doing fine and many had periods six weeks after the transplantation, proving that the wombs are healthy and functioning. All left hospital within days after the surgery, according to Brannstrom. They still have to take anti-rejecting drugs.
Despite that, it is still a unknown whether the women will be able to successfully carry and give a birth to their biological babies. While doctors and fertility experts have hailed womb transplantation successful, there are no guarantees of pregnancy.
"This is a research study," Brannstrom said. "It could lead to [the women] having a child, but there are no guarantees. What is certain is that they are making a contribution to science."
One previous case of womb transplantation did end with a pregnancy, but it failed after two months.
Derya Sert, 22, from Turkey, born without a womb, had her transplant in August 2011 and announced her pregnancy in April 2012. But in May doctors said that Sert had her pregnancy terminated after the embryo showed no heartbeat. Still, Sert was the first to have a successful womb transplant from a dead donor.
The idea of womb transplantation arose in 1998 when Brannstrom was working in Australia, and had to inform a patient of how the removal of her womb following cervical cancer had cured her of the cancer but had taken away her ability to have a baby. The transplants are the result of more than ten years of Swedish and international research collaboration.
The technique of using live donors is a controversial one. It was first performed by Saudi Arabia doctors in 2000, but that uterus, transplanted from a live donor, had to be removed after three months because of a blood clot.
"Mats [Brannstrom] has done something amazing and we understand completely why he has taken this route, but we are wary of that approach," Dr. Richard Smith, head of the UK charity, Womb Transplant UK, was cited as saying by AP.
His organization is trying to raise £500,000 ($ 817, 950) to carry out five operations in Britain.
While scientists in Britain, Hungary and other countries are planning similar operations, the achievements in Sweden are the most advanced.
Up to now, one of the main questions to be answered is how the pregnancies would proceed.
"The principal concern for me is if the baby will get enough nourishment from the placenta and if the blood flow is good enough," Smith said.
But even if pregnancies proceed well, after a maximum of two pregnancies, the wombs will be removed so the women can stop taking the anti-rejection drugs, whose side effects can include high blood pressure, swelling and diabetes, and may also raise the risk of some types of cancer.
Next month, Brannstrom and his teams are planning to run the first-ever workshop on how to perform womb transplants. They also plan to publish a scientific report on their efforts.
Despite the result is still unknown, such an operation may become an option for women who have no wombs, and for whom surrogacy (illegal in many European countries) has been the only way to have biological children of their own.
You can share this story on social media: