November caught on cam: Top 10 stunning videos from the last 30 days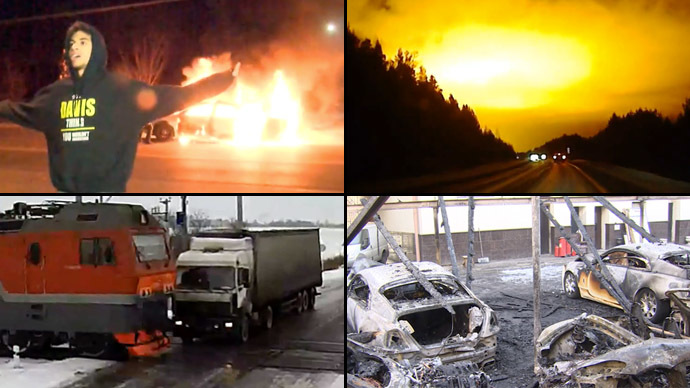 From Ferguson to Siberian craters, from violence in Israel to mysterious lights in Russia's sky - November has been raging, protesting, and dazzling. And luckily, there were cameras on hand to capture it all.
Ferguson erupts
The St. Louis suburb of Ferguson turned almost into a warzone, with cars and buildings set ablaze. Locals took to the streets following the acquittal of white policeman Darren Wilson,
who was indicted on charges of unlawfully killing black teenager Michael Brown. Looting and riots followed for two days and spread across the country as millions of Americans believed justice had not been served. Concerns of police brutality were once against raised as dozens of dozens of peaceful protesters were rounded up, at times quite brutally.
Up close and personal with ISIS
They have caused some of the worst atrocities of the 21st century, yet little is known about the bloodthirsty militant group Islamic State, who conquered large parts of Syria and Iraq in the space of just six months. RT traveled to one of the ISIS key holdouts in Lebanon to find out the group's goals and why the militant organization has become such a magnet for Sunni radicals both in the Middle East and from around the globe.
Yankee go home! US soldier accosted in Turkey
This American soldier barely set his foot on Istanbul's soil boarding off the USS Abraham Lincoln - only to be met by over a dozen angry members of the Turkish Youth Association activists who repeatedly chanted 'Yankee go home'. Red pain flew at the serviceman, then the protesters decided to get even more personal by mugging him and putting white bags - like the ones used to detain terrorists - over his head. Even at that moment, the ordeal was far from over. The irate locals chased the US citizen for hundreds of meters before he was finally saved by local police.
Scientists go to 'bottom of the earth' in Siberia
The locals call it 'The end of the World.' However, scientists are hoping it could be the start of something new, as they try to find out what caused the giant crater. The mysterious hole is located in Siberia, and experts are developing a theory that underground explosions caused by released gas hydrates formed the crater. They have taken samples of compressed snow, with the aide of a chainsaw, which have been bagged and are ready for testing.
Putin and China's first lady
What was seen as a gesture of a gentleman in one country, was seen as a breach of protocol in China. Vladimir Putin put a shawl on Peng Liyuan, wife of Chinese President Xi Jinping, as they arrived to watch a fireworks show at the APEC Summit in Beijing. Chinese media chose to erase the incident - which caused quite a discussion on social media - from their broadcasts.

What's that smell? French farmers protest EU laws
The French like a good protest. The country's farmers came up with an eye-catching and certainly nose-catching way to get the attention of local politicians. Up in arms about what they believe are increasing constraints and charges imposed by the European Union and French government on the nation's agricultural community, they dumped tons of manure in Toulouse and Nancy. The were creative, as well. Aside from from regular trailers, they brought in muck spreaders to make even more of a mess.
Unexplained bright lights stun Russian scientists
It was a cold dark evening on a road in the Ural mountains region of Russia. Nothing unusual there - until a brilliant collage of orange, yellow, and red momentarily lit up the dark landscape. But what caused it? This question is still puzzling Russian scientists after the moment was caught on a driver's dashcam. A new meteorite or military exercise were some of the top guesses from the bewildered public. However, both were dismissed by officials. So could it have been a UFO? The truth is out there somewhere.

Truck torn apart by two trains
A truck driver in Kazakhstan was killed following a truly horrific collision. The vehicle failed to stop at the level crossing during icy weather and skidded onto the railroad track. Just seconds later, a freight train smashed into the lorry, dragging the truck down the tracks and straight into the path of a train coming in the opposite direction, which instantly killed the poor driver.
Israel in shock after synagogue attack kills six
Attackers carrying knives, axes, and a pistol killed five worshipers at a Jerusalem synagogue in an incident that shocked Jews around the world.Three of the victims were dual nationality US citizens and one was from the UK. Seven others were wounded.Uday Abu Jamal and Ghassan Abu Jamal, from East Jerusalem, carried out the attack and were both shot dead by Israeli police.
$3.3 million up in smoke as eight cars torched
If you love fast and expensive cars, you might want to look away now. Eight top of the range vehicles were set on fire in a downtown Moscow courtyard, including Rolls Royces, Bentleys, and Mercedes Benzes. Sources claim the cars, with a total value in excess of $3.3 million, may have all belonged to the same person. Whether the vehicles belonged to one owner or many, it's safe to say the incident came as a nasty shock.