3 US & 1 UK rabbis killed, 7 injured in attack at Jerusalem synagogue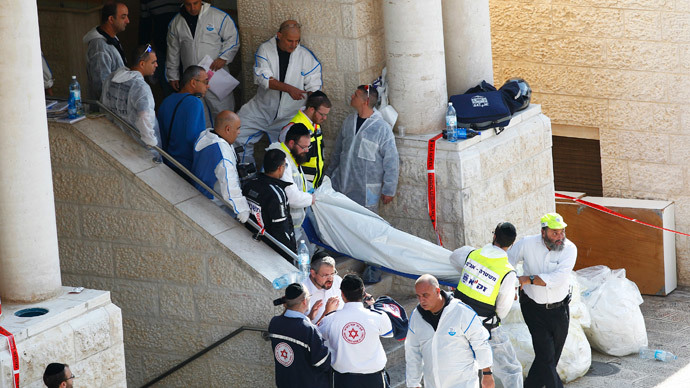 Five people have been killed and 7 wounded when two assailants attacked worshipers with knives, axes and a pistol in a synagogue in North Jerusalem in the morning. Three of the victims were dual nationality US citizens and one was from the UK.
Besides the four killed worshippers, a police officer was critically wounded and later succumbed to his injuries at Hadassh Hospital, Haaretz reports.
Israeli police say both attackers were shot dead on the spot by officers. Spokeswoman Luba Samri described the incident as a "terrorist attack."
Israel's Public Security Minister, Yitzhak Aharonovitch, has said that gun controls for self-defense will be eased in wake of the attack.
"In the coming hours, I will ease controls on carrying weapons," he said in comments broadcast on public radio. He added that the new rules will apply to anyone who owns a gun license, such as private security guards and off duty army officers.
Israeli police have confirmed eight people have been wounded in the incident, four seriously, two moderately and two lightly. One of those injured later succumbed to his wounds.
Four of the victims were rabbis and one of them, Moshe Twersky,was the head of the English speaking Yeshiva Toras Moshe, an institution for religious studies, in Jerusalem.
Another of the victims was a British-Israeli national, according to the UK's Foreign Office.
"We are aware of the death of a dual British-Israeli national in Israel on 18 November 2014," the Foreign Office said in a statement. The other three were US citizens, according to Israeli police spokesman Micky Rosenfeld.
The FBI has said it will open an investigation into the attack as three of the victims were US citizens.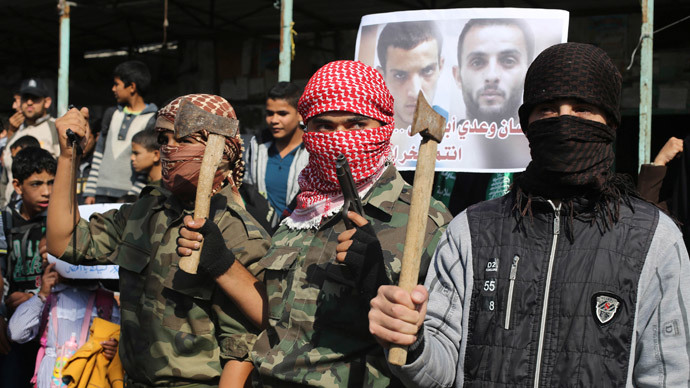 The suspects have been named as Uday Abu Jamal and Ghassan Abu Jamal, from East Jerusalem, and were both members of the Popular Front for the Liberation of Palestine, which has praised the attack but stopped short of claiming responsibility, Hamas also honored the attack.
Israeli police spokeswoman Luba Samri confirmed the suspect's identity, AP reports.
Meanwhile, the Israeli Prime Minster has ordered the homes of the two suspects to be demolished, according to his spokesman.
The attacked synagogue is situated on Agasi Street, in the ultra-Orthodox Had Nof neighborhood of Jerusalem.
"We were praying in synagogue in the morning, we heard gunshots from downstairs… one shot, two shots and then a flurry of shots," a witness who was inside the building told AP.
The first call to the emergency services was at 7:01 and two traffic policemen were the first on the scene who were joined by a third officer. They started shooting at the terrorists and killed them, although one of the policemen was critically wounded in the firefight and another moderately.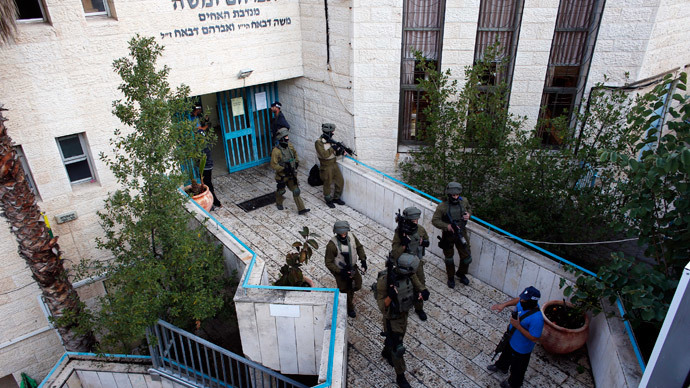 Prime Minister Benjamin Netanyahu stated that Israel is going to 'respond harshly' to this latest terror attack.
Netanyahu has vowed retribution and has demanded the world stand with Israel in an uncompromising condemnation against the terrorists attack. He also called for Zionist opposition parties to join his coalition and said that it's "no time for politics" and that "we need national unity at this time".
Palestinian President Mahmoud Abbas has condemned an attack on a Jerusalem synagogue.
"The presidency condemns the attack on Jewish worshipers in their place of prayer and condemns the killing of civilians, no matter who is doing it," Reuters cited Abbas's office as saying in a statement.
US President Barack Obama condemned the attack and named the three US citizens killed in it as Aryeh Kupinsky, Cary William Levine and Mosheh Twersky.
"I strongly condemn today's terrorist attack on worshipers at a synagogue in Jerusalem. There is and can be no justification for such attacks against innocent civilians," Obama said in a statement.
He is also urged Israeli and Palestinian leaders to work together to try and "lower tensions, reject violence, and seek a path towards future peace."
Tensions between Israelis and Palestinians have been running particularly high over the last two weeks and world leaders are becoming increasingly frustrated at the lack of progress in Israeli-Palestinian relations. On Monday the EU's newly-appointed foreign policy chief, Federica Mogherini, called for the establishment of a viable Palestinian state in the next few years.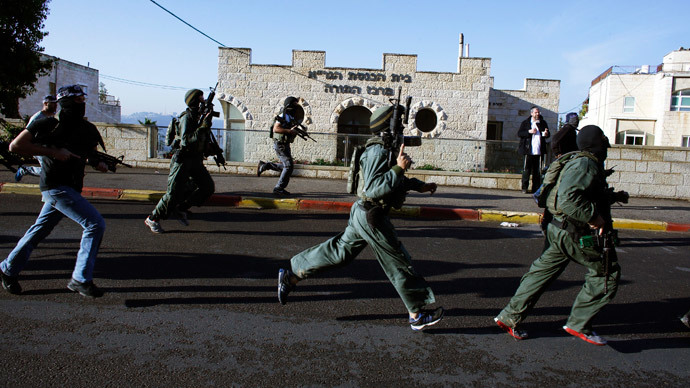 There have also been a number of symbolic votes in favor of recognition of the Palestinian state in parliaments of several European states, such as Sweden, France and UK.
Spanish MPs are expected to vote in support of a Palestinian state on November 18.
Last weekend Israeli Haaretz revealed a secret EU document that Israel could soon face sanctions from Brussels if Tel Aviv makes any further attempts to pose obstacles to a two-state solution with occupied Palestine.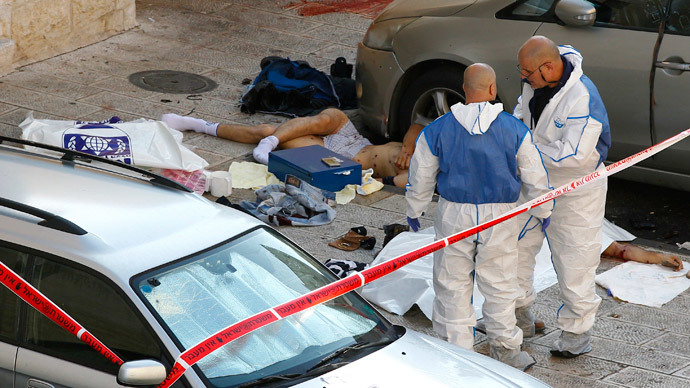 Israeli Foreign Minister Avigdor Lieberman's reply to that was that Israel will never stop its settlement constructions in occupied East Jerusalem.
On Monday the conflict escalated even further as a Palestinian bus driver was found hanged inside his vehicle at a depot in Jerusalem, with the Israeli police saying the man committed suicide, while the driver's family claim he was lynched by Israelis.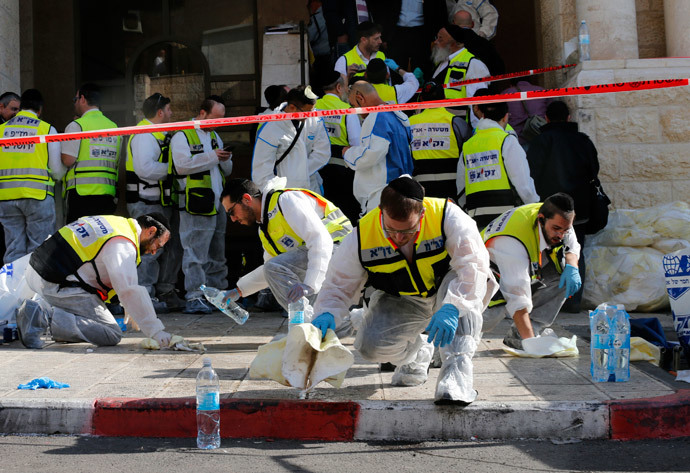 You can share this story on social media: