W. Bank violence: Palestinian killed as Israeli military fire rubber bullets, tear gas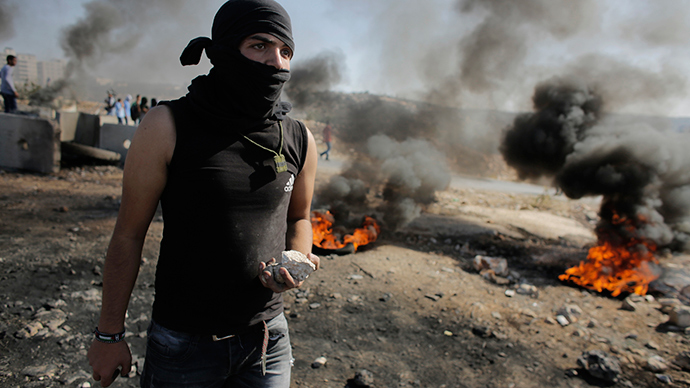 A Palestinian man has been shot dead by the Israel Defense Forces in the West Bank. The Israeli Army says the clashes erupted after a group of around 150 Palestinians started throwing rocks and Molotov cocktails at Israeli soldiers.
The Israeli Defense Forces (IDF) say they tried to break-up the crowd by firing rubber bullets and using tear gas, but were forced to use live ammunition after the gathering of Palestinians failed to disperse.
RIP 21 year old Mohamad Jawabreh was shot and killed by Israeli army in Alaroub refugee camp #Hebron now pic.twitter.com/ITS4SFPtXu

— Tweet_Palestine (@Tweet_Palestine) November 11, 2014
Reports from Palestine say the victim was 21 year-old Mohammed Amaad Hawabra. They say he was hit by a bullet to the chest. He was rushed to a hospital in Hebron, but died of the gunshot wound, Haaretz reports. Witnesses say the young man was standing on a roof and away from the clashes when he was shot, according to Reuters.
Israeli Defense Minister, Moshe Yaalon said that while the violence was not planned, he could not be sure if it would lead a new uprising by the Palestinians, which led to a surge in suicide bombings and crushing military operations in Palestinian cities.
"We're not seeing masses pouring into the street. We're seeing, in certain places, young people using grassroots terrorism and lone attackers," Yaalon told reporters. "What do we call it? Let's wait and see how it develops. It's clear there is an escalation."
Despite escalating tensions, reports say #Israel is ready to nearly double its #settlement expansion budget for 2015.

— PaulaSlier_RT (@PaulaSlier_RT) November 11, 2014
The shooting comes a day aftertwo Israeli citizenswere killed in knife attacks by Palestinians. As a consequence of the growing unrest, Israel's cabinet will convene this afternoon to discuss the tensions in the West Bank and Jerusalem, according to Haaretz.
On Monday, Israeli Prime Minister Benjamin Netanyahu ordered a number of steps to be taken to try and halt the escalating violence. These included putting more troops on the ground and demolishing the homes of "terrorists" involved in attacks against Israeli Jews.
Today alone there were two instances of targeted violence in #Israel. This is our daily #reality. RT. pic.twitter.com/iQlBmzKyRr

— IDF (@IDFSpokesperson) November 10, 2014
Meanwhile, Palestinian political figure, Marwan Barghouti, who is currently serving a life sentence on murder charges, called on the Palestinian's to continue using "overall and armed resistance" against Israel, the Jerusalem Post reports.
He also urged the Palestinian Authority to "put an immediate end to the security cooperation" with the government in Jerusalem, according to AFP. Barghouti was sentenced to life behind bars in 2004 for his involvement in multiple terrorist attacks against Israel.
Barghouti made the comments in a letter that was published to mark the 10th anniversary of the death of the late Palestinian leader, Yasser Arafat.
You can share this story on social media: