New EU foreign affairs chief amplifies call for Palestinian statehood during Gaza visit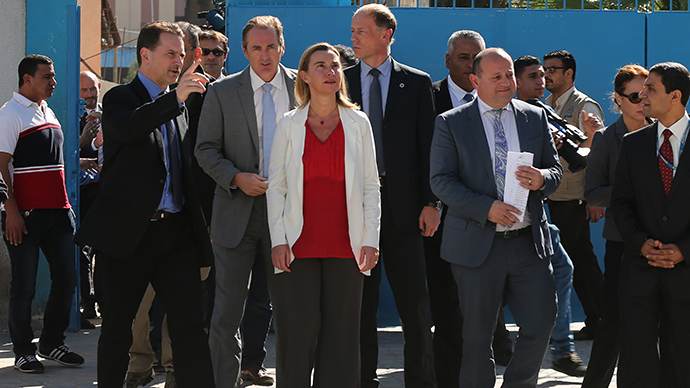 ​The European Union's new foreign affairs chief, Federica Mogherini, emphasized that the bloc backs Palestinian statehood and warned of rising tensions in Jerusalem during a visit to Gaza on Saturday.
"We need a Palestinian state -- that is the ultimate goal and this is the position of all the European Union," she said, adding that another war in Gaza cannot be afforded.
In remarks made ahead of her meeting Israeli Prime Minister Benjamin Netanyahu, Mogherini urged the reduction of tensions.

"It would be good if we all managed to lower tensions, verbal and on the ground. What is happening and what has happened here in Jerusalem in the last week is extremely worrying," she said Friday.
Mogherini, a former Italian foreign minister who took up her post as the EU's foreign and security policy chief with the appointment of a new European Commission on Nov. 1, has previously made similar calls. On Tuesday, she said: "I would be happy if by the end of my term, a Palestinian state existed."

READ MORE: New EU foreign chief calls for creation of Palestinian state in 5 years
Last month, MPs in the British House of Commons voted by a large majority (274 to 12) to recommend that the UK recognizes Palestine as a state alongside Israel. Tel Aviv condemned the British MPs' vote, which does not have the force of law, but is of a consultative character.

Last week, Sweden officially recognized the occupied state of Palestine, becoming the first Western European state to do so.

READ MORE: Palestine wants UN vote on 2016 deadline for Israeli troop pullout

Mogherini said Sweden's recognition of Palestine did not represent a template for other EU members, as a new Palestinian state should be established, rather than recognized as it is at the moment.
The occupied territories of the West Bank and the Gaza Strip have been seeking full statehoodf and independence from Israel for decades now, with thousands of people having perished in one of the most prolonged and bitter confrontations in modern history.

The Palestinians have lobbied for full recognition as a sovereign state from the UN and the international community. Palestine has already been granted non-member, observer-state status in the UN and it continues to push for recognition while Israel continues to proceed with plans to build thousands of new settler homes in East Jerusalem and the West Bank.

READ MORE: Israel approves plan to build 1,000 settler homes in E. Jerusalem

However, Palestinians regard east Jerusalem as a future capital of their state and strongly oppose any Israeli expansion.
You can share this story on social media: