'360-degree range': Israel develops maritime 'Iron Dome' missile defense system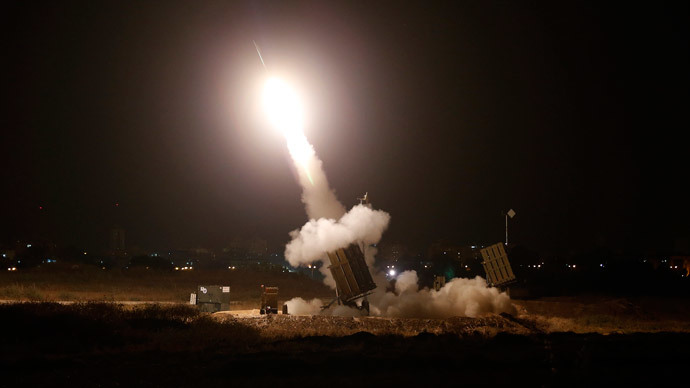 Israel is looking to build on the success of its Iron Dome, used during the Gaza War this summer, by creating a maritime version. The developers say it boasts a 360-degree range and can fire a missile every second.
The architect of the new program, Rafael, an Israeli state owned defense contractor, is looking to find buyers for its new sea-based missile system. They believe it could be especially effective in trying to defend and protect economic assets at sea, such as oil and gas platforms.
The C-Dome was unveiled at this week's Euronaval conference in Le Bourget.
The maritime system uses similar technology to the land version. The trajectory of an incoming missile is recognized and a counter missile is launched to intercept it. The makers of the defense program say that their new system, 'C-Dome', can fire a missile per second, and cover a 360-degree range.
"C-dome offers something that is not out there (in the market) yet ... A small footprint and the capability to engage multiple targets and saturation threats. And it's based on the only system in the world that has more than 1,000 intercepts," said program director Ari Sacher, as reported by AP. "We can protect the ship from every direction at the same time. Most systems out there can't do that."
#Rafael showcases new "naval" #IronDome: the C-DOME Naval Point #Defense System #Euronaval2014http://t.co/0vhzkfXqFvpic.twitter.com/lPXowZyqx7

— NavyRecognition (@NavyRecognition) October 28, 2014
Another advantage of the 'C-Dome' missile defense system is its size. About as large as a coffee table, it can be housed in a variety of locations and is also adaptable for a number of different vessels. Smaller boats could be used to defend oil rigs, and their size would give them much greater maneuverability, while also ensuring the structural integrity of the platform would not be put at risk.
Just like the Iron Dome, which managed to shoot down 735 rockets fired by Hamas during the Gaza War this summer, with more than an 85-percent success rate, the 'C-Dome' will use the same Tamir rockets. However, the company has not specified how many missiles the system can carry, though they did say it would depend on buyers' requests.
At sea, "C-Dome' can intercept "anything above the water," including guided weapons, Sachar said. The threat faced by the missiles fired by Palestine was relatively straight forward, as the weapons lacked any guidance features. However, the challenge at sea is likely to include much more advanced technology. The designers of the system say that missiles can piggyback onto a vessel's radar systems, with heat-tracking missiles that can intercept multiple targets at once.
#Israel's RAFAEL unveiled the naval "Iron Dome" - C-DOME, protecting against missiles at sea. http://t.co/uU4OBk8C6Bpic.twitter.com/srpG4T0flC

— Hyaenass (@hyaenass) October 27, 2014
One maritime expert was quick to play down just how effective the new sea-based missile defense program could be.
"I don't think you would want to overcook this as 'Iron Dome for naval vessels'," said Jeremy Binnie, Middle East and Africa editor at IHS Jane's Defense Weekly, as reported by AP. However, he did say that the ability to defend oil and gas platforms with missile defense systems would be an important development, if the technology works.
The new system has been developed to protect maritime interests rather than counter possible threats of Palestinian missiles being fired towards the sea.
"The most strategic sites for the future right now will be gas platforms and oil platforms," said reserve Israeli Navy Captain Meir. "You have to secure them from missiles from terror organizations, from mother boats, from enemy countries, from drones — or any other aerial threat," said Meir, who declined to give his surname for security reasons.
You can share this story on social media: